AACR 2014 Cancer Progress Report Call to Action: Prioritize Federal Funding for Biomedical Research


Carlos L. Arteaga, MD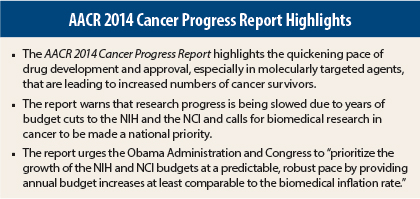 AACR 2014 Cancer Progress Report Highlights
Americans today are more likely to survive a cancer diagnosis and then enjoy a higher quality of life than in any other time in history....Lives have been transformed by [biomedical] research that has led to the development of new molecularly targeted therapeutics.

— Carlos L. Arteaga, MD
Last month, the American Association for Cancer Research (AACR) released its 2014 Cancer Progress Report: Transforming Lives Through Research, which highlights the quickening pace of drug development and approval, especially in molecularly targeted agents, that are leading to increased numbers of cancer survivors—nearly 14.5 million in the United States today vs just 3 million in 1971, according to the report. However, the report also warns that research progress is being slowed due to years of budget cuts to the National Institutes of Health (NIH) and the National Cancer Institute (NCI) and calls for biomedical research in cancer to be made a national priority.
"[Over] the last 25 years that I have been a cancer investigator I have witnessed tremendous progress across the spectrum of cancer research from bench to bedside," said Carlos L. Arteaga, MD, President of AACR, and Director, Breast Cancer Program and Center for Cancer Targeted Therapies at Vanderbilt-Ingram Cancer Center in Nashville during a press conference announcing the report's findings. "I have also seen extraordinary advances in the way patients are treated, and I think it's fair to say that many of us who take care of patients with cancer are seeing responses to treatment that we have not seen before. We know that we are witnessing transformative change in the way we treat patients."
Funding Integral to Progress
The report credits past federal support of the National Institutes of Health (NIH) and the National Cancer Institute (NCI) with fueling much of the progress against cancer and urges Congress to restore the $1.6 billion in NIH funding that was cut as a result of sequestration. The AACR is also calling for increased funding to the NIH and NCI at a rate that is at least comparable to biomedical inflation.
According to the report, the NIH's current funding is $3.5 billion less than where it would be today if it had grown at the same rate as biomedical inflation since 2010, which has translated into a loss of more than $5 billion in purchasing power over the last 4 years.
The loss represents a disturbing trend, especially when compared with the growing health-care challenge and financial burden cancer has on individuals and society as a whole. The most current estimates from the NIH show that in 2009 the overall medical costs of cancer in the United States were $2l6.6 billion, including direct medical costs of $86.6 billion, and indirect mortality costs of $130 billion, making cancer among the most costliest of diseases in the nation.
"When these costs are compared with the NIH and NCI budgets for fiscal years 2014, which are just $30 billion and $4.9 billion, respectively, it underscores the inadequacy in federal funding for cancer research that exists today," according to the AACR report.
"If policymakers fail to put the NIH back on a path of predictable growth in funding, our ability to support cancer care for the benefit of current and future cancer patients will be jeopardized," said Dr. Arteaga.
Charting Progress Being Made in Cancer Care
Highlights from AACR's 2014 report showcasing progress against cancer in the last year include:
U.S. Food and Drug Administration (FDA) approval of six new anticancer therapeutics, five of which are molecularly targeted agents; and new uses for five previously approved anticancer therapies. The number of new drugs approved between August 2013 and July 2014 represents the greatest number ever approved in 1 year.
"The pace of translating laboratory findings into drugs that are improving patients' lives has accelerated," said ­Jeffrey A. Engelman, MD, PhD, Director of the Center for Thoracic Cancers at Massachusetts General Hospital, and Associate Professor of Medicine at Harvard Medical School, at the AACR press briefing. "I think what we are all worried about is whether or not we are going to see a reversal of that increasing slope of progress [due to reduced funding for research]."
Two imaging agents received new cancer-related FDA approvals, as did a previously approved screening test.
Patients with some types of cancer now have three or more molecularly targeted treatment options, should their cancer recur or become resistant to the primary therapy.
Cancer genomics research is the foundation for novel clinical trials designed to accelerate the pace at which new therapeutics are approved for patient care.
Cancer immunotherapeutics are continuing to yield remarkable, long-lasting patient responses in several types of cancer.
There now are an estimated 14.5 million cancer survivors in the U.S., and nearly 380,000 of these individuals received their cancer diagnosis as children or adolescents.
Lives Transformed by Research
"As a result of advances like these, Americans today are more likely to survive a cancer diagnosis and then enjoy a higher quality of life than in any other time in history," said Dr. Arteaga. "The lives of many cancer survivors have been transformed by research that has led to the development of new molecularly targeted therapeutics."
The AACR report concludes with a call to action to the Obama Administration and Congress to "prioritize the growth of the NIH and NCI budgets at a predictable, robust pace by providing annual budget increases at least comparable to the biomedical inflation rate."
If the Administration and Congress fail to act, warned Dr. Arteaga, the result could mean a loss of biomedical researchers to other fields. "Many young individuals who would be tremendous cancer investigators with good ideas are leaving cancer research or not joining cancer research because the signal is very clear: They are going to have a very hard time getting funding, so they might as well join other careers." ■
A copy of the 2014 AACR Cancer Progress Report: Transforming Lives Through Research, may be downloaded from the AACR's website at cancerprogressreport.org.
---