View From a Cancer Ward in Botswana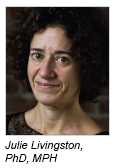 Courtesy of the John D. & Catherine T. MacArthur Foundation. See more at http://www .macfound.org/fellows/895
Julie Livingston, PhD, MPH, is a Professor of History at Rutgers University. She is also an African historian with interdisciplinary training in public health and anthropology. Among other issues, her work considers the challenges of delivering oncology services in southern Africa, where there is a rapidly emerging cancer population. In fact, more than half of all new cancer cases occur in the developing world, and according to epidemiologic studies, those numbers are steadily rising. This crisis is magnified in southern Africa given that the rising cancer incidence is emerging in the shadow of the vast HIV/AIDS phenomenon. Between 2006 and 2009, Dr. Livingston worked and conducted research in a 20-bed cancer ward and its associated clinic in Botswana's central referral hospital, located in the capital city, Gaborone. Dr. Livingston recently spoke with The ASCO Post.
Early Work in Africa
When did you begin working in Africa?
I first began working Botswana in the mid-1990s. I had a fellowship that was contingent on learning an African language, and I learned Setswana. I really liked the country of Botswana, so I stayed there to do my doctoral dissertation work. I arrived there during the country's huge escalation of the HIV/AIDS epidemic. It's now been about 20 years since I've followed the AIDS crisis, and now the overlapping rise in cancer incidence.
A Forward-Looking Country
Please describe the cancer ward that was the central focus of your experience between 2006 and 2009.
I'm confident that things have improved since I was last there in 2009 because Botswana is a forward-looking country with a very dynamic universal health-care system. Citizens either have a small copay, or if you meet certain criteria, no copay at all. They have a very accessible primary care system that feeds throughout a network connected by two large hospitals, one in the North, and one in the South. The cancer care system however, is far more challenged.
The cancer ward was in the central referral hospital in Gaborone. It was constantly full, putting unrelenting pressure on the oncologist to turn beds over to provide care for as many patients as possible. The ward draws patients from all over the country. You would have a cattle herder from the Kalahari in a bed next to a banker from Barclays. So universal care is truly universal care in Botswana.
Challenges and Limitations
Could you describe the oncology ­services?
Patients needing radiation therapy were sent to the city's private hospital, all at the government's expense. The public hospital's cancer ward offered generic chemotherapy and surgical procedures. Patients with leukemia, on the other hand, had to be sent to South Africa because isolation conditions are nonexistent in Botswana. There are a number of basic cancer treatment essentials that are also lacking. For instance, you can't really put a port in a patient for chemotherapy because the conditions in the ward don't allow for the prevention of dangerous infections. Concurrent chemoradiotherapy also is not possible, because there simply is not the necessary medical support system to care for the side effects.
Another problem is the shortage of laboratories and tests, and a bottleneck in scheduling time for minor procedures in the surgical theater, to enable biopsies. When I was there, the oncologist was also a skilled cytologist who did all his own cytology.  But he returned home to Zimbabwe, leaving a void in that vital diagnostic area.
One day you can have an excellent maxillofacial surgeon who fulfills important needs, but if that surgeon leaves, the position might go unfilled for quite some time. Or if an expensive technical machine breaks, the hospital will undoubtedly have a hard time negotiating a repair contract with the manufacturer. So, the shortages of resources are compounded with a shortage of qualified health specialists and support infrastructure.
Palliative Care in the Developing World
Since many patients in the developing world present with advanced cancers palliative care is essential, but often lacking. What was your experience with palliation in the ward in ­Botswana?
On the broader question of palliation, there is an international network of drug laws in place to prevent the illicit trade of narcotics, which also inadvertently prevents most terminally ill African patients from getting pain relief. However, when this particular ward was opened in 2002, the oncologist in charge pushed very hard to establish an ethos of palliative care. In the context of this particular cancer ward, the medical and nursing staff were fairly attentive to pain issues, compared to what I have seen in other places. They used oral morphine, codeine, pethidine, and nonopioid analgesics. That said, the morphine supply would routinely go in and out of stock.
Another problem arises when cancer patients are discharged from the hospital, many of whom live far distances away in rural villages, with no local access to morphine. Another huge gap in cancer care is access to antiemetic agents, making the intersection between untreated pain and nausea a living hell for many cancer patients. However, I've seen patients just across the border in Zimbabwe suffering in intractable pain because there are simply no opioid analgesics available in that country. This is something that should not be; it is unnecessary and preventable suffering.
How has the AIDS epidemic overlapped with cancer in Botswana?
In multiple ways, for example, the public antiviral program and the AIDS industry arrived and shined a bright light that exposed everything, especially the cancers that were already there before. Women with breast cancer, elderly men with multiple myeloma, patients with osteogenic sarcoma were suddenly visible because an oncology service was established to treat the cancers that were arising in AIDS patients now on antiretrovirals. There's a complicated relationship between the two diseases. AIDS is not only creating cancers like Kaposi sarcoma, but the attendant immunosuppression of the disease makes treating cancers all the more challenging.
AIDS has also become Africa's iconic experience of illness under which all other diseases are measured in the both treatment and suffering. Patients who were successfully treated for AIDS are now living long enough to develop opportunist AIDS-related cancers. I've had cancer patients tell me that they wished they had AIDS instead, because AIDS was treatable and cancer was just too awful. That's a very powerful statement. The success of the antiretroviral program is important in many ways, for one, it sets a precedent for what is possible in cancer care in southern Africa. We can all learn from that. ■
Julie Livingston, PhD, MPH, is Professor of History at Rutgers University. She is also an African historian with interdisciplinary training in public health and anthropology.
Disclosure: Dr. Livingston reported no potential conflict of interest.
---
Related Articles
The Republic of Botswana is slightly smaller than the state of Texas and with a population of just over 2 million people it is one of the world's most sparsely populated countries. Botswana was among Africa's poorest countries at the time it gained independence from the United Kingdom in 1966....