How to Recognize and Manage Vandetanib-induced Photosensitivity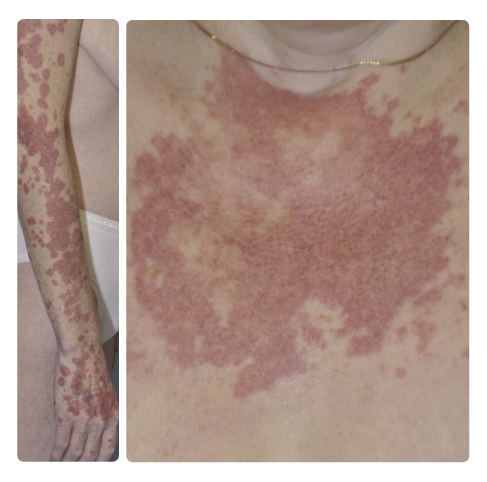 Fig 1: Typical photosensitivity reaction, on the arm (left) and chest (right), associated with vandetanib therapy.
Vandetanib (Caprelsa) is an inhibitor of vascular endothelial growth factor receptor, epidermal growth factor receptor, and rearranged during transfection (RET) tyrosine kinase receptors. It has been approved by regulatory agencies for the treatment of unresectable or metastatic medullary thyroid cancer. Although vandetanib therapy is devoid of significant hematopoietic or gastrointestinal adverse events, skin toxicity with the drug is common.
An acneiform rash affects 46% of patients, mostly grade 1/2 as per Common Terminology Criteria for Adverse Events (CTCAE). Less commonly, phototosensitive (11%–23%) reactions have been reported (Fig. 1).
Photosensitive reactions induced by vandetanib are usually characterized by effects on exposed areas of the body, such as the face, ears, upper chest, and dorsal distal extremities, while sparing areas behind the ears, under the chin, or on the hair-bearing scalp. These reactions can appear after a short period of exposure to the sun, and the rash may progress rapidly, over hours to days, to painful, pruritic papules, plaques, or blisters. Skin biopsies demonstrate edema with a mixed inflammatory infiltrate and, in some cases, necrosis.
Treatment Recommendations
Treatment for vandetanib-induced photosensitive reactions includes topical corticosteroids (for grades 1/2) or oral corticosteroids (for grade 3). Oral antihistamines can also be employed to control pruritus, as well as analgesics and oatmeal baths to mitigate skin pain. In addition, holding vandetanib for grade 3 events may be necessary.
Reports of recurrence of photosensitive reactions have been reported when patients are treated with docetaxel after experiencing vandetanib-induced photosensitivity. Therefore, sun protective clothing, glasses, and avoidance of direct sun exposure between 10:00 AM and 4:00 PM is recommended for all patients on vandetanib. In addition, the liberal application of a broad-spectrum sunscreen with an SPF of at least 15, applied every 2 hours to exposed areas of the body, is always recommended.
Prevention of photosensitive reactions for patients on vandetanib is critical in order to minimize disabling events and to maintain dose intensity.
Disclosure: Dr. Lacouture is a consultant for AstraZeneca.
---