Anthracycline Use Steadily Declining in Early Breast Cancer Population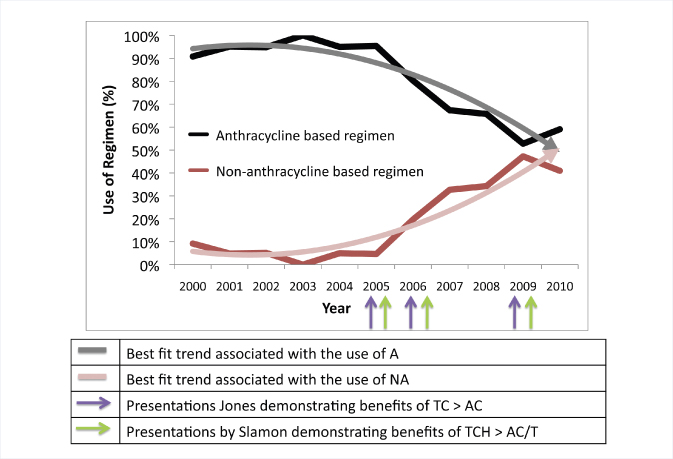 Fig. 1: Decreasing use of anthracyclines at University of California, San Francisco, 2000–2010. A = anthracycline; AC = doxorubicin/cyclophosphamide; NA = nonanthracycline; TC = docetaxel/cyclophosphamide; TCH = docetaxel/cyclophosphamide/trastuzumab. Courtesy of Serrurier KM, et al.1
Anthracycline use in early-stage breast cancer has been steadily declining, especially for patients with stage I/II or HER2-positive disease, according to an analysis of patients treated at the University of California, San Francisco (UCSF) School of Medicine.1
Treatment Alternatives
Lead author Katherine M. Serrurier, Clinical Research Coordinator at the UCSF Breast Care Center, presented the results at the 2012 Breast Cancer Symposium. The study's senior author was Hope S. Rugo, MD.
"Over the second half of the last decade, the use of anthracycline-based regimens has significantly decreased," said Ms. Serrurier. "This reduction parallels the presentation of treatment alternatives for the treatment of early-stage breast cancer."
Anthracycline-based combination chemotherapy is a standard of care for treating early-stage breast cancer, but these agents are associated with significant short- and long-term toxicity, including nausea, vomiting, cardiomyopathy, and secondary leukemias. There has been interest in identifying equally effective non–anthracycline-containing regimens, and evidence now supports the use of TC (docetaxel/cyclophosphamide) and TCH (docetaxel/carboplatin/trastuzumab [Herceptin]). Both of these regimens have been shown to produce disease-free and overall survival benefits.2,3
Study Design
Ms. Serrurier and colleagues sought to determine if these data have led to changes in chemotherapy prescribing patterns, and to evaluate the impact of TC and TCH on the use of anthracycline-containing regimens based on stage, age, and tumor subtype.
They reviewed 1,116 charts of patients treated between 2000 and 2010. Approximately half the patients had stage II tumors, while about a quarter had stage I and a quarter had stage III disease. One-fourth of the tumors were HER2-positive.
Variations in regimens were examined based on hormone receptor and HER2 status, tumor stage, and age at diagnosis. The use of anthracycline-containing vs non–anthracycline-containing regimens was evaluated for an earlier time period (2000–2005) and a more recent time period (2006–2010).
One-third Now Receive Nonanthracycline Regimens
The overall analysis of use for the decade from 2000 to 2010 showed that 80% of chemotherapy was anthracycline-based. However, for the earlier time period, vs the most recent 5 years, the use of anthracycline-based regimens decreased from 95% to 65%, while non–anthracycline-containing regimens increased from 5% to 35% of all chemotherapy treatments, she reported (Fig. 1).
The decrease in anthracycline use was observed across all ages, biologic subsets, and in stage I and stage II disease. The biggest decrease was seen in the treatment of stage I disease (61% reduction) and HER2-positive disease (66% reduction). More than 90% of stage III patients, however, continue to receive anthracyclines, with only a 6% reduction observed.
Interestingly, she added, the use of anthracyclines dropped at this academic institution that receives many referrals and difficult cases that would suggest the need for aggressive treatment.
"We are now evaluating this trend in the Northern California Cancer Registry and in the [National Comprehensive Cancer Network (NCCN)] breast cancer database," Ms. Serrurier said. "These analyses will for allow for more accurate association of regimen with specific subtype, and most importantly will allow correlations with outcomes over time." ■
Disclosure: Ms. Serrurier reported no potential conflicts of interest.
References
1. Serrurier KM, Hwang J, McGuire JP, et al: Chemotherapy treatment patterns for early-stage breast cancer: Decreasing use of anthracycline-based regimens. 2012 Breast Cancer Symposium. Abstract 141. Presented September 14, 2012.
2. Jones S, Holmes FA, O'Shaughnessy J, et al: Docetaxel with cyclophosphamide is associated with an overall survival benefit compared with doxorubicin and cyclophosphamide: 7-year follow-up of US Oncology Research Trial 9735. J Clin Oncol 27:1177-1183, 2009.
3. Slamon D, Eiermann W. Robert N, et al: Adjuvant trastuzumab in HER2-positive patients. N Engl J Med 365:1273-1283, 2011.
---
Related Articles
In a debate about the benefit of anthracycline therapy at the Symposium, Stephen E. Jones, MD, of US Oncology Research, The Woodlands, Texas, advocated for greater use of non–anthracycline-containing regimens. Dr. Jones was the principal investigator of US Oncology Research Trial 9735,1 which found ...