Studies Validate Safety of Breast-conserving Surgery in Young Patients with Breast Cancer

Young age is not a reason, in itself, to recommend mastectomy for early breast cancer in women aged 40 and under, according to two studies presented at the 2011 Breast Cancer Symposium in San Francisco.

While younger women have been pegged as having more aggressive disease, the results suggest that contemporary management—including genetic testing, improved imaging techniques, and more effective treatment—helps to ameliorate the adverse factors associated with worse outcomes, suggested Andrew D. Seidman, MD, of Memorial Sloan-Kettering Cancer Center, who moderated a press briefing.
"This is an important revisitation of the conventional wisdom that young women who have breast cancer really need to have mastectomy," Dr. Seidman commented.
Retrospective Review

In the first study, Julliette M. Buckley, MD, a breast surgery fellow at Massachusetts General Hospital, Boston, led a retrospective review of 628 patients aged ≤ 40 years (median age, 37) diagnosed with stage I–III breast cancer between 1996 and 2008. Of these women, 71% had breast-conserving therapy.1
"Studies have shown that young age at diagnosis is an independent risk factor for local recurrence after lumpectomy, and our study determined the risk of locoregional and distant recurrences in the modern era of multimodal treatment," Dr. Buckley said.
At a median follow-up of 72 months, women who underwent breast-conserving therapy had no higher rates of locoregional or distant recurrences than women treated with mastectomy. For the overall group, the 5-year rate of locoregional recurrence was 5.6%, increasing to 13% at 10 years. Median time to first locoregional recurrence was 38 months.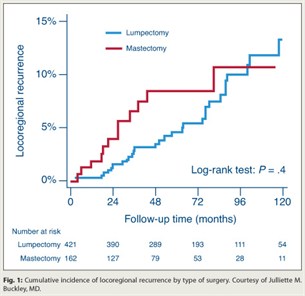 By type of surgery, the 5- and 10-year rates of locoregional recurrence were 4.6% and 13.3%, respectively, after breast-conserving therapy and 8.5% and 10.8%, respectively, following mastectomy (Fig. 1).
In the overall group, disease-free survival was 82.5% at 5 years and 68.6% at 10 years. Overall survival rates were 93.1% and 87%, respectively.
On multivariate analysis, only tumor size > 2 cm and positive lymph nodes were independent predictors of recurrence. Adjuvant hormonal therapy reduced the risk of disease recurrence, both local and distant, twofold, Dr. Buckley reported.
According to these findings, she concluded, "lumpectomy is indeed a safe option for young women."
SEER Database Analysis
In the second study, researchers analyzed the Surveillance, Epidemiology, and End Results (SEER) database of 14,764 women ≤ 40 years old diagnosed with early breast cancer (T1-2, N0-1, M0) between 1990 and 2007, 45% of whom underwent breast-conserving therapy.2 The median follow-up was 5.7 years.

After adjusting for numerous potential confounders, women treated with breast-conserving therapy had no worse outcomes than women treated with mastectomy in terms of overall survival or breast cancer-specific survival, reported Usama Mahmood, MD, of The University of Texas MD Anderson Cancer Center in Houston. In a matched-pair analysis of 4,644 of these women, conducted when Dr. Mahmood was at the University of Maryland, 10-year overall survival was 83% and 10-year cause-specific survival was 86% in each treatment group.
"While a series of studies have compared breast-conserving therapy to mastectomy and found equivalent survival in early-stage breast cancer, there has nonetheless been reluctance to apply the findings to young women. Our study suggests that young women should be counseled appropriately regarding their treatment options and should not choose a mastectomy based on an assumption of improved survival," Dr. Mahmood concluded. ■
Disclosure: Drs. Buckley, Seidman, and Mahmood reported no potential conflicts of interest.
Expert Point of View: Studies Validate Safety of Breast-conserving Surgery in Young Patients with Breast Cancer
References
1. Buckley JM, Coopey S, Samphao S, et al: Recurrence rates and long-term survival in women diagnosed with breast cancer at age 40 and younger. 2011 Breast Cancer Symposium. Abstract 70. Presented September 8, 2011.
2. Mahmood U, Morris CG, Neuner GA, et al: Equivalent survival with breast conservation therapy or mastectomy in the management of young women with early-stage breast cancer. 2011 Breast Cancer Symposium. Abstract 85. Presented September 8, 2011.
---
Related Articles

Rakesh Patel, MD, Medical Director of the Targeted Radiation Institute at Western Radiation Oncology, Pleasanton, California, was the invited discussant of the second study. He noted that in spite of well documented equivalent survival rates between the surgical approaches, mastectomy rates are...