Improvements Highlighted in Treatment of Leukemias and Preleukemias

Certain preleukemic conditions and leukemia in high-risk patients have remained challenging to treat despite advances in hematology, according to Wendy Stock, MD, of the University of Chicago. But studies reported at the Best of ASCO® Annual Meeting '11 in Seattle show progress even in these areas.
Ruxolitinib in Myelofibrosis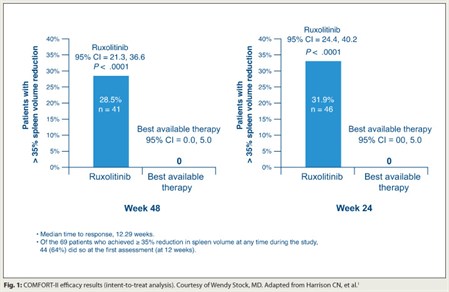 The randomized COMFORT-II trial concluded that the investigational compound ruxolitinib is more efficacious than best available therapy for reducing spleen size and symptoms in patients with myelofibrosis.1
About two-thirds of the patients had the JAK2 V617F mutation. In the best available therapy group, 67% of patients received at least one medication, usually hydroxyurea. Patients in the ruxolitinib group were more likely to achieve a reduction in spleen volume of at least 35% by 48 weeks (28.5% vs 0%; P < .0001; Fig. 1). This group also had reductions in symptoms, especially insomnia and fatigue, whereas those in the best available therapy group had increases. The drug had an acceptable safety profile, characterized mainly by increases in rates of thrombocytopenia and anemia.
The trial's findings show that ruxolitinib has "marked and sustained clinical benefits," according to Dr. Stock. "Interestingly, these improvements were similar regardless of the presence or absence of the JAK2 V617F mutation," she commented. "Is it a downstream effect? Is it an off-target effect? We simply don't yet know."
Clofarabine in Acute Myeloid Leukemia
Clofarabine (Clolar) achieves short-lived second remissions in older adults with relapsed or refractory acute myeloid leukemia, but at the price of increased toxicity, the CLASSIC 1 trial revealed.2
A total of 326 patients with a median age of 67 years were randomly assigned to cytarabine plus clofarabine (a novel purine nucleoside analog) or cytarabine plus placebo. The overall response rate was higher with clofarabine (47% vs 23%; P < .0001). The complete response rate was also higher (35% vs 18%; P = .0005).
Patients in the clofarabine group had better event-free survival (HR = 0.63; P = .0001), but the 4-month event-free survival rate was still only 38% in this group. Clofarabine was associated with higher rates of grade 3 or worse adverse events (98% vs 86%) and 60-day mortality (24% vs 17%).
"Clofarabine/cytarabine improves complete response rates in relapsed or refractory older adults with acute myeloid leukemia, but the responses are transient and the treatment is quite toxic," Dr. Stock commented.
"This may provide a brief window to allow allogeneic transplant for fit older adults with acute myeloid leukemia in second remission," she noted. "So if you're thinking about that as a second-line treatment, you have to have your strategy lined up and have these patients already referred to a transplant center, looking for a donor, because that [event]-free survival is quite short."
Alternatively, Dr. Stock said, oncologists may opt to use a hypomethylating agent or some other less intensive approach to consolidate the second remission.
High-dose Methotrexate in Acute Lymphoblastic Leukemia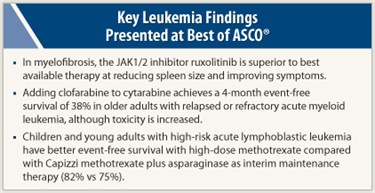 Children and young adults with high-risk precursor B-cell acute lymphoblastic leukemia fare better if treated with high-dose methotrexate as compared with Capizzi methotrexate for interim maintenance therapy, a Children's Oncology Group phase III randomized trial found.3
After induction and consolidation therapy, the 2,426 enrolled youth (up to 30 years old) received high-dose methotrexate plus leucovorin rescue, or Capizzi dose-escalating methotrexate plus asparaginase (Elspar)—the first head-to-head comparison of these methotrexate-intensifying approaches.
The 5-year rate of event-free survival was better with high-dose methotrexate (82.0% vs 75.4%, P = .006). Benefit appeared greatest among patients who had a slow early response during induction therapy.
The drug was well tolerated. Rates of neurotoxicity were low, possibly because follow-up is still short, but perhaps also because central nervous system radiation was largely avoided, Dr. Stock noted.
She commended the trial for its good design, collaborative success, and resourcefulness, pointing out, "They refined an existing drug schedule and dosing, and led to significant improvements without the addition of any fancy new treatment."
Yet, the trial leaves some questions unanswered. For example, only 2% of patients were older than 20 years, and patients with T-cell acute lymphoblastic leukemia were excluded, so outcomes for these groups are unknown.
Nonetheless, "this is really a model for extending pediatric intensified approaches to young adults in the United States and elsewhere with [acute lymphoblastic leukemia]," Dr. Stock said. To that end, a new trial is now accruing (Intergroup C-10403), with a very similar design but for patients 16 to 39 years old and having either precursor B-cell or T-cell acute lymphoblastic leukemia. ■
Disclosure: Dr. Stock receives research funding from Sigma Tau and served on the data safety monitoring board for Incyte for the COMFORT-I and COMFORT-II trials.
SIDEBAR: Novel Agents Are Still Needed to Address Cytopenias in Myelofibrosis
References
1. Harrison CN, Kiladjian J, Al-Ali HK, et al: Results of a randomized study of the JAK inhibitor ruxolitinib (INC424) versus best available therapy (BAT) in primary myelofibrosis (PMF), post-polycythemia vera-myelofibrosis (PPV-MF) or post-essential thrombocythemia-myelofibrosis (PET-MF). 2011 ASCO Annual Meeting. Abstract LBA6501. Presented June 6, 2011.
2. Faderl S, Wetzler M, Rizzieri D, et al: Clofarabine plus cytarabine compared to cytarabine alone in older patients with relapsed or refractory (R/R) acute myelogenous leukemia (AML): Results from the phase III CLASSIC 1 trial. 2011 ASCO Annual Meeting. Abstract 6503. Presented June 6, 2011.
3. Larsen EC, Salzer WL, Devidas M, et al: Comparison of high-dose methotrexate (HD-MTX) with Capizzi methotrexate plus asparaginase (C-MTX/ASNase) in children and young adults with high-risk acute lymphoblastic leukemia (HR-ALL): A report from the Children's Oncology Group Study AALL0232. 2011 ASCO Annual Meeting. Abstract 3. Presented June 5, 2011.
---
Related Articles
Despite improving splenomegaly and symptoms in patients with myelofibrosis, ruxolitinib has not been helpful for managing cytopenias in this population, according to Wendy Stock, MD, of the University of Chicago.
"Additional trials are underway with novel [JAK] inhibitors, with some hints about...