Giving Women a Fighting Chance When They Have Breast Cancer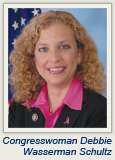 I knew there was a chance I could get breast cancer, I just never thought it would really happen to me.
I am one of 2.5 million breast cancer survivors living in our country today. Just weeks after getting a clean mammogram and my 41st birthday, I felt a lump in my breast. As a young and otherwise healthy mother of three, I heard the words that all women hope they never hear: "You have cancer." It was like an anvil crashing down on me.
With an early diagnosis and confirmation of a hereditary form of the disease, I underwent seven major surgeries—but not radiation or chemotherapy—to ensure that my cancer would not return. But that fear is never truly abated; once you have had cancer, you know it could always come back.
Improving Cancer Statistics
As a breast cancer survivor, I understand intimately how important it is that women have every possible cancer-fighting tool at their disposal. Our nation has been a leader in discovering innovative methods of detection and treatment. A cancer diagnosis is no longer the death sentence it used to be, and the statistics are only getting better. But our health-care system is still rife with disparities—especially in knowledge and access—that prevent these advances from reaching everyone.

As a woman living in the United States, you have a 1 in 8 chance of developing invasive breast cancer during your lifetime, and a 1 in 35 chance that the disease will take your life. This year, approximately 261,100 women in America will be diagnosed with breast cancer. Nearly 40,000 of those women will not see another birthday.
Despite that harrowing number, there is good news on the horizon: Breast cancer death rates have been decreasing. There is more hope for survival as we discover and access new treatments, guarantee more women comprehensive health-care coverage, and focus on education and early detection.
Affordable Care Act
That is why the Patient Protection and Affordable Care Act that Congress passed last year is so important. The bill seeks to eliminate these disparities by driving down the cost of health care and extending coverage to 31 million uninsured or underinsured Americans. This comprehensive law puts an emphasis on prevention and wellness, so that medical professionals can turn our nation's sick care system into a true health-care system.
In the years since my diagnosis, countless women have approached me to talk about their own personal health-care struggles. There are women who have foregone their annual mammograms because they could not afford the copay of the exam. I have heard from women who have had to choose one therapy—surgery, radiation, or chemotherapy—despite a physician's recommendation for multiple treatments, because the cost was simply too great to bear. And there are those women who avoid getting a diagnosis altogether, despite discovering what they feel could be cancer, because of the very real fear that an insurance company might rescind their coverage.
Thankfully, the Affordable Care Act will make these fears a thing of the past. The law limits health disparities and stresses prevention by eliminating cost-sharing for routine tests like mammograms and colonoscopies; it abolishes annual and lifetime caps on what an insurance policy will pay; and it finally ends the egregious practice of denying coverage to patients with preexisting conditions. This provision is game-changing for cancer survivors.
EARLY Act
After I was diagnosed with breast cancer and experienced the importance of early detection firsthand, I knew that I had to introduce legislation to help other young women facing this terrible disease. There have been so many advances in the screening and treatment of cancer, but all of that is moot if women are not learning about their bodies, taking steps to reduce risk factors, and getting regular and appropriate screenings. And that is why, as soon as I was cancer-free, I introduced the Breast Health Education and Awareness Requires Learning Young Act, or the EARLY Act.
The EARLY Act, which became law as part of the Affordable Care Act, focuses on a central tenet: that we must empower young women to understand their bodies and speak up for their health. The law works to educate certain groups, such as African-American women and Jewish women of Eastern European descent, who are disproportionately at risk for breast cancer at a young age. The EARLY Act also contains an education program for medical professionals, who all too often turn young women away.
Personal Perspective
My twins, Rebecca and Jake, were 8 and my daughter Shelby was 4 when I learned I had breast cancer. Naturally, I was worried about the impact my illness would have on their lives. Would I be there to attend their Girl Scout meetings and baseball games, and tuck them in at night? Would I be around to see them grow up, go to college, fall in love, and get married?
Rebecca, now 12, has started to ask if she too will get breast cancer someday. I know I can't promise her that she will not face the same cancer that I faced—especially because I carry the BRCA2 genetic mutation that dramatically increased my chances of getting breast or ovarian cancer. But what I can promise my daughters is that they will grow up in a world that is determined to give them the best health-care opportunities possible.
All women need to know the early warning signs of cancer and to be aware of their own personal risk factors. Going through this experience, it became undeniably clear to me: Women facing cancer need and deserve all of the knowledge and tools available that can help save their lives. We must continue to help make it possible for all Americans to access quality, affordable health care. ■
Congresswoman Debbie Wasserman Schultz (D) represents Florida's 20th Congressional district.
---