Special Supplement: Reports from Best of ASCO® Annual Meeting '11

The ASCO Post is pleased to present this special supplement with a focused review of more than 50 key abstracts from the Annual Meeting of the American Society of Clinical Oncology (ASCO), as presented and discussed at the Best of ASCO '11 meetings (July 29-30, 2011, Miami, Florida, and August 5-6, 2011, Seattle, Washington). Each report is accompanied by expert perspective and key points.
The abstracts discussed herein represent those having particular importance and relevance to the clinical management of the patient with cancer.
Look for additional coverage of the Best of ASCO '11 meetings in the October 15th issue of The ASCO Post or online at ASCOPost.com.
Inside This Supplement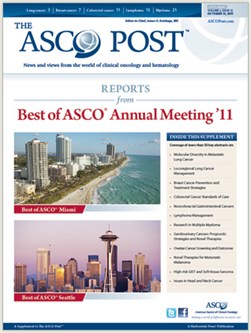 Coverage of more than 50 key abstracts on:
---