Similar Outcomes Confirmed in Variety of Lymphoma Treatment Comparisons


Three abstracts reported at the Best of ASCO® meeting in Seattle provide guidance to hematologists when it comes to long-standing gray areas in lymphoma management, according to Oliver Press, MD, PhD, of the Fred Hutchinson Cancer Research Center and the University of Washington, Seattle.
Compressed R-CHOP in Diffuse Large B-cell Lymphoma
A phase III UK trial in patients with newly diagnosed, CD20-positive diffuse large B-cell lymphoma found that giving R-CHOP (rituximab [Rituxan], cyclophosphamide, doxorubicin, vincristine, prednisone) every 14 days instead of the standard every 21 days allows patients to finish chemotherapy sooner but does not improve outcomes.1 More than half of patients in the trial were 60 or older, and none were younger than 19 years.
In all, 1,080 patients were randomly assigned to receive six cycles of R-CHOP-14 plus eight cycles of rituximab with growth factor support, or to receive eight cycles of R-CHOP-21 plus eight cycles of rituximab alone. Patients given the standard regimen (R-CHOP-21) were more likely to stop treatment early (19.8% vs 10.7%) and had higher rates of toxicities.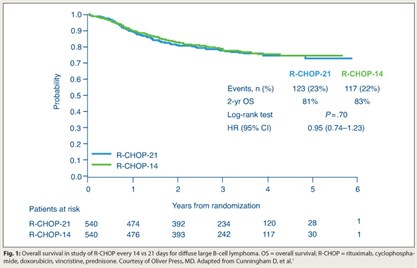 After a median of 39 months, overall survival did not differ between R-CHOP-21 and R-CHOP-14 overall or in subgroup analyses (Fig. 1). Failure-free survival was identical.
The investigators "did admit afterwards that they wished they had just done six cycles of each [regimen], because there's a lingering question there. But I think most people felt that six cycles is adequate," Dr. Press noted.
"I think you can use either regimen," he concluded. "Most people find R-CHOP-21 more user friendly and patients generally find it easier to tolerate. If you are in a hurry to get done, R-CHOP-14 is okay if you give it with growth factors. But there's not a compelling reason in terms of outcome to use it."
No Gain Seen in Survival with Upfront Transplant for NHL
Upfront autologous transplantation after successful induction does not improve survival in patients with high-intermediate or high International Prognostic Index (IPI) non-Hodgkin lymphoma, according to results of a phase III trial.2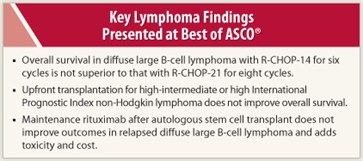 More than three-fourths of the 370 enrolled patients had diffuse large B-cell lymphoma. One-third had a high age-adjusted IPI. The 253 patients having a partial response or better to induction therapy were randomly assigned to consolidation with upfront transplantation or no upfront transplantation (simply more cycles of therapy).
Although rates of grade 3/4 toxicities were higher in the group receiving upfront transplantation, the 2-year rate of progression-free survival was better in this group (69% vs 56%; P = .005). The 2-year rate of overall survival was not, mainly because of a high rate of salvage transplantation after relapse in the other group. However, exploratory subgroup analyses suggested both progression-free and overall survival benefits of upfront transplantation for patients with a high IPI.
Eleven other studies have looked at upfront transplantation, Dr. Press noted. "The current trial was organized to try to ask this question for a 12th time and to try to come up with a definitive answer. I'll leave it up to you to decide whether that happened or not," he said.
The findings have led some to endorse upfront transplant for high-IPI patients. "But you have to remember it was an unplanned retrospective subset analysis," he cautioned. "And whether that's good enough for you, I think the debate will go on."
Maintenance Rituximab for Relapsed Diffuse Large B-cell Lymphoma
The Collaborative trial in Relapsed Aggressive Lymphoma (CORAL study) found that giving rituximab as maintenance therapy after transplantation for relapsed, CD20-positive diffuse large B-cell lymphoma fails to improve event-free survival.3
Patients were randomly assigned to R-ICE (rituximab, ifosfamide, carboplatin, etoposide) or R-DHAP (rituximab, dexamethasone, high-dose cytarabine, cisplatin) as salvage therapy. Those who experienced a partial or complete response underwent autologous transplantation and were randomly assigned again to either maintenance rituximab for 1 year or observation only.
Previously published results showed that overall survival did not differ by salvage regimen.4 But R-ICE had a lower rate of adverse events.
Among the 245 patients randomly assigned to maintenance therapy or observation only, those in the former group had a higher rate of serious adverse events (21% vs 13%). Event-free survival did not differ.
"There's no apparent benefit to rituximab maintenance…at least for diffuse large B-cell lymphoma after transplant," Dr. Press concluded. The findings were much the same in subgroup analyses. Within the rituximab group, women had better progression-free survival than men. ■
Disclosure: Dr. Press has served as a consultant for and accepted honoraria from Roche/Genentech.
SIDEBAR: Research Is Taking the Guesswork Out of Lymphoma Management
References
1. Cunningham D, Smith P, Mouncey P, et al: R-CHOP14 versus R-CHOP21: Result of a randomized phase III trial for the treatment of patients with newly diagnosed diffuse large B-cell non-Hodgkin lymphoma. 2011 ASCO Annual Meeting. Abstract 8000. Presented June 4, 2011.
2. Stiff PJ, Unger JM, Cook J, et al: Randomized phase III U.S./Canadian intergroup trial (SWOG S9704) comparing CHOP ± R for eight cycles to CHOP ± R for six cycles followed by autotransplant for patients with high-intermediate (H-Int) or high IPI grade diffuse aggressive non-Hodgkin lymphoma (NHL). 2011 ASCO Annual Meeting. Abstract 8001. Presented June 4, 2011.
3. Gisselbrecht C, Glass B, Laurent G, et al: Maintenance with rituximab after autologous stem cell transplantation in relapsed patients with CD20 diffuse large B-cell lymphoma (DLBCL): CORAL final analysis. 2011 ASCO Annual Meeting. Abstract 8004. Presented June 4, 2011.
4. Gisselbrecht C, Glass B, Mounier N, et al: Salvage regimens with autologous transplantation for relapsed large B-cell lymphoma in the rituximab era. J Clin Oncol 28:4184-4190, 2010.
---
Related Articles
The selected studies answer some critical questions in lymphoma that hematologists face daily and that have been the source of intense debate in the field, according to Oliver Press, MD, PhD, of the Fred Hutchinson Cancer Research Center and the University of Washington, Seattle.
"I think the...