Multiple Myeloma Research Spotlights Treatment Concerns and Advances


Myeloma data reported at this year's ASCO meeting raise concern about the safety of a mainstay class of drugs in this disease, while also hinting at good efficacy of some novel drugs and approaches, according to William I. Bensinger, MD, of the Fred Hutchinson Cancer Research Center, Seattle.
Lenalidomide/Melphalan Linked to Second Malignancies
Patients aged 65 years or older with newly diagnosed multiple myeloma have at least twice the rate of second primary malignancies if they receive lenalidomide (Revlimid) concurrently and/or sequentially with melphalan, according to findings of the randomized MM-015 trial.1
With a median follow-up of 30 months, the rate of second invasive cancers was generally low among the 459 patients studied. But it was higher among patients who had initial therapy with melphalan, prednisone, and lenalidomide (5.9%) and more so in those who received melphalan, prednisone, and lenalidomide initial therapy followed by lenalidomide maintenance therapy (8.0%) than those who had melphalan/prednisone initial therapy alone (2.6%).
When lenalidomide was used in both initial and maintenance therapy, the rate of second cancers rose over time, especially after year 3, but this treatment strategy also showed the lowest rate of progressive disease or death. Use of lenalidomide and dexamethasone alone—without melphalan—has not been associated with an elevated risk of second cancers, Dr. Bensinger noted. "So there appears to be some synergy between exposure to melphalan and lenalidomide that may increase these second primary cancers," he speculated.
"At present, the benefit of maintenance on delaying disease progression outweighs the risks," Dr. Bensinger commented. "But without any differences in overall survival, I think you have to be cautious about recommending this as standard of care."
Carfilzomib in Relapsed/Refractory Myeloma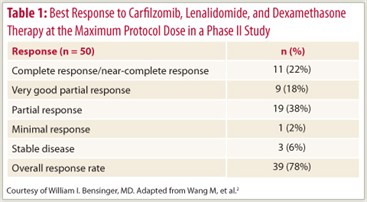 The investigational agent carfilzomib, an intravenously administered second-generation proteasome inhibitor, is active and well tolerated in relapsed and/or refractory myeloma, according to a phase II trial among 52 patients.2
Adding carfilzomib to lenalidomide/dexamethasone achieved a response rate of 78%, with the largest share of patients having a partial response (Table 1). With treatment extending to more than 23 months, no dose-limiting toxicities were observed. The most common grade 3/4 adverse events were neutropenia (17%), anemia (13%), and hypophosphatemia (13%).
"Prolonged treatment with this drug is possible because it doesn't appear to have much of a neurotoxicity signal at all," Dr. Bensinger said, noting that some patients have been on it for nearly 4 years. "It can actually be used as maintenance therapy, although IV therapy is a bit inconvenient for patients if we are using it [in that setting]."
An accruing phase III randomized trial is testing the addition of carfilzomib to lenalidomide/dexamethasone. "It is possible that this drug could be available in advance of that trial," he commented, as a New Drug Application is being submitted for treatment of bortezomib (Velcade)-refractory patients. "So if ODAC recommends approval and the FDA agrees, it's possible that this drug might be available on the market some time next year."
Upfront Transplantation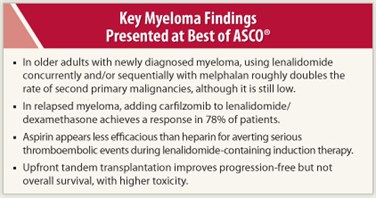 Upfront tandem transplantation improves progression-free survival compared with the combination of melphalan, prednisone, and lenalidomide in newly diagnosed myeloma, according to data from a phase III trial reported at ASCO by Mario Boccadoro, MD, of the University of Torino, Italy, and colleagues.3 Moreover, compared with low-dose aspirin, low–molecular weight heparin appeared more efficacious at averting thromboembolic events during induction with lenalidomide and dexamethasone. The rates were low in both groups, at less than 3%, but 4 patients experienced pulmonary embolism with aspirin, compared with none with heparin.
"This indicates to me that low-dose aspirin is probably insufficient if you are using a lenalidomide/dexamethasone combination," Dr. Bensinger said.
With a median follow-up of 20 months, the 2-year rate of progression-free survival was better with transplantation than with drug therapy (75% vs 59%; P = .005). Transplantation was associated with significantly higher rates of grade 3/4 adverse events, especially neutropenia and thrombocytopenia.
Overall survival was high and did not differ between groups. But "keep in mind that these trials often take 3 to 5 years before they mature enough that you can see significant differences," Dr. Bensinger cautioned.
"It might have been a better trial if they stuck to a single autologous transplant, because I don't think tandem transplants at the present time are considered a standard of care," he commented. ■
Disclosure: Dr. Bensinger has served on the speakers bureau for Celgene, as a consultant for Onyx and Celgene, and has received clinical trials funding from Onyx and Celgene.
SIDEBAR: A Cautious Approach to Maintenance Therapy

References
1. Palumbo AP, Delforge M, Catalano J, et al: Incidence of second primary malignancy (SPM) in melphalan-prednisone-lenalidomide combination followed by lenalidomide maintenance (MPR-R) in newly diagnosed multiple myeloma patients (pts) age 65 or older. 2011 ASCO Annual Meeting. Abstract 8007. Presented June 5, 2011.
2. Wang M, Bensinger W, Martin T, et al: Interim results from PX-171-006, a phase (Ph) II multicenter dose-expansion study of carfilzomib (CFZ), lenalidomide (LEN), and low-dose dexamethasone (loDex) in relapsed and/or refractory multiple myeloma (R/R MM). 2011 ASCO Annual Meeting. Abstract 8025. Presented June 4, 2011.
3. Boccadoro M, Cavallo F, Nagler A, et al: Melphalan/prednisone/lenalidomide (MPR) versus high-dose melphalan and autologous transplantation (MEL200) in newly diagnosed multiple myeloma (MM) patients: A phase III trial. 2011 ASCO Annual Meeting. Abstract 8020. Presented June 4, 2011.
---
Related Articles
Hematologists should weigh the risks and benefits carefully when considering lenalidomide (Revlimid) or other maintenance therapy for their patients with myeloma, according to William I. Bensinger, MD, of the Fred Hutchinson Cancer Research Center, Seattle.
Lenalidomide is associated with...