President Biden Appoints Members to National Cancer Advisory Board

President Biden announced the appointment of seven distinguished clinicians and researchers to the National Cancer Advisory Board, which plays an important role in guiding the Director of the National Cancer Institute in setting the course for the national cancer research program. President Biden is committed to making sure his Administration is investing in research and development that will help advance breakthroughs to prevent, detect, and treat diseases such as cancer. The National Cancer Advisory Board will complement the Administration's efforts to build on the spirit and learnings of the Cancer Moonshot, which President Biden led during the Obama–Biden Administration.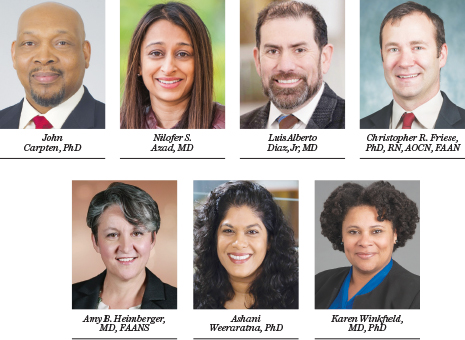 John Carpten, PhD, Chair: Dr. Carpten currently serves as Professor and Chair for the Department of Translational Genomics and is the Royce and Mary Trotter Chair for Cancer Research, Keck School of Medicine, University of Southern California (USC), Los Angeles. He also serves as Associate Director of Basic Sciences for the USC Norris Comprehensive Cancer Center.
Nilofer S. Azad, MD, Member: Dr. Azad is Professor of Oncology at the Sidney Kimmel Comprehensive Cancer Center at Johns Hopkins, where she serves as Co-Director of the Developmental Therapeutics Clinical Research Program and the Cancer Genetic and Epigenetic Core Research Program.
Luis Alberto Diaz, Jr, MD, Member: Dr. Diaz is Head of the Division of Solid Tumor Oncology and the Grayer Family Chair at the Memorial Sloan Kettering Cancer Center. He is a renowned investigator for his work on novel clinical applications of cancer genetics.
Christopher R. Friese, PhD, RN, AOCN, FAAN, Member: Dr. Friese is the Elizabeth Tone Hosmer Professor of Nursing at the School of Nursing, Professor of Health Management and Policy at the School of Public Health, and Associate Director for Cancer Control and Population Sciences at the Rogel Cancer Center, all at the University of Michigan. He serves as the inaugural Director of the Center for Improving Patient and Population Health.
Amy B. Heimberger, MD, FAANS, Member: Dr. Heimberger is the Jean Malnati Miller Professor of Neurological Surgery, Vice-Chair for Research in the Department of Neurological Surgery at Northwestern University, and Scientific Director of the Malnati Brain Tumor Institute at the Robert H. Lurie Comprehensive Cancer Center.
Ashani Weeraratna, PhD, Member: Dr. Weeraratna is the E.V. McCollum Professor and Chair, Department of Biochemistry and Molecular Biology, Johns Hopkins Bloomberg School of Public Health, and President of the Society for Melanoma Research.
Karen Winkfield, MD, PhD, Member: Dr. Winkfield is Ingram Professor of Cancer Research and Professor of Radiation Oncology at Vanderbilt University Medical Center. She currently co-leads the Inclusive Participation Workgroup of the National Institutes of Health Community Engagement Alliance teams against COVID-19 disparities, and in 2020, she was named Executive Director of the Meharry-Vanderbilt Alliance.
---