IMpower010: Benefits Observed With Atezolizumab Regardless of Stage, Type of Prior Treatment

In an exploratory analysis of the pivotal phase III IMpower010 trial in stage II–IIIA non–small cell lung cancer (NSCLC), continued treatment with the monoclonal antibody atezolizumab after surgery and chemotherapy improved disease-free survival regardless of the type of surgery or chemotherapy doublet received by the patient. These findings were reported during the International Association for the Study of Lung Cancer (IASLC) 2021 World Conference on Lung Cancer.1
Lead author Nasser Altorki, MD, of NewYork-Presbyterian Hospital, Weill Cornell Medicine, New York, said: "We have shown improved disease-free survival with atezolizumab in patients with PD-L1–expressing stage II–IIIA disease, and in all randomly assigned patients with stage II–IIIA disease, across most disease stages and in those with nodal involvement, and across most surgery types and ­chemotherapy regimens." 

Nasser Altorki, MD
Primary Results Previously Reported
The primary results of IMpower010 were presented at the 2021 ASCO Annual Meeting.2 Those results included a significant disease-free survival benefit with atezolizumab following resection and chemotherapy vs best supportive care in patients with PD-L1–expressing (≥ 1%) stage II–IIIA disease and in all randomly assigned patients with stage II–IIIA disease.
The study enrolled 1,280 patients with resectable NSCLC who received adjuvant cisplatin-based chemotherapy after resection. The 1,005 meeting eligibility criteria after adjuvant therapy were then randomly assigned to receive atezolizumab at 1,200 mg every 21 days for up to 16 cycles vs best supportive care.
The primary endpoint of disease-free survival was analyzed in three subgroups: patients with stage II–IIIA tumors and a PD-L1 tumor composite score ≥ 1%; all randomly assigned patients with stage II–IIIA NSCLC; and the intent-to-treat group of patients with stage IB–IIIA NSCLC, of whom about half had PD-L1–expressing tumors.
At the interim analysis, median disease-free survival in PD-L1–positive patients was not reached in the atezolizumab-treated group and was 35.3 months in patients given best supportive care (hazard ratio [HR] = 0.66; P = .004). Risk was reduced in all randomly assigned patients with stage II–IIIA disease (HR = 0.79; P = .02) and in the intent-to-treat stage IB–IIIA population (HR = 0.81; P = .04). The intent-to-treat analysis has not yet crossed the boundary for statistical significance.
Exploratory Analysis
The current exploratory analysis reported at the IASLC 2021 World Conference on Lung Cancer examined the impact of therapies given prior to maintenance atezolizumab, including the extent of pulmonary resection, the type of mediastinal nodal assessment, and the chemotherapy doublet—parameters that were well balanced between the arms. In the intent-to-treat population, 78% of patients underwent lobectomy, 16% had pneumonectomy, and 5% had bilobectomy. Mediastinal lymph node dissection or sampling was done in 81% and 18%, respectively.
In both arms, across chemotherapy regimens, most patients (76%–95%) received the planned four cycles of treatment. Doublets included cisplatin/pemetrexed (38%), cisplatin/vinorelbine (30%), cisplatin/gemcitabine (16%), and cisplatin/docetaxel (15%). The median time from surgery to adjuvant atezolizumab was about 5 months for both arms.
These prerandomization variables, as well as the time from surgery to adjuvant therapy, are topics of interest to clinicians, Dr. Altorki said.
Benefit Across Surgery and Chemotherapy Types
"Disease-free survival favored the atezolizumab arm and was better for most disease stages, regardless of the type of surgery or the cisplatin doublet used," Dr. Altorki said (see Table 1).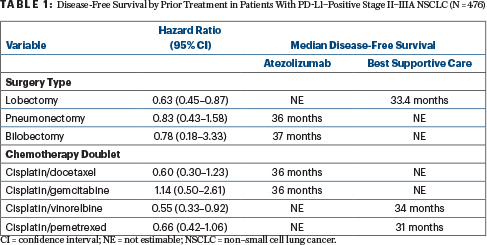 In the primary population of patients with stage II–IIIA, PD-L1–positive disease, by disease stage, the hazard ratios favoring atezolizumab were 0.73 for stage IIA, 0.77 for stage IIB, and 0.62 for stage IIIA. By the type of surgery, the hazard ratios were 0.63 for lobectomy, 0.83 for pneumonectomy, and 0.78 for bilobectomy.
The same analysis in all 882 randomly assigned patients with stage II–IIIA NSCLC (regardless of PD-L1 expression) also showed that across most stages, types of surgery, and chemotherapy regimens, disease-free survival favored atezolizumab. As expected, "similar trends favoring atezolizumab" were seen in the intent-to-treat analysis. However, Dr. Altorki reminded listeners that the statistical boundary has not been crossed, and the final disease-free survival analysis is awaited.
Will Most Patients Benefit?
In a press briefing, Dr. Altorki was asked whether—considering the broad benefit shown—virtually all patients with NSCLC may benefit from the IMpower010 approach, or whether there are patients who will not be good candidates for such therapy. "Before we do a final disease-free survival analysis, it's hard to make predictions about stage IB disease," responded Dr. Altorki. "In the end, it may prove beneficial [there]."
"However, from the point of view of the physician treating a patient with lung cancer, [the importance] is the significant difference in survival in those with stage II and III NSCLC, particularly those with node-positive disease. We know that adjuvant chemotherapy may improve survival in some patients, but it is moderate at best, and we are always looking for options to further enhance that," Dr. Altorki commented. "It is quite likely that the progression-free survival advantage here will translate also into an overall survival advantage. If nothing else comes out of this, I think we have a great move forward here." 
DISCLOSURE: Dr. Altorki has received research funding from AstraZeneca and Janssen Pharmaceuticals and has served on the advisory board of AstraZeneca.
REFERENCES
1. Altorki N, Felip E, Zhou C, et al: IMpower010: Characterization of stage IB-IIIA NSCLC patients by type and extent of therapy prior to adjuvant atezolizumab. 2021 World Congress on Lung Cancer. Abstract PL02A.05. Presented September 9, 2021.
2. Wakelee HA, Altorki NK, Zhou C, et al: IMpower010: Primary results of a phase III global study of atezolizumab versus best supportive care after adjuvant chemotherapy in resected stage IB-IIIA non-small cell lung cancer. 2021 ASCO Annual Meeting. Abstract 8500. Presented June 6, 2021.
---
Related Articles
Ichiro Yoshino, MD, PhD, Professor and Chairman of the Department of General Thoracic Surgery, Chiba University Graduate School of Medicine, Japan, reviewed the finer details of the IMpower010 exploratory analysis.1 He maintained that atezolizumab's benefit does, indeed, seem to favor some patient...