Breast Cancer Research Foundation®, Conquer Cancer, and ASCO Celebrate 20th Year of Collaboration

2021 marks the 20th year of collaboration between ASCO; Conquer Cancer®, the ASCO Foundation; and the Breast Cancer Research Foundation® (BCRF). BCRF's pivotal support during the past 2 decades has been critical to both organizations' shared achievements in funding breakthroughs in breast cancer research, launching and nurturing the careers of promising physician-scientists, and improving outcomes for patients with breast cancer around the world.
BCRF was founded in 1993 by the late Evelyn Lauder in partnership with Larry Norton, MD, FASCO, Medical Director of the Evelyn H. Lauder Breast Center at Memorial Sloan Kettering Cancer Center, who continues to serve as BCRF's Founding Scientific Director. Mrs. Lauder strongly believed that research was the only way to end breast cancer and that continued innovation would be best achieved by empowering the best minds in the field. 
To date, BCRF has supported 98 Conquer Cancer Grants & Awards, including the Young Investigator Award (YIA), Career Development Award (CDA), Advanced Clinical Research Award (ACRA), and Professorship as well as the Long-Term International Fellowship and Merit Award in Geriatric Oncology in memory of Dr. Arti Hurria. With a particular interest in supporting early investigators in breast cancer research, in 2013 BCRF endowed a YIA in memory of Evelyn Lauder—the first of Conquer Cancer's endowed YIAs. In addition, in 2020 BCRF endowed the Dr. Bernard Fisher Memorial Annual Clinical Science Symposium, held in conjunction with the ASCO Annual Meeting and inspired by Dr. Fisher's pioneering achievements in changing the course of breast cancer treatment. 
Starting in 2021, BCRF's support has been earmarked for diversity and inclusion, funding outstanding investigators who are members of a racial/ethnic group traditionally excluded in academic medicine and biomedical research. This coincides with ASCO and Conquer Cancer's renewed and expanded commitment toward achieving the highest quality equitable care for patients with cancer and supporting a diverse cancer care workforce.
We reached out to Conquer Cancer–Breast Cancer Research Foundation® Grants & Awards recipients from over the years, who reflected on the impact of BCRF's support of their work and careers.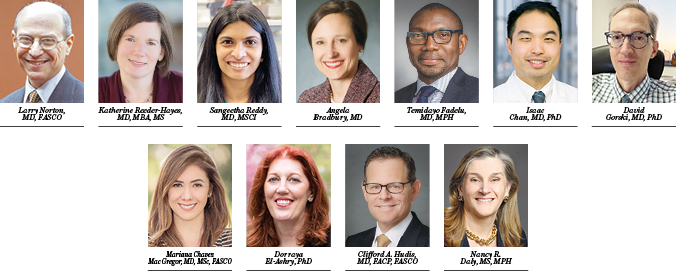 Crucial Support for Young Investigators
Katherine Reeder-Hayes, MD, MBA, MS, a 2015 CDA recipient who is now at the University of North Carolina, Chapel Hill, shared: "The award protected research time and enabled me to complete several analyses related to racial disparities in gene expression profile use, resulting in a first author publication and a conference presentation. The experience gained during the award period further solidified my career development as a cancer health services researcher and physician-scientist focused on Black-White breast cancer disparities."
Sangeetha Reddy, MD, MSCI, a 2016 YIA recipient currently at The University of Texas Southwestern Medical Center, stated: "Receiving support from a career award… is especially critical for young investigators to generate the data, develop the experience, and build the confidence to establish ourselves in academic careers. This experience was incredibly formative in my early career as an investigator and paved the initial path to where I am today."
Angela Bradbury, MD, of the University of Pennsylvania, said her 2012 ACRA "provided critical data for a larger multicenter R01, which is now in a second 5 years [renewal grant] for a larger return of actionable genetic research results. [The ACRA] was critical to launching this entire research program."
Temidayo Fadelu, MD, MPH, of Dana-Farber Cancer Institute, is a two-time award recipient, earning a 2019 YIA and a 2021 CDA for his project focused on improving adherence to adjuvant endocrine therapy among patients with breast cancer in Rwanda. Dr. Fadelu said: "It is crucial to continue supporting research that addresses local and global disparities. Also, [it is] crucial to specifically fund researchers who are non-U.S. citizens, who have very limited alternate sources of funding. There is incredible potential to improve global disparities, but limited funding for innovative research remains the major obstacle." 
Navigating Research During the COVID-19 Pandemic
A few of the investigators we heard from remarked on the importance of support given the added challenges of research during the COVID-19 pandemic. Isaac Chan, MD, PhD, a 2019 YIA recipient now at The University of Texas Southwestern Medical Center, said: "It is critical to support young investigators like myself, especially in the wake of the COVID-19 pandemic. An entire generation of scientific careers is being affected by the pandemic. And, while I was fortunate to be able to start an independent faculty position, starting a lab during this crisis has been incredibly difficult. Your support is crucial to early physician-scientists like myself who have dedicated their lives to finding a cure for metastatic breast cancer...."
David Gorski, MD, PhD, a 2007 ACRA recipient who is now with Wayne State University, reflected: "The funding situation today for young investigators just getting started is rougher than I recall it's ever having been. Any funding that lets clinician-scientists get their lab started and generate data for further grant applications is incredibly valuable."
Mariana Chavez Mac Gregor, MD, MSc, ­FASCO, a 2018 ACRA recipient with the MD Anderson Cancer Center and now an ASCO board member, reflected: "Supporting young investigators is crucial to move the field forward. While the awards support specific projects, at the core, they are funding individuals who are committing their careers to improve the understanding of breast cancer biology and, more importantly, improving the outcomes of breast cancer patients."
An Enduring Partnership
"We're proud to mark 20 years sparking innovation with ASCO," said BCRF Chief Scientific Officer Dorraya El-Ashry, PhD. "Together, we support early-career scientists who have the potential for long-lasting impact. Our enduring partnership is a key component in achieving our mission to end breast cancer by supporting—and developing—the world's most brilliant scientific minds."
Clifford A. Hudis, MD, FACP, FASCO, Chief Executive Officer of ASCO and former Chairman of BCRF's Scientific Advisory Board stated: "Before I came to ASCO and Conquer Cancer, I was fortunate to be supported by BCRF and to play a role in supporting it as a scientific advisor. This unique model encourages investigators to take scientific risks and try new and creative approaches to long-standing challenges, and the results of this have transformed breast cancer care over these 2 decades."
"BCRF is one of Conquer Cancer's longest standing top donors," reflected Nancy R. Daly, MS, MPH, Conquer Cancer's Chief Executive Officer. "The achievements of the outstanding breast cancer investigators we have been able to support over the years are due in no small part to our partnership with BCRF."
Applications are currently being accepted for the Conquer Cancer–Breast Cancer Research Foundation® Research Professorship, Advanced Clinical Research Award, Career Development Award, and Young Investigator Award for Diversity and Inclusion in Breast Cancer Research. Please visit https://www.asco.org/career-development/grants-awards/funding-opportunities for application details and deadlines. 
© 2021. American Society of Clinical Oncology. All rights reserved.
---