LUNGevity Foundation Recognizes Recipients of 2020 Career Development Awards

LUNGevity Foundation, a nonprofit organization, recently announced three recipients of its 2020 Career Development Awards for lung cancer research. These awards were presented to Kathyrn Arbour, MD, Assistant Attending at Memorial Sloan Kettering Cancer Center; Carl Gay, MD, PhD, of The University of Texas MD Anderson Cancer Center; and Sean Pitroda, MD, of The University of Chicago. The awards fund critical lung cancer research projects and offer the recipients guidance from members of LUNGevity's Scientific Advisory Board.
Each of the award recipients will receive $100,000 each year for 3 years.
Investigators Research Initiatives
Dr. Arbour the Kristie Rolke Smith/LUNGevity Career Development Award, generously funded by the Rolke family in memory of their daughter, Kristie, for her research on the mechanisms of resistance to direct KRAS G12C inhibition. Dr. Arbour will test a combination treatment regimen (MRTX849 for KRAS G12C and TNO155 for SHP2) in specialized mouse models of KRAS-mutant lung cancer, as well as analyze blood samples from patients who are currently receiving the MRTX849 drug to proactively monitor how these patients are developing resistance to MRTX849. Her ultimate goal is for new drugs, such as TNO155, to be added to the treatment regimen for patients with KRAS-positive tumors to combat acquire resistance.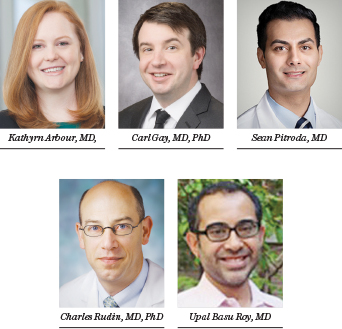 Dr. Gay was presented LUNGevity's career development award for his research into small cell lung cancer molecular subtypes to predict targeted and immune therapy response. Dr. Gay and his team will test an immunotherapy-DNA damage response (DDR) inhibitor combination therapy in SCLC patients and validate a biomarker profile. Dr. Gay's research aims to develop a new drug therapy combination and determine which patients are likely to benefit from it.
Dr. Pitroda was presented with LUNGevity's career development award for his research into predictive biomarkers of radio-immunotherapeutic response in NSCLC. Dr. Pitroda and his team will develop a biomarker signature that can predict which patients are the most likely to benefit from an immunotherapy-radiation therapy combination. The ultimate goal is to determine which patients are likely to benefit from this combination treatment.
"We are thrilled to support these already-accomplished young investigators who are working in key areas of lung cancer research: one working to understand and prevent resistance to drugs targeting the KRAS mutation, and two seeking to develop novel strategies to enhance the benefits of immunotherapy—through combination with DNA damage response inhibitors, or with radiation," noted Charles Rudin, MD, PhD, Professor and Chief of the Thoracic Oncology Service at Memorial Sloan Kettering Cancer Center and Chair of LUNGevity's Scientific Advisory Board. "Our funding of this year's group of awardees will help make progress in facing these challenges and continue to improve outcomes for lung cancer patients." 
"By funding young investigators, LUNGevity keeps outstanding scientists, still early in their careers, in the lung cancer space. We work closely with these researchers with the hope of seeing them become the next generation of scientific superstars," says Upal Basu Roy, MD, Vice President of Research at LUNGevity. "The CDA program encourages their continued development in the field of lung cancer research to grow a strong pipeline of dedicated lung cancer researchers."
LUNGevity's Scientific Research Program is supported by the American Lung Association, Bristol-Myers Squibb, The Thomas G. Labrecque Foundation, Takeda, the Rolkes, and individual donors. 
---