Conquer Cancer Announces 2020 Quality Care Symposium Merit Awards

Conquer Cancer, the ASCO Foundation® is pleased to announce the recipients of its 2020
Quality Care Symposium Merit Awards.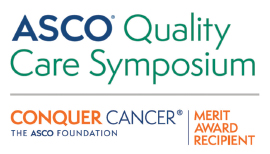 These distinguished awards recognize oncology fellows and trainees who are first authors on top-ranking abstracts selected for presentation at the virtual ASCO Quality Care Symposium on October 9–10, 2020.  
These 14 oncology professionals are recognized for their respective field and research advancements within the cancer care community:  
Supporters 
The 2020 Conquer Cancer Merit Awards are supported by: 
Anonymous; AbbVie, Inc.; ASCO Employees; Association of Northern California Oncologists, AstraZeneca; BeiGene; Friends and Family of Dr. and Mrs. Ronald Beller; the Berry Family; Dr. and Mrs. Douglas W. Blayney; Breast Cancer Research Foundation®; Bristol Myers Squibb; Jonathan K. and Cora Y. Cho Charitable Fund; Eisai Inc.; Estate of Darla C. Ellis; Epiphany Partners Inc.; GlaxoSmithKline Oncology; Harborside; Ipsen Biopharmaceuticals Inc.; Kimberly Irvine, Michael Kelley, MD & Elise Hoffman, PharmD; Nicole M. Kuderer, MD, and Gary H. Lyman, MD, MPH, FASCO; William T. Leslie, MD; Lilly; Loxo Oncology Inc., a wholly owned subsidiary of Eli Lilly and Company; Michigan Society of Hematology & Oncology;  Therese Marie Mulvey, MD, FASCO; Friends and Family of Dr. James B. Nachman; New Rhein Healthcare, LLC; Northern New England Clinical Oncology Society; Dr. Kathleen Pritchard Medicine Professional Corporation; Sarah Cannon Research Institute; Frances A. Shepherd, MD, FASCO; Stephen A. Sherwin, MD; Drs. Rachna and Puneet Shroff; Mr. Jackson G. Simpson; Syndax Pharmaceuticals, Inc.; Nizar M. Tannir, MD; Anthony and Marilyn Tolcher; and Dr. Michael and Deborah Troner. 
© 2020. American Society of Clinical Oncology. All rights reserved.
---