Horwitz Prize Awarded to Three Scientists for Work on Critical Cancer Pathway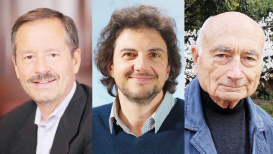 Lewis C. Cantley, PhD; David M. Sabatini, MD, PhD; and Peter K. Vogt, PhD (from left to right). Photo courtesy of Columbia University Irving Medical Center.
Columbia University awarded the 2019 Louisa Gross Horwitz Prize to three scientists: Lewis C. Cantley, PhD, of Weill Cornell Medicine and NewYork-Presbyterian/Weill Cornell Medical Center, New York; David M. Sabatini, MD, PhD, of Massachusetts Institute of Technology, Cambridge, Massachusetts, and Howard Hughes Medical Institute, Chevy Chase, Maryland; and Peter K. Vogt, PhD, of Scripps Research, La Jolla, California, for their contributions to understanding the role of the phosphoinositide 3-kinase (PI3K) and mechanistic target of rapamycin (mTOR) pathways in physiology and oncogenesis. As a result of their work, several anti-PI3K drugs have been approved for the treatment of some lymphomas, leukemias, and breast cancers, and many others are in various stages of development, including many in late-stage clinical trials.
The 2019 Louisa Gross Horwitz Prize Lectures will be held on January 9, 2020, followed by an awards ceremony.
Focus of Research
The three scientists honored with the 2019 Louis Gross Horwitz Prize played key roles in identifying and deciphering the PI3K pathway.
Dr. Cantley's laboratory discovered the PI3K signaling pathway in the mid-1980s. His team showed that PI3K triggers cells to take up glucose in response to insulin and other growth factors. His lab also traced the cascade of molecular signals that interact with PI3K to control cell growth.
As a doctoral candidate, Dr. Sabatini studied rapamycin and went on to discover the mTOR protein and signaling pathway. This pathway—which is regulated by nutrients and insulin-sensitive PI3K signaling—is the major regulator of growth and plays a central role in physiology, metabolism, aging, and the development of cancer.
While studying viruses in the 1960s, Dr. Vogt discovered the first oncogene, SRC. This groundbreaking research led to the discovery of additional tumor-inducing genes, including MYC, JUN, and PI3K. His subsequent work has shown that PI3K mutations identified in human cancer cause cancerous transformation in cell cultures and induce tumors in animal model systems. ■
---