Graviola

GUEST EDITOR

Jun J. Mao, MD, MSCE
Integrative Oncology is guest edited by Jun J. Mao, MD, MSCE, Laurance S. Rockefeller Chair in Integrative Medicine and Chief of Integrative Medicine Service at Memorial Sloan Kettering Cancer Center, New York.
The ASCO Post's Integrative Oncology series is intended to facilitate the availability of evidence-based information on integrative and complementary therapies sometimes used by patients with cancer. In this installment, Eugenie Spiguel, MSN, ANP-BC, and Jyothirmai Gubili, MS, explore the current research findings on graviola, the small, heart-shaped fruit from a flowering evergreen tree, because of its popularity as an antioxidant agent among patients with cancer.
Scientific Name: Annona muricata
Common Names: Guanabana, soursop, custard apple, Brazilian paw paw
Overview
Graviola is a small, evergreen tree indigenous to many tropical areas in Central and South Americas and to the Caribbean. It bears edible, heart-shaped fruit known as graviola in Brazil, guanabana in Spanish-speaking countries, and soursop in the United States. Pulp from the fruit is used to make drinks and sherbets.

Eugenie Spiguel, MSN, ANP-BC

Jyothirmai Gubili, MS
Revered as a cure-all by many cultures, graviola has a long medicinal history for treating inflammatory conditions, rheumatism, insomnia, cystitis, parasitic infections, and cancer. All parts of the tree including the bark, leaves, fruits, and roots are used in herbal medicine.
Despite the lack of substantial evidence, graviola is widely promoted as an anticancer agent. In a 2016 survey, it was reported to be among the commonly used herbal remedies by patients with cancer in the Caribbean.1 Supplemental forms that are marketed include capsules, liquid extracts, juice blends, teas, and tinctures.
The Science
Scientific investigations over the past few decades revealed annonaceous acetogenins, compounds extracted from different parts of the graviola tree, to be the major bioactive components.2 Preclinical studies indicate that graviola extracts have antioxidant,3-6 anti-inflammatory,7 analgesic,8 antidiabetic,9 antiulcer,10 antimicrobial,11,12 and antiviral effects.13 Extracts derived from leaves, fruits, and seeds were also reported to be active against breast,14,15 lung,16 colon,17 prostate,18 pancreatic,19 liver,20 and skin cancer.21
The concentration of graviola extracts used in animal models in the previously mentioned studies ranged between 50 mg/kg and 400 mg/kg body mass. Graviola has not been evaluated in clinical trials.
Mechanistic studies have shown that alkaloids derived from graviola are detrimental to the survival of dopaminergic nerve cells. Neurodegeneration was reduced by increasing the amount of glucose in culture medium, suggesting that cell death may have been caused by energy depletion.22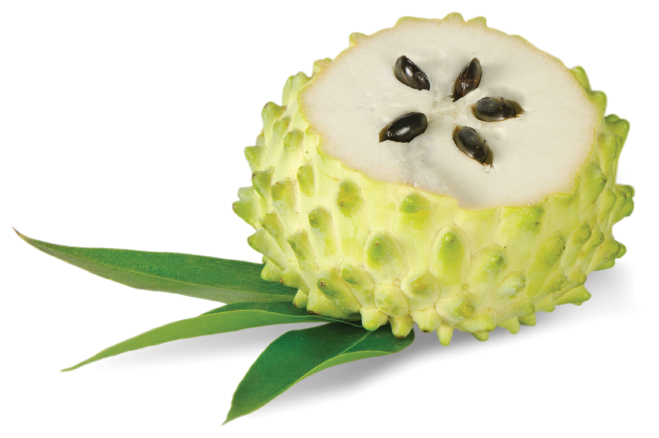 Graviola's antidiabetic effects have been attributed to its antioxidant, hypolipidemic, and protective effects in pancreatic beta cells, which may improve glucose metabolism.9 Graviola extracts also demonstrated antiulcer effects by increasing nitric oxide and prostaglandin E2 activities10; as well as anti-inflammatory and analgesic actions by inhibiting cyclooxygenases 1 and 2 and via blocking opioid receptors.7 However, long-term ingestion of graviola juice has been reported to promote generation of reactive nitrogen species that may accelerate the development of neurodegenerative diseases involving the microtubule-associated protein tau.23
In preclinical cancer studies, graviola extracts were shown to be effective against doxorubicin-resistant human mammary adenocarcinoma (MCF-7/Adr) via blocking the access of cancer cells to adenosine triphosphate (ATP) and by inhibiting the actions of plasma membrane glycoprotein.24 The extracts also inhibited expression of hypoxia-inducible factor 1-α, nuclear factor-κB, glucose transporters, and glycolytic enzymes resulting in reduced glucose uptake and ATP production in pancreatic cancer cells,19 along with downregulating epidermal growth factor receptor expression in breast cancer cells.14
OF NOTE
Consumption of graviola is generally safe, but its alkaloid constituents have been shown to cause neurotoxicity in vitro. Also, the safety and effectiveness of graviola have yet to be evaluated in patients with cancer.
Further, phenolic compounds in graviola demonstrated free-radical scavenging potential against human breast carcinoma cells25 and in promyelocytic leukemia cells.26 Whereas the extracts of acetogenin muricins J, K, and L showed antiproliferative effects against prostate cancer cells, muricin K exerted the strongest effect.27 In addition, an ethanolic extract of graviola caused G1 cell-cycle arrest by upregulating Bax and downregulating BCL-2 proteins in colon and in lung cancer cell lines.16,17
The acetogenin bullatacin was found to reduce tumor growth in a murine model of hepatic cancer. However, repeated treatment with bullatacin resulted in hepato- and nephrotoxicity via ROS production as well as by increasing calcium concentration, Bax expression, and the Bax/BCL-2 ratio.28
Adverse Reactions
In vitro studies have shown that the alkaloids present in graviola cause movement disorders and myeloneuropathy, with symptoms mimicking Parkinson's disease.22,29
In Murine Models
Repeated treatment with bullatacin, a bioactive compound, was found to cause hepato- and nephrotoxicity.28
Long-term ingestion of graviola juice accelerated neurodegenerative diseases.23
Graviola decreased the uptake of radiopharmaceuticals used in nuclear imaging30 and lowered platelet counts.31
Whether or not these effects occur in humans has yet to be determined.
Herb-Drug Interactions
Antidiabetics and antihypertensives: Studies in murine models show that graviola has hypoglycemic and hypotensive effects and therefore may have additive effects.32,33 However, the clinical significance of these findings is not known.
Summary
Graviola is a popular food and supplement in many countries outside of the United States. It is frequently used as an antioxidant, to decrease inflammation, and as an antidiabetic and anticancer supplement. Although preclinical studies have shown some positive effects, no studies have been performed in patients with cancer. It is important for clinicians to know that, in murine models, graviola was associated with a decreased uptake of the radiopharmaceuticals used in nuclear imaging. Patients and their care teams should be aware that long-term ingestion of graviola juice may accelerate neurodegenerative diseases. Further study of graviola is needed. ■
DISCLOSURE: Ms. Spiguel and Ms. Gubili reported no conflicts of interest.
REFERENCES
1. Clement YN, Mahase V, Jagroop A, et al: Herbal remedies and functional foods used by cancer patients attending specialty oncology clinics in Trinidad. BMC Complement Altern Med 16:399, 2016.
2. Qazi AK, Siddiqui JA, Jahan R, et al: Emerging therapeutic potential of graviola and its constituents in cancers. Carcinogenesis 39:522-533, 2018.
3. George VC, Kumar DR, Suresh PK, et al: Antioxidant, DNA protective efficacy and HPLC analysis of Annona muricata (soursop) extracts. J Food Sci Technol 52:2328-2335, 2015.
4. Zamudio-Cuevas Y, Díaz-Sobac R, Vázquez-Luna A, et al: The antioxidant activity of soursop decreases the expression of a member of the NADPH oxidase family. Food Funct 5:303-309, 2014.
5. Gavamukulya Y, Abou-Elella F, Wamunyokoli F, et al: Phytochemical screening, anti-oxidant activity and in vitro anticancer potential of ethanolic and water leaves extracts of Annona muricata (Graviola). Asian Pac J Trop Med 7S1:S355-S363, 2014.
6. Lee YH, Choo C, Watawana MI, et al: An appraisal of eighteen commonly consumed edible plants as functional food based on their antioxidant and starch hydrolase inhibitory activities. J Sci Food Agric 95:2956-2964, 2015.
7. Ishola IO, Awodele O, Olusayero AM, et al: Mechanisms of analgesic and anti-inflammatory properties of Annona muricata Linn. (Annonaceae) fruit extract in rodents. J Med Food 17:1375-1382, 2014.
8. de Sousa OV, Vieira GD, de Jesus RGdPJ, et al: Antinociceptive and anti-inflammatory activities of the ethanol extract of Annona muricata L. leaves in animal models. Int J Mol Sci 11:2067-2078, 2010.
9. Florence NT, Benoit MZ, Jonas K, et al: Antidiabetic and antioxidant effects of Annona muricata (Annonaceae), aqueous extract on streptozotocin-induced diabetic rats. J Ethnopharmacol 151:784-790, 2014.
10. Moghadamtousi SZ, Rouhollahi E, Karimian H, et al: Gastroprotective activity of Annona muricata leaves against ethanol-induced gastric injury in rats via Hsp70/Bax involvement. Drug Des Devel Ther 8:2099-2110, 2014.
11. Mohd Abd Razak MR, Afzan A, Ali R, et al: Effect of selected local medicinal plants on the asexual blood stage of chloroquine resistant Plasmodium falciparum. BMC Complement Altern Med 14:492, 2014.
12. Jaramillo MC, Arango GJ, González MC, et al: Cytotoxicity and antileishmanial activity of Annona muricata pericarp. Fitoterapia 71:183-186, 2000.
13. Padma P, Pramod NP, Thyagarajan SP, et al: Effect of the extract of Annona muricata and Petunia nyctaginiflora on Herpes simplex virus. J Ethnopharmacol 61:81-83, 1998.
14. Dai Y, Hogan S, Schmelz EM, et al: Selective growth inhibition of human breast cancer cells by graviola fruit extract in vitro and in vivo involving downregulation of EGFR expression. Nutr Cancer 63:795-801, 2011.
15. Zeweil MM, Sadek KM, Taha NM, et al: Graviola attenuates DMBA-induced breast cancer possibly through augmenting apoptosis and antioxidant pathway and downregulating estrogen receptors. Environ Sci Pollut Res Int 26:15209-15217, 2019.
16. Moghadamtousi SZ, Kadir HA, Paydar M, et al: Annona muricata leaves induced apoptosis in A549 cells through mitochondrial-mediated pathway and involvement of NF-ΚB. BMC Complement Altern Med 14:299, 2014.
17. Zorofchian Moghadamtousi S, Karimian H, Rouhollahi E, et al: Annona muricata leaves induce G1 cell cycle arrest and apoptosis through mitochondria-mediated pathway in human HCT-116 and HT-29 colon cancer cells. J Ethnopharmacol 156:277-289, 2014.
18. Asare GA, Afriyie D, Ngala RA, et al: Antiproliferative activity of aqueous leaf extract of Annona muricata L. on the prostate, BPH-1 cells, and some target genes. Integr Cancer Ther 14:65-74, 2015.
19. Torres MP, Rachagani S, Purohit V, et al: Graviola: A novel promising natural-derived drug that inhibits tumorigenicity and metastasis of pancreatic cancer cells in vitro and in vivo through altering cell metabolism. Cancer Lett 323:29-40, 2012.
20. Liaw CC, Chang FR, Lin CY, et al: New cytotoxic monotetrahydrofuran annonaceous acetogenins from Annona muricata. J Nat Prod 65:470-475, 2002.
21. Hamizah S, Roslida AH, Fezah O, et al: Chemopreventive potential of Annona muricata L leaves on chemically induced skin papillomagenesis in mice. Asian Pac J Cancer Prev 13:2533-2539, 2012.
22. Lannuzel A, Michel PP, Caparros-Lefebvre D, et al: Toxicity of Annonaceae for dopaminergic neurons: Potential role in atypical parkinsonism in Guadeloupe. Mov Disord 17:84-90, 2002.
23. Rottscholl R, Haegele M, Jainsch B, et al: Chronic consumption of Annona muricata juice triggers and aggravates cerebral tau phosphorylation in wild-type and MAPT transgenic mice. J Neurochem 139:624-639, 2016.
24. Oberlies NH, Chang CJ, McLaughlin JL: Structure-activity relationships of diverse Annonaceous acetogenins against multidrug resistant human mammary adenocarcinoma (MCF-7/Adr) cells. J Med Chem 40:2102-2106, 1997.
25. George VC, Kumar DR, Rajkumar V, et al: Quantitative assessment of the relative antineoplastic potential of the n-butanolic leaf extract of Annona muricata Linn. in normal and immortalized human cell lines. Asian Pac J Cancer Prev 13:699-704, 2012.
26. Pieme CA, Kumar SG, Dongmo MS, et al: Antiproliferative activity and induction of apoptosis by Annona muricata (Annonaceae) extract on human cancer cells. BMC Complement Altern Med 14:516, 2014.
27. Sun S, Liu J, Kadouh H, et al: Three new anti-proliferative Annonaceous acetogenins with mono-tetrahydrofuran ring from graviola fruit (Annona muricata). Bioorg Med Chem Lett 24:2773-2776, 2014.
28. Chen Y, Chen JW, Zhai JH, et al: Antitumor activity and toxicity relationship of annonaceous acetogenins. Food Chem Toxicol 58:394-400, 2013.
29. Lannuzel A, Höglinger GU, Champy P, et al: Is atypical parkinsonism in the Caribbean caused by the consumption of Annonacae? J Neural Transm Suppl(70):153-157, 2006.
30. Holanda CM, Barbosa DA, Demeda VF, et al: Influence of Annona muricata (soursop) on biodistribution of radiopharmaceuticals in rats. Acta Cir Bras 29:145-150, 2014.
31. Awodele O, Ishola IO, Ikumawoyi VO, et al: Toxicological evaluation of the lyophilized fruit juice extract of Annona muricata Linn. (Annonaceae) in rodents. J Basic Clin Physiol Pharmacol December 18, 2013 (early release online).
32. Adeyemi DO, Komolafe OA, Adewole OS, et al: Antihyperglycemic activities of Annona muricata (Linn). Afr J Tradit Complement Altern Med 6:62-69, 2008.
33. Nwokocha CR, Owu DU, Gordon A, et al: Possible mechanisms of action of the hypotensive effect of Annona muricata (soursop) in normotensive Sprague-Dawley rats. Pharm Biol 50:1436-1441, 2012.
---