Featured Conversations

Developed by Conquer Cancer, the Your Stories podcast series shares unscripted conversations among patients, doctors, and the family and friends who conquer cancer with them. The series also includes transcripts of conversations. In one such featured conversation, "Doctors' Orders," two seasoned physicians—Robert Miller, MD, FACP, FASCO, and John V. Cox, DO, MBA, FACP, FASCO—reflect on how oncology has changed throughout their careers.
Read this Featured Conversation at CONQUER.ORG/YourStories. ■
© 2019. American Society of Clinical Oncology. All rights reserved.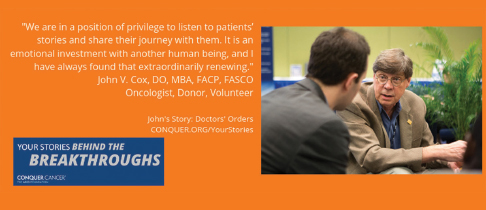 ---