ASCO Advocacy and Policy Initiatives/Activities in 2019

Nearly 20% of Americans receive their health insurance coverage through Medicaid. However, unlike Medicare and other payers, Medicaid is not federally required to cover routine care costs, such as physician visits and laboratory studies, for clinical trials. Only 12 states require this coverage, leaving over 42 million people on Medicaid potentially without clinical trial coverage.1 Paying out-of-pocket for participation is not a viable option for many patients, particularly those from a lower-income household; only 11% to 13% of people with household incomes under $50,000 participate in clinical trials.2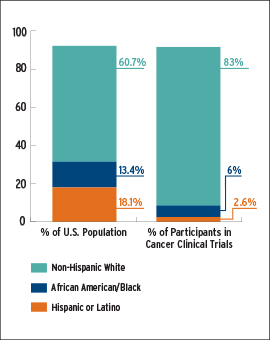 FIGURE 1: Representation in clinical trials research. (Sources: U.S. Census: QuickFacts: U.S. population estimates, July 1, 2018. Available at https://www.census.gov/quickfacts/fact/table/US/PST045218. Accessed September 27, 2019; Duma N, Vera Aguilera J, Paludo J, et al: Representation of minorities and women in oncology clinical trials: Review of the past 14 years. J Oncol Pract 14:e1-e10, 2018.)
Earlier this year, lawmakers from both sides of the aisle introduced the Covering Life-Saving Investigations Needed in Cancer and Other Life-Threatening Conditions Through Timely Use of Resources for Easy and Affordable Treatment from Medicaid for Enrollees in Need Today Act, or CLINICAL TREATMENT Act (H.R. 913), which would address this significant barrier by guaranteeing coverage for routine care costs of clinical trial participation for Medicaid enrollees with a life-threatening condition, including cancer. The bill would help ensure that Medicaid beneficiaries with cancer have access to potentially lifesaving clinical trials and would help to improve the validity of data by reducing racial and ethnic disparities in clinical trial participation (Figure 1).
ASCO worked closely with the bill's cosponsors to shape the legislation and is now driving grassroots efforts to gain support from other lawmakers on Capitol Hill. For more information on the proposed legislation and ways you can show your support, visit asco.org/advocacy-policy.
Drug Pricing
Throughout the spring, ASCO submitted comments to key congressional committees working to address rising prescription drug costs in the United States. ASCO supports proposals to help ensure that generic and biologic medications are widely available and have robust competition, which may foster lower-cost alternative drug treatments, along with proposals to improve transparency around the costs, fees, and rebates associated with pharmacy benefit manager contracts. ASCO will continue to advocate on behalf of people with cancer and their providers to ensure all Americans have access to high-quality cancer care.
Access to Clinical Trials, Cancer Treatment, and High-Quality Cancer Care
Late in September, ASCO volunteers went to Capitol Hill for an annual Advocacy Summit. Through a series of face-to-face meetings with members of Congress and their staffs, ASCO advocates aimed to help lawmakers understand the current realities of the cancer care delivery system and shared stories about their patients and the challenges they face in accessing cancer care. Among the many issues that were discussed are the need for robust federal funding of cancer research, the importance of policies that ensure patient access to high-quality cancer care, recommendations for supporting cancer care providers in the delivery of that care, and clinical trial coverage for Medicaid enrollees. During the Advocacy Summit, ASCO also presented its Congressional Leadership Award to recognize a member of Congress who has advanced policies to improve cancer care for patients and survivors. In addition, ASCO acknowledged its advocacy champions—including an ASCO Advocate of the Year—who have been exceptionally active in ASCO's advocacy activities throughout the year. ■
© 2019. American Society of Clinical Oncology. All rights reserved.
References
1. ASCO: Policy brief: Guarantee coverage of routine care costs of clinical trials for medicaid patients. Available at https://www.asco.org/advocacy-policy/asco-in-action/support-routine-care-costs-clinical-treatment-act. Accessed September 23, 2019.
2. Unger JM, Gralow JR, Albain, KS, et al: Patient income level and cancer clinical trial participation: A prospective survey study. JAMA Oncol 2:137-139, 2016.
---