Shining Her Light: 2019 International Women Who Conquer Cancer Mentorship Award Recipient Verna Vanderpuye, MBChB

By simply reaching out to new colleagues, Verna Vanderpuye, MBChB, improved the way oncology is practiced across Africa.
"It is difficult to find yourself in the [predicament] of low government support, lack of research culture, and inadequate infrastructure," explained Dr. Vanderpuye, a senior consultant at the National Center for Radiotherapy, Oncology, and Nuclear Medicine at Korlebu Teaching Hospital in Ghana.
Dr. Vanderpuye's 20-year commitment to oncology was recognized with a 2019 International Women Who Conquer Cancer (WWCC) Mentorship Award from Conquer Cancer®, the ASCO Foundation.
"My little light shone through the cracks," said Dr. Vanderpuye of the pointed effort she made to network with younger colleagues, particularly fellow women. "I am an example to younger and older career women that no good deed is hidden—just give your best."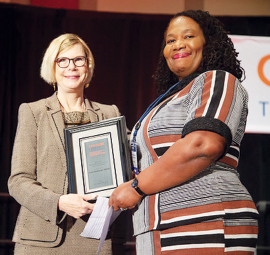 Sandra Swain, MD, FACP, FASCO, presents the International WWCC Mentorship Award to Dr. Vanderpuye at the 2019 ASCO Annual Meeting.
In her decades researching cancer and treating patients, she has collaborated with caregivers across her continent. Dr. Vanderpuye believes maintaining positive conditions for health-care providers—especially in areas where resources are limited—translates to better care for patients.
"It is important to have guidance in how to navigate job satisfaction, improve outcomes, and apply new interventions in the context of cost-effectiveness," she explained.
First awarded in 2017, the International WWCC Mentorship Award recognizes extraordinary female leaders in oncology living outside of the United States.
Nominations are now open for the 2020 WWCC Mentorship Awards. Visit asco.org/women-who-conquer-cancer-mentorship-awards for more information. ■
© 2019. American Society of Clinical Oncology. All rights reserved.
---