Learning to Listen and Returning to the Art of Medicine

Bernard Lown, MD, was born in Lithuania, the son of a rabbi. He immigrated to the United States at the age of 14, where his scientific precocity bloomed. After attaining his medical degree from John Hopkins University School of Medicine, he pursued his passion of raising international awareness of sudden cardiac death as the leading cause of death in the world.
During his illustrious career, Dr. Lown was credited with inventing the direct-current defibrillator and advancing world peace by his activism against nuclear proliferation, for which he and his associates were awarded the 1985 Nobel Peace Prize. Dr. Lown is also renowned for his medical entreaty that the real crisis in medicine today is the loss of the fundamental relationship between doctor and patient, which is elucidated in his moving book, The Lost Art of Healing: Practicing Compassion in Medicine.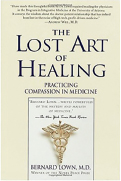 System in Need of Change
ACCORDING TO Dr. Lown, health care, instead of being an accountable system, has grown into a hodgepodge of corporate fiefdoms whose central aim is to maximize profitability for venture capital investors. In the early going, he can come off as a well-meaning curmudgeon; Dr. Lown tends to oversimplify the massive issues facing today's young doctors, which he contends are seduced with financial incentives, with unquestioning third-party payers providing an open till.
BOOKMARK
Title: The Lost Art of Healing: Practicing Compassion in Medicine
Author: Bernard Lown, MD
Publisher: Random House
Original publication date: February 1999
Price: $22.95, hardcover, 368 pages
Timeless Message
THIS BOOK was published about 20 years ago, and although the health-care landscape was different then, in many ways The Lost Art of Healing is as relevant today as it was then. Dr. Lown notes, "During my professional life I have seen medicine rise to an apogee of respect sometimes amounting to adulation, then watched in distress as it began a rapid slide…. My aim is not to merely share interesting medical experiences but to present a message. The practice of medicine with a human face is possible in this age of personal involution into the black hole of me-ism. Indeed, it is more necessary than ever."
The Art of Listening
ORGANIZED INTO six chapters, Dr. Lown makes clear throughout that in this age of burgeoning technologies, the art of observation and listening is still an essential component of medical care, which derives from the very dawn of civilization. He values the advice of the 16th century German physician Paracelsus, who counseled doctors to "have the feel and touch which make it possible for [them] to be in sympathetic communication with the patient's spirit." He makes a valid point: touching a patient, as in a physical examination, breaks a certain human barrier, and a stranger a few minutes earlier "opens up with intimacies usually earned only through long and trusted friendship."
Dr. Lown skillfully employs vignettes to illustrate his philosophy and approach to the practice of medicine. One of the most interesting of these vignettes describes Dr. Lown's first meeting with a patient who had Munchausen syndrome, a mental illness associated with severe emotional difficulties. It is a riveting case history of a young woman of 20 who had just delivered her third child. Her husband, a merchant seaman, was out at sea. She was hospitalized with postpartum fever.
"The practice of medicine with a human face is possible in this age of personal involution into the black hole of me-ism. Indeed, it is more necessary than ever."

— Bernard Lown, MD




Tweet this quote



After numerous tests, Dr. Lown and his other young colleagues were still stumped as to why her fever spiked every afternoon. Finally, they went to their attending, who immediately confronted the young woman and barked: "Tell the doctors how you fake your temperature!" After a tearful confession—she raised the temperature by massaging the thermometer with her anal sphincter—she screamed out: "Oh, don't force me to go home. I will kill my three babies and myself!" She was then transferred to the psychiatric ward. This is high medical drama, and one vignette is better than the next.
Honorably Stubborn
IN THE BOOK'S section that deals with the coronary care unit, the reader is treated to stories that show the true fiber of Dr. Lown, who is as iron-willed as he is compassionate. In 1959, when Dr. Lown was at then Peter Bent Brigham Hospital in Boston, he had a patient who was dying of acute coronary ischemia. No drugs were working, and Dr. Lown said he wanted to use electricity, which had never been done. The hospital's head said absolutely no, but Dr. Lown, as he did throughout his career, replied, "I'm going to do it no matter what you say." He did, and it made medical history.
Treating the Whole Patient
ALL OF THESE marvelous vignettes coalesce in the final section, "Getting Doctors to Listen." Members of the oncology community will appreciate how Dr. Lown was far ahead of his time with his plea to treat the whole patient. He writes, "The patient desires to be known as a human being, not merely to be recognized as the outer wrappings for a disease. Only the patient is capable of widening the doctor's focus to encompass the larger domain of the person who is ailing. Therein resides the art."
This is a timeless book, one that should be required reading for medical students. It is highly recommended for the readers of The ASCO Post. ■
---