James Allison, PhD, and Tasuku Honjo, MD, PhD, Win 2018 Nobel Prize in Physiology or Medicine

JAMES ALLISON, PHD, Chair of Immunology and Executive Director of the Immunotherapy Platform at The University of Texas MD Anderson Cancer Center, and Tasuku Honjo, MD, PhD, Distinguished Professor at the Kyoto University Institute for Advanced Study and Professor of Immunology and Genomic Medicine at Kyoto University, were recently named recipients of the 2018 Nobel Prize in Physiology or Medicine for launching an effective new way to attack cancer by treating the immune system rather than the tumor.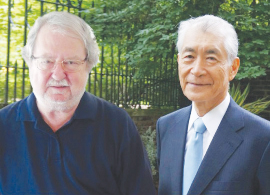 James P. Allison, PhD (left) of the University of Texas MD Anderson Cancer Center, and Tasuku Honjo, MD, PhD, of Kyoto University in Japan and were jointly awarded the 2018 Nobel Prize in Physiology or Medicine for discoveries that enabled them to develop a revolutionary form of cancer therapy that uses the body's immune system to target tumors.
"By stimulating the ability of our immune system to attack tumor cells, this year's Nobel Prize laureates have established an entirely new principle for cancer therapy," the Nobel Assembly of Karolinska Institute in Stockholm noted in announcing the award.
"I'm honored and humbled to receive this prestigious recognition," Dr. Allison said. "A driving motivation for scientists is simply to push the frontiers of knowledge. I didn't set out to study cancer, but to understand the biology of T cells, these incredible cells that travel our bodies and work to protect us."
The prize recognizes Dr. Allison's basic science discoveries on the biology of T cells and his invention of immune checkpoint blockade to treat cancer. Dr. Allison's crucial insight was to block a protein on T cells that acts as a brake on their activation, freeing the T cells to attack cancer. He developed an antibody to block the checkpoint protein CTLA-4 and demonstrated the success of the approach in experimental models. His work led to development of the first immune checkpoint inhibitor drug—ipilimumab (Yervoy) was approved for late-stage melanoma by the U.S. Food and Drug Administration in 2011. Follow-up studies show 20% of those treated live for at least 3 years, with many living for 10 years and beyond.
Dr. Honjo discovered programmed cell death protein 1 (PD-1), and after careful exploration of its function, eventually revealed that it also operates as a brake, but with a different mechanism of action. Therapies based on his discovery, such as nivolumab (Opdivo), proved to be strikingly effective in the fight against cancer.
Drs. Allison and Honjo showed how different strategies for inhibiting the brakes on the immune system can be used in the treatment of cancer. They will be honored at Nobel ceremonies in Stockholm in December. ■
---