MMRF Announces Enrollment Completion of CoMMpass Study

Sagar Lonial, MD, FACP
Walter M. Capone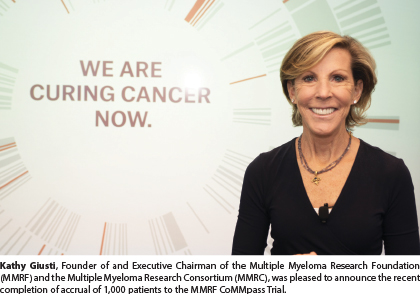 Kathy Giusti, Founder of and Executive Chairman of the Multiple Myeloma Research Foundation (MMRF) and the Multiple Myeloma Research Consortium (MMRC), was pleased to announce the recent completion of accrual of 1,000 patients to the MMRF CoMMpass Trial.
The MMRF CoMMpass Study will provide one of the most comprehensive clinical-genomic maps of any cancer.

—Sagar Lonial, MD, FACP
The Multiple Myeloma Research Foundation (MMRF) announced that the MMRF CoMMpass StudySM, the most comprehensive long-term genomic study ever conducted in myeloma, has reached full enrollment, with 1,000 patients now participating. The global study is mapping the genomic profile of each enrolled patient with multiple myeloma in order to advance the understanding of disease progression, including patient response to therapies, and offering insights for the development of personalized treatments that target the underlying disease biology to lead to cures.
"The promise of precision medicine and our ability to find a cure for multiple myeloma are reliant on big data and patient engagement. When it comes to a rare disease like multiple myeloma, achieving those numbers requires a significant degree of participation from the patient population, making the MMRF CoMMpass Study enrollment a tremendous milestone for the future of research in this area," said MMRF CoMMpass Study Principal Investigator Sagar Lonial, MD, FACP, Professor and Executive Vice Chair in the Department of Hematology and Medical Oncology and Chief Medical Officer at the Winship Cancer Institute of Emory University.
"In fact, the MMRF ­CoMMpass Study will provide one of the most comprehensive clinical-genomic maps of any cancer," he continued. "Beyond identifying novel biomarkers and therapeutic targets, the results will help physicians make more informed and customized treatment decisions for their patients through data that show which individual and combined therapies work based on a specific profile and will also help us identify mutations. This deep understanding ultimately leads to better, more precise care, as well as the promise of a cure."
Study Process
In the study, each participating patient provides bone marrow samples when diagnosed and when they experience a change in their condition over the course of their disease progression. DNA sequencing then allows researchers to track how multiple myeloma progresses for each individual patient for at least 8 years, specifically analyzing how the disease is evolving, reacting to treatment, and changing over time.
These data enable researchers to better understand the basis of the disease and, in turn, make multiple myeloma treatments more tailored for each patient. Outputs from the study are accessible publically through the MMRF Researcher Gateway to help advance investigations and, ultimately, clinical developments.
"This critical milestone for the MMRF CoMMpass Study reflects our continued mission to advance precision medicine and accelerate breakthroughs for patients with myeloma and all cancers," said Walter M. Capone, CEO and President of the MMRF. "We extend our heartfelt gratitude to each patient in this study as their continued participation will help decode this devastating disease and usher in a new era of more precise and individualized treatments for multiple myeloma and other cancers, leading to cures. Additionally, the MMRF CoMMpass Study would not have been possible without the collective vision and support of researchers from the more than 100 collaborating centers and our pharmaceutical company and research institution partners, who are making this 8-year initiative a reality."
Visit www.themmrf.org/research-partners/the-commpass-study to learn more about the study. ■
---