Lung Cancer Rates Doubling Among Nonsmokers


Eric Lim, MD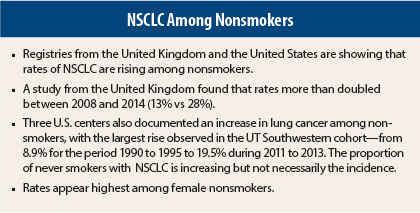 NSCLC Among Nonsmokers
What we are seeing is an increase in the incidence of nonsmoking-related lung cancer. We have seen more than double the amount of [nonsmoking] patients coming to us.

—Eric Lim, MD
Lung cancer is becoming an equal-opportunity malignancy—with rates rising among never-smokers, especially females, according to studies presented at the 16th World Conference on Lung Cancer in Denver.
British investigators reported that in one large tertiary medical center, the proportion of patients with lung cancer who never smoked more than doubled between 2008 and 2014.1 In 2008, never-smokers accounted for 13% of non–small cell lung cancer (NSCLC) cases; this rate is now 28%. Women comprise two-thirds of this group, and their cancer is often associated with nonspecific symptoms or no symptoms at all, according to Eric Lim, MD, of Royal Brompton Hospital in London.
"When we think of lung cancer, we think of smoking," Dr. Lim said at a press briefing. Antismoking strategies implemented in the early 1980s, however, have led to a decrease in smoking-related lung cancer.
Instead, he explained, "What we are seeing is an increase in the incidence of non–smoking-related lung cancer. We have seen more than double the amount of [nonsmoking] patients coming to us."
Since both the percentage and absolute number of NSCLC cases involving nonsmokers have increased, Dr. Lim believes the rise is real and not an artifact associated with an overall reduction in smoking. "We found that the absolute numbers are increasing in real time," reported Dr. Lim.
A U.S. study involving three medical centers reached a similar conclusion.2 Since 1990, one center has noticed a twofold increase in NSCLC, according to Lorraine Pelosof, MD, PhD, of the University of Texas Southwestern Medical Center (UT Southwestern), Dallas.
The investigators noted that a similar increase has not been observed in small cell lung cancer.
UK Study Details
Dr. Lim and colleagues retrospectively reviewed records of 2,170 newly diagnosed patients who underwent surgery for lung cancer at the Royal Brompton Hospital between 2008 and 2014. They compared the incidence of cancer among the 20% of subjects who had never smoked with that of current and ex-smokers.
Over the past 8 years, the incidence of lung cancer in nonsmokers increased steadily, with the greatest jump observed from 2013 (20%) to 2014 (28%). The total number of cases increased from 60 in 2010 to almost 100 in 2014, Dr. Lim reported.
Women accounted for 295 (67%) of the never-smokers, with a mean age of 60 years. The most common histology was adenocarcinoma (54%), followed by carcinoid (27%).
The potential of having cancer is often dismissed in never-smokers. This issue in diagnosis is often further compounded by the unusual presentation of these cancers. In Dr. Lim's study, 52% of the never-smokers had nonspecific symptoms at diagnosis (cough in 34%, chest infections in 18%, hemoptysis in 11%), and 36% had no ­symptoms.
Among the one-third of asymptomatic patients, about half of the lung cancers were an incidental finding on imaging. Most cancers were stage I at diagnosis, including 33% stage IA and 21% stage IB; 17% had advanced disease.
U.S. Study Details
Dr. Pelosof and her team reviewed NSCLC cases identified in cancer registries at the UT Southwestern, Parkland Hospital in Dallas, and Vanderbilt University in Nashville—areas that represented a large, geographically and demographically diverse population, she noted.
Investigators examined data from 1990 to 2013 and identified 10,593 patients with NSCLC and 1,510 with small cell lung cancer. The proportion of nonsmokers with NSCLC increased in all three registries, with the largest rise observed in the UT Southwestern cohort—from 8.9% for the period 1990 to 1995 to 19.5% during 2011 to 2013 (P < .0001). The results held true in a multivariate analysis that controlled for age and gender (P < .0001), she added.
"The proportion of never-smokers with NSCLC is increasing, but not necessarily the incidence," Dr. Pelosof stressed. "The study definitely stresses the need for more research in this area."
The never-smokers with NSCLC were more likely to be female (65%) than males (P < .0001). Although the frequency of early-stage disease decreased over time, stage IV disease at diagnosis increased. This finding could indicate that the increased rate in never-smokers is not the result of more incidental findings of early-stage disease.
What Can Be Done?
Early detection is important but challenging in this population, Dr. Lim noted. "Clearly, it is not going to be cost-effective to screen the entire population of nonsmokers for lung cancer," he pointed out. The group lacks risk factors that would target them for screening.
Congress Co-Chair Everett Vokes, MD, the John Ultmann Professor and Chair of the Department of Medicine at the University of Chicago, moderated a press briefing where the results were presented. He noted that the reasons for the increase in NSCLC among nonsmokers are unknown.
"What is causing that rise is very speculative at this point," Dr. Vokes said. "Secondhand smoke exposure still exists and may also have occurred many years ago. Radon is still around, but that wouldn't necessarily explain an increase because radon exposure is likely remaining constant or decreasing in homes. Then there are factors related to small particles and carcinogens in air pollution that we don't understand enough."
"If the overall incidence of lung cancer is going down, which it likely will as smoking habits change, at least in this country, then proportions might change as non–smoking-related lung cancers rise," he said. "Historical perspectives on this are not easy because genetic analyses of tumors and current complex computational analyses are new. Mutation analysis was introduced in the past 10 years, so the data are emerging." ■
Disclosure: Dr. Lim disclosed relevant relationships with Strategen, Abbott Molecular, GlaxoSmithKline, Pfizer, Novartis, Covidien, Ethicon, Roche, Imidex, Eli Lilly, Medella Health, Boehringer Ingelheim, ScreenCell, Informative Genomics, and the BUPA Cromwell Lung Cancer Screening Programme. Drs. Pelosof and Vokes reported no potential conflicts of interest.
References
1. Proli C, Cufari ME, Phull H, et al: Increasing incidence of non-smoking lung cancer: Presentation of patients with early disease to a tertiary institution in the UK. 16th World Conference on Lung Cancer. Abstract ORAL24.03. Presented September 8, 2015.
2. Pelosof L, Ahn C, Horn L, et al: Increasing incidence of never smokers in non small cell lung cancer patients. 16th World Conference on Lung Cancer. Abstract ORAL22.01. Presented September 8, 2015.
---