Shiitake Mushroom

The ASCO Post's Integrative Oncology series is intended to facilitate the availability of evidence-based information on integrative and complementary therapies sometimes used by patients with cancer. In this installment, Ting Bao, MD, DABMA, MS, and Jyothirmai Gubili, MS, focus on shiitake mushroom because it is used by many patients with cancer, although clinical trials are limited on its potential anticancer properties.

Ting Bao, MD, DABMA, MS

Jyothirmai Gubili, MS
Scientific Name: Lentinula edodes
Common Names: Forest mushroom, lentinula, pasania fungus, black mushroom, hua gu, xian gu
Overview
Shiitake, an edible mushroom native to East Asia, is cultivated worldwide for its health-promoting effects. Both the fresh and dried mushrooms are used in East Asian cuisine. It is also employed in traditional medicine and is valued as a potential anticancer agent.
Lentinan, a polysaccharide obtained from shiitake, is thought to be responsible for the mushroom's beneficial effects. An injectable form of lentinan is used as a cancer treatment in some countries, but it remains to be evaluated in larger studies.
Supplemental forms of shiitake include tablets, capsules, and extracts.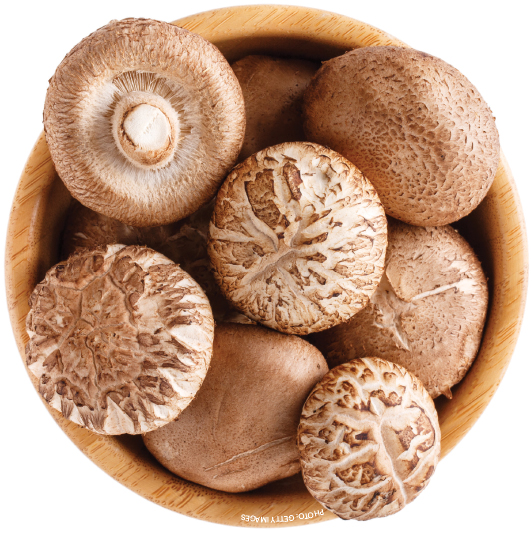 The Science
Preclinical studies have shown that lentinan (1,3 beta-D-glucan) exerts anticancer effects.1 Lentin, the protein constituent of shiitake, has antifungal properties and suppresses the activity of human immunodeficiency virus 1 reverse transcriptase.2 Whole shiitake extracts were also found to have antiproliferative, immunostimulatory,3 hepatoprotective,4 antimutagenic,5 and anticaries6 effects.
Clinical data on shiitake mushroom are limited. In a trial involving 52 healthy young adults, consumption of either 5 or 10 g of shiitake mushrooms daily for 4 weeks resulted in improved immunity.7 Along with elevated serum IgA production, there was an increase in the levels of interleukin (IL)-4, IL-10, tumor necrosis factor (TNF)-alpha, and IL-1alpha; reduction in macrophage inflammatory protein-1α/chemokine C-C ligand 3 (MIP-1α/CCL3) level; and no change in IL-6, IL-1beta, MIP-1beta, IL-17 or interferon (IFN)-gamma levels.7
In a small nonrandomized study, eight patients with advanced gastrointestinal cancer undergoing two courses of chemotherapy were given 1,800 mg of shiitake mycelial extract (during the second course of chemotherapy) daily for 4 weeks.8 The authors reported grade 1 nausea and abdominal pain as well as grade 2 nausea at the end of the first course but no such effects at the end of the second course. They also found an upward trend in the production of IFN-gamma by CD4+ T, CD8+ T, and CD56+ NK/NKT cells.8
Shiitake may also have benefits when combined with immunotherapy. In an open-label study involving 10 patients with cancer receiving immunotherapy, the quality-of-life symptom scores, which worsened with immunotherapy during the first 4 weeks, improved when shiitake mycelial extract (1,800 mg/d) was incorporated over the subsequent 4 weeks (P < .05). There was also an increased production of IFN-gamma compared with immunotherapy alone.9
OF NOTE
Shiitake mushroom is a popular medicinal mushroom. Physicians should be aware of the lack of robust data to support its use as an anticancer agent.
For additional information, visit the "About Herbs" website at www.mskcc.org/cancer-care/integrative-medicine/herbs/shiitake-mushroom.
However, 8 g/d of a shiitake extract taken for 6 months was found to be ineffective in lowering prostate-specific antigen levels in patients with prostate cancer.10 Larger, well-designed trials are needed to evaluate the anticancer potential of shiitake.
Mechanistic studies revealed that shiitake extract–induced apoptosis involves caspase 3 and 8 pathways.11 Polysaccharides obtained from shiitake also seem to exert antitumor effects by increasing serum IL-2 levels and production of TNF-alpha, and by inducing apoptosis.11 The anticancer properties of lentinan are likely via suppression of cytochrome P450 1A enzymes, which metabolizes procarcinogens to their active forms.12
Adverse Reactions
Exposure to shiitake spores has been reported to cause chronic hypersensitivity pneumonitis in a patient with lung cancer.13
Prolonged consumption of shiitake mushroom led to dermatitis,14 photosensitivity,15 eosinophilia, and gastrointestinal upset.16
Consumption of shiitake mushroom caused esophageal symptoms, linked to a food allergy.17
Ingestion of whole shiitake mushroom caused small bowel obstruction, which led to necrosis and mucosal damage in the small intestine.18
Consumption of raw or even cooked shiitake mushrooms led to patterns of whiplike, linear, erythematous wheals, which have been associated with toxic reactions to lentinan.19,20
GUEST EDITOR

Jun J. Mao, MD, MSCE
Integrative Oncology
is guest edited by Jun J. Mao, MD, MSCE, Laurance S. Rockefeller Chair in Integrative Medicine and Chief of Integrative Medicine Service at Memorial Sloan Kettering Cancer Center, New York.
Herb-Lab Interactions
Chronic ingestion of shiitake mushrooms may elevate the eosinophil count.16
Summary
Shiitake mushroom has been marketed as an immunomodulator and a potential anticancer agent. However, preclinical studies and clinical trials on its anticancer properties are limited. Patients and care teams should be aware of the possible risks of pulmonary or skin hypersensitivity reaction, as well as gastrointestinal symptoms, following ingestion of shiitake mushroom. 
Dr. Bao is Director of Integrative Breast Oncology, and Ms. Gubili is Editor, both at the Integrative Medicine Service, Memorial Sloan Kettering Cancer Center, New York.
DISCLOSURE: Dr. Bao has served as a consultant or advisor to Eisai. Ms. Gubili reported no conflicts of interest.
REFERENCES
1. Ng ML, Yap AT: Inhibition of human colon carcinoma development by lentinan from shiitake mushrooms (Lentinus edodes). J Altern Complement Med 8:581-589, 2002.
2. Ngai PH, Ng TB: Lentin, a novel and potent antifungal protein from shitake mushroom with inhibitory effects on activity of human immunodeficiency virus-1 reverse transcriptase and proliferation of leukemia cells. Life Sci 73:3363-3374, 2003.
3. Israilides C, Kletsas D, Arapoglou D, et al: In vitro cytostatic and immunomodulatory properties of the medicinal mushroom Lentinula edodes. Phytomedicine 15:512-519, 2008.
4. Akamatsu S, Watanabe A, Tamesada M, et al: Hepatoprotective effect of extracts from Lentinus edodes mycelia on dimethylnitrosamine-induced liver injury. Biol Pharm Bull 27:1957-1960, 2004.
5. de Lima PL, Delmanto RD, Sugui MM, et al: Letinula edodes (Berk.) Pegler (Shiitake) modulates genotoxic and mutagenic effects induced by alkylating agents in vivo. Mutat Res 496:23-32, 2001.
6. Shouji N, Takada K, Fukushima K, et al: Anticaries effect of a component from shiitake (an edible mushroom). Caries Res 34:94-98, 2000.
7. Dai X, Stanilka JM, Rowe CA, et al: Consuming Lentinula edodes (shiitake) mushrooms daily improves human immunity: A randomized dietary intervention in healthy young adults. J Am Coll Nutr 34:478-487, 2015.
8. Okuno K, Uno K: Efficacy of orally administered Lentinula edodes mycelia extract for advanced gastrointestinal cancer patients undergoing cancer chemotherapy: A pilot study. Asian Pac J Cancer Prev 12:1671-1674, 2011.
9. Tanigawa K, Itoh Y, Kobayashi Y: Improvement of QOL and immunological function with Lentinula edodes mycelia in patients undergoing cancer immunotherapy: An open pilot study. Altern Ther Health Med 22:36-42, 2016.
10. deVere White RW, Hackman RM, Soares SE, et al: Effects of a mushroom mycelium extract on the treatment of prostate cancer. Urology 60:640-644, 2002.
11. Wang KP, Zhang QL, Liu Y, et al: Structure and inducing tumor cell apoptosis activity of polysaccharides isolated from Lentinus edodes. J Agric Food Chem 61:9849-9858, 2013.
12. Okamoto T, Kodoi R, Nonaka Y, et al: Lentinan from shiitake mushroom (Lentinus edodes) suppresses expression of cytochrome P450 1A subfamily in the mouse liver. Biofactors 21:407-409, 2004.
13. Suzuki K, Tanaka H, Sugawara H, et al: Chronic hypersensitivity pneumonitis induced by shiitake mushroom spores associated with lung cancer. Intern Med 40:1132-1135, 2001.
14. Garg S, Cockayne SE: Shiitake dermatitis diagnosed after 16 years! Arch Dermatol 144:1241-1242, 2008.
15. Hanada K, Hashimoto I: Flagellate mushroom (shiitake) dermatitis and photosensitivity. Dermatology 197:255-257, 1998.
16. Levy AM, Kita H, Phillips SF, et al: Eosinophilia and gastrointestinal symptoms after ingestion of shiitake mushrooms. J Allergy Clin Immunol 101:613-620, 1998.
17. Goikoetxea MJ, Fernández-Benítez M, Sanz ML: Food allergy to shiitake (Lentinus edodes) manifested as oesophageal symptoms in a patient with probable eosinophilic oesophagitis. Allergol Immunopathol (Madr) 37:333-334, 2009.
18. Kusumoto M, Koganemaru M, Nakayama G, et al: Dietary small bowel obstruction. BMJ Case Rep 2013:bcr2012007950, 2013.
19. Ribeiro CS, Sodré CT, Ramos-E-Silva M: Flagellate dermatitis by shiitake mushroom. Case Rep Dermatol 11:220-225, 2019.
20. Maher AM, Ward CE, Pratt M: Shiitake dermatitis after consumption of homemade soup. Dermatitis 29:43-44, 2018.
---