From Cancer Survivor to Citizen Astronaut

When I was diagnosed with osteosarcoma of my left femur nearly 20 years ago, I remember telling my parents that I didn't want to die. The diagnosis was terrifying because all the people I knew who had cancer had passed away, and I thought this cancer would kill me, too. That evening, my dad went online to look up information about osteosarcoma and found the website for St. Jude Children's Research Hospital. Fortunately, the hospital had an open protocol in sarcoma, and within a few days, we were on a plane from our home in Louisiana to Memphis. I'm convinced that decision saved my life.

"I see bravery and resilience in the kids I work with every day. I know that, like me, they can do anything they want after cancer, even travel in space."

— Hayley Arceneaux




Tweet this quote



The cancer was stage I, which helped my prognosis, but the treatment was difficult. I had 12 rounds of chemotherapy and then surgery to remove my left knee and part of my thigh bone, which was replaced with a titanium rod. Although the treatment was successful in halting the cancer's progression, it also resulted in several serious complications, including a sepsis infection that led to septic shock. Despite the fear I had about cancer and the side effects from treatment, even at 10 years old, I thought, when I grow up, I'm coming back here to work. That is how much I loved being a patient at St. Jude. My doctors and nurses felt like my family, and the hospital felt like home; I knew that I wanted to give that same sense of love and care to other kids like me who were going through a cancer diagnosis.
It took me a while to decide on which area of medicine would allow me to make the greatest contribution in patient care. Before entering college, I discovered the field of physician assistant (PA), and it felt like a great fit for me. As an undergrad, I majored in Spanish, studied in Spain, and went on missionary trips to Nicaragua and Peru; I hoped the experience would allow me to work with Spanish-speaking patients and families at St. Jude. That is how certain I was that working at St. Jude would be my life's vocation.
Living My Dream
After graduating from college and completing PA school prerequisites, I attended PA school. However, I knew I would need first-hand patient care experience before I could hope to work at St. Jude, so I worked in the emergency room of a hospital for more than 3 years; I gained incredible exposure to patients with a variety of illnesses and applied to St. Jude for a PA position and got my dream job. And it really is my dream job. I love working with these young patients more than anything else. I care for patients with leukemia and lymphoma, and they are the greatest kids in the world; they are fun to be around. They could be having the roughest day and still be smiling when I come into the room. They inspire me every day.
Celebrating Life
There is no question that cancer changed the trajectory of my life, and even more than that, it has given me a love and a zest for life that have endured. I think it's ultimately why I said "yes" to going into space as part of the SpaceX Inspiration4 flight crew, the first all-civilian spaceflight to orbit the Earth. We lifted off from the Kennedy Space Center on Merritt Island, Florida, on September 15, 2021, and returned 3 days later.
Inspiration4 was given the name of the flight to commemorate our four-person crew and their associated "pillars" of inspiration. They include leadership, generosity, prosperity, and hope, which I represented.
Going into space was a celebration of life and a celebration of health. I felt so grateful while in space to have this opportunity and the good health to be able to be part of this remarkable crew. The crew included Jared Isaacman, founder and Chief Executive Officer of Shift4 Payments, who financed SpaceX and was flight commander of Inspiration4; data engineer Chris Sembroski; and geoscientist and science communication specialist Sian Proctor, a community college professor.
"My leg felt perfect in space. There was no gravity to put pressure on the prosthesis, and I had absolutely no pain."

— Hayley Arceneaux




Tweet this quote



Cancer has also made me tough, taught me to expect the unexpected, and made me brave. And I see that same bravery and resilience in the kids I work with every day. I know that, like me, they can do anything they want after cancer, even travel in space.
Receiving a Life-Changing Invitation
The call to join the SpaceX flight crew came out of the blue one day while I was at work. I got a mysterious e-mail from the Chief of Staff at St. Jude saying he wanted to talk with me about a unique opportunity. I didn't know what to expect, but going into space was the last thing on my mind. I joined the conference call with hospital leaders, and they asked if I'd like to be launched into orbit around the Earth. I laughed and asked if they were serious. I never imagined I would go into space, but without hesitation, I blurted out, "Yes, yes, thank you. Please send me into space."
However, before I could get there, I would have to undergo 6 months of intensive training. It included lessons in space physiology, many hours spent in the SpaceX Dragon capsule simulator (including 30-hour flight simulation), centrifuge training to assimilate us to the G forces we would experience during launch and reentry, and a grueling 9.5-hour climb up Mount Rainer National Park in Washington State in the snow. Even though I had rigorously worked to build up my muscle and balance in my left leg after my cancer treatment, and within weeks had progressed from not being able to lift my leg to walking without crutches, no one with a prosthesis had ever trained to go into space. I didn't know how the preparation would affect my leg.
I've always been careful not to do anything that could potentially hurt my leg, but I realized on the mountain climbing trip that I could do a lot more than I thought; it gave me confidence that I would be able to complete my responsibilities in space. I needn't have worried—my leg felt perfect in space. There was no gravity to put pressure on the prosthesis, and I had absolutely no pain. Now we know that even people with imperfect body parts can go into space and do very well.
Launching Into Space
Leading up to the day of the SpaceX launch, I thought I would be nervous during liftoff. After all, we would be traveling at a speed of more than 17,000 miles per hour to reach an altitude of 366 miles into space, 100 miles higher than the International Space Station, and complete 15 orbits around the Earth daily. But we had gone through such thorough preparation and were so accustomed to the process, I didn't have any nervous jitters. The actual launch was dynamic and loud but smooth. And once in space, despite traveling at such high speeds, it felt like we weren't moving at all.
"Seeing the planet from this vantage point gave me a new perspective of the fragility of our planet and a new appreciation of our collective responsibility to protect it."

— Hayley Arceneaux




Tweet this quote



There were just stillness, silence, and peacefulness traveling in space. With the Dragon capsule being outfitted with a custom-made, bubble-shaped dome, we had spectacular 360° views of the Earth. Seeing the planet from this vantage point with its borderless and united landmass was beautiful and awe-inspiring. It gave me a new perspective of the fragility of our planet and a new appreciation of our collective responsibility to protect it.
Reaching for the Stars
Although we had certain duties to perform while in flight, the highlight of the mission for me was being able to have a video chat with my patients at St. Jude (www.youtube.com/watch?v=8xnBajP0Kus). I wanted as many children as possible to be on the call and to watch us live traveling through space, because I knew it would help them in their survivorship in many ways. Kids are so visual, and I wanted to show them what their future could look like and that whatever big dream they had, it was attainable.
Hearing my patients voices and answering their questions, including whether there were cows on the "mooooon" or how we were able to sleep in the weightless atmosphere, and, of course, whether we spotted any aliens, was so much fun. I was so proud of them. I wanted them to know we were doing this mission for them.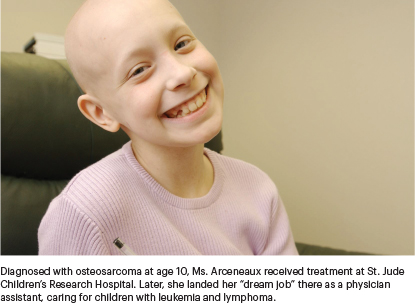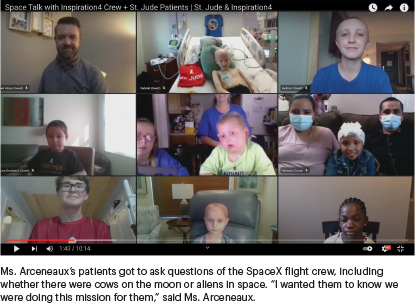 Going Global to Reduce the Incidence of Pediatric Cancer
Our primary goal of the SpaceX flight was to raise awareness of pediatric cancers and funding for St. Jude. Upon landing, we learned that Inspiration4 had surpassed our goal of raising $200 million, including $125 million from Mr. Isaacman and an additional $50 million from Elon Musk, who built the Falcon 9 rocket that launched us into space, as well as the Crew Dragon Capsule, where we lived for 3 days. To date, Inspiration4 has raised $222 million for St. Jude, and we plan to continue raising money through February 2022 (www.stjude.org/get-involved/other-ways/inspiration4.html). The funding will go a long way to helping St. Jude meet its $11 billion expansion plan over the next few years; it will also contribute to our research efforts as well as our goal to reduce pediatric cancer incidence and death worldwide through St. Jude Global, an initiative that aims to improve access to care for children living in low-resource countries.
Giving Thanks
Just like being diagnosed with cancer 2 decades before, going into space has changed me. It has given me an overwhelming feeling of gratitude. Every day since my cancer diagnosis, I have given thanks for being alive and for my good health, and for the opportunity to help other children stricken with the disease to come out the other side and, like me, to thrive. Going into space has only heightened my feeling of gratitude. It was a very emotional experience.
Now, I'm happy to be back on Earth and back to my job working with my young patients. But I'm also looking forward to traveling around the world, getting acquainted with different cultures and forming new connections, and continuing to explore our precious planet. 
Ms. Arceneaux is a physician assistant at St. Jude Children's Research Hospital and lives in Memphis.
Editor's Note: Columns in the Patient's Corner are based solely on information The ASCO Post received from patients and should be considered anecdotal.
---