SIO and ASCO Collaborate to Develop Evidence-Based Guidelines for Integrative Therapies for Oncology

The Society for Integrative Oncology (SIO) has announced its collaboration with ASCO in the development of a series of evidence-based clinical practice guidelines for integrative therapies in oncology care. The guidelines, planned for publication in 2021 and 2022, will provide clinicians and patients with recommendations for safely and effectively treating common cancer symptoms and side effects using integrative approaches.
"It is critical to separate evidence-based, integrative health approaches from those without evidence," said Ting Bao, MD, DAMBA, MS, President of SIO. "These guidelines will help the cancer community ensure safe, effective use of integrative approaches for managing patients' cancer-related symptoms."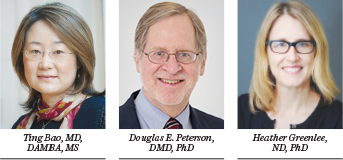 The majority of people with cancer seek out integrative therapies sometime after receiving their diagnosis. Integrative health approaches during cancer care are patient-centered treatments that use evidence-informed mind and body practices, natural products, and/or lifestyle modifications from various traditions, alongside conventional cancer treatments.
"We are delighted to collaborate with SIO on the development of evidence-based guidelines that will help optimize the care of patients with cancer using therapies complementary to cancer treatment," said Chair of the ASCO Clinical Practice Guidelines Committee, Douglas E. Peterson, DMD, PhD. "The guidelines will focus on important concerns in patient care that greatly impact quality of life and will help equip the oncology community with the essential knowledge needed to manage integrative therapy approaches."
Gathering Data
SIO and ASCO will convene independent panels of experts representing members of both societies to produce a series of three evidence-based guidelines for adults that focus on cancer-related pain management, fatigue in cancer survivors, and care of anxiety and depressive symptoms experienced by those with cancer. The topics were selected based on expert consensus and surveys of SIO's membership. Each expert panel will review published literature, including systematic reviews and existing guidelines. The expert panels will outline and recommend evidence-based integrative therapies, as well as caution against ineffective or harmful approaches, for specific clinical indications during and after cancer treatment.
"It is critical to separate evidence-based, integrative health approaches from those without evidence."

— Ting Bao, MD, DAMBA, MS




Tweet this quote



"Many patients already use integrative approaches during and after their cancer treatment, but medical decisions need to be made based on firm science," said Heather Greenlee, ND, PhD, Co-Chair of SIO's Clinical Practice Guidelines Committee. "By co-developing these clinical guidelines, SIO and ASCO will help bring this evidence-based treatment information to patients and oncologists worldwide, so they can wisely allocate resources to the most effective complementary approaches."
SIO received an unrestricted grant to fund guideline development from the Samueli Foundation. ASCO is not a partner or affiliate of SIO and does not recommend or endorse any organization, product, or service.
---