New Leadership Elected to American Society of Hematology

The American Society of Hematology (ASH), the world's largest professional society concerned with the causes and treatment of blood disorders, announced the election of four new members to its Executive Committee for terms beginning after the 2020 ASH Annual Meeting in December.
Robert A. Brodsky, MD, will serve a 1-year term as Vice President, followed by successive terms as President-Elect and President. Cynthia E. Dunbar, MD, will serve a 4-year term as Secretary, and Jamile M. Shammo, MD, FASCP, FACP, and ­Betty S. Pace, MD, will each serve 4-year terms as Councillors.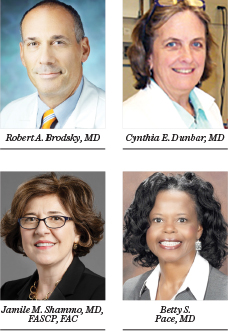 Dr. Brodsky is Professor of Medicine and Oncology and Director of the Division of Hematology at Johns Hopkins School of Medicine in Baltimore, where he is also Director of the Physician-Scientist Pathway for the Osler Medical Training Program. Dr. Brodsky's research interests include bone marrow failure states, bone marrow transplantation for nonmalignant diseases, complement and complement-related disorders, paroxysmal nocturnal hemoglobinuria, atypical hemolytic uremic syndrome, and antiphospholipid antibody syndrome.
Dr. Brodsky has been a dedicated ASH volunteer, currently completing his term as the Society's Secretary. An ASH member since 1992, Dr. Brodsky has chaired the ASH Scientific Committee on Bone Marrow Failure and has served on the Program Committee since 2014, including co-chairing the 2016 Scientific Program. Dr. Brodsky currently serves on the Task Force on Immunotherapies and has also served on the editorial board of ASH's flagship journal, Blood.
The New Secretary and Councillors
Dr. Dunbar, Secretary-Elect, is Chief of the Translational Stem Cell Biology Branch within the Intramural Research Program of the National Heart, Lung, and Blood Institute at the National Institutes of Health in Bethesda, Maryland, and she was recently elected to the National Academy of Medicine. She is currently completing her term as an ASH councillor. Dr. Dunbar's research ranges from basic laboratory studies through clinical trials focused on hematopoiesis, natural killer cell biology, hematopoietic stem cell and chimeric antigen receptor T-cell therapies, and the pathophysiology and treatment of congenital and acquired bone marrow failure syndromes.
Dr. Shammo, Councillor-Elect, is Professor of Medicine and Pathology of the Section of Hematology and Stem Cell Transplantation, Division of Hematology/Oncology at Rush University Medical Center in Chicago. Dr. Shammo's research interests include myelodysplastic syndromes, myeloproliferative neoplasms, and bone marrow failure. An active ASH member, she served as an author of the ASH Self-Assessment Program for 6 years and as Chair of the ASH Annual Meeting Education Program session on myeloproliferative neoplasms in 2016.
Dr. Pace, Councillor-Elect, is Professor of Pediatrics and Francis J. Tedesco Distinguished Chair of Pediatric Hematology/Oncology, Department of Pediatrics, Professor of Biochemistry and Molecular Biology, and Professor of Graduate Studies at the Medical College of Georgia, Augusta University. Her research interests include drug discovery to treat sickle cell disease, mechanisms of globin gene regulation, and training junior investigators and increasing diversity in the hematology workforce.
---