National Academy of Medicine Elects New Members, Including Many From Oncology Community

The National Academy of Medicine has announced the election of 90 regular members and 10 international members during its Annual Meeting. Election to the Academy is considered one of the highest honors in the fields of health and medicine and recognizes individuals who have demonstrated outstanding professional achievement and commitment to service. The newly elected members bring the National Academy of Medicine total membership to more than 2,200 and the number of international members to approximately 180.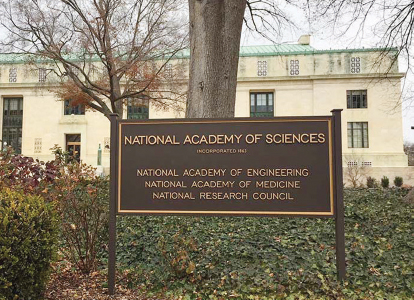 National Academy of Sciences in Washington, DC. Photo: FYI / William Thomas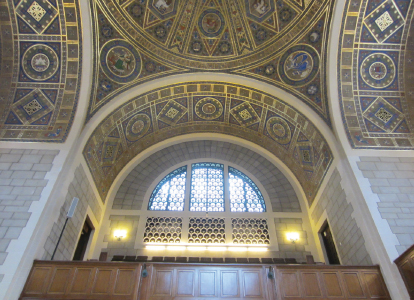 "These newly elected members represent the most exceptional scholars and leaders whose remarkable work has advanced science, medicine, and health in the United States and around the globe," said National Academy of Medicine President Victor J. Dzau, MD. "I am honored to welcome these esteemed individuals to the National Academy of Medicine."

Victor J. Dzau, MD
Newly Elected Members in Oncology
Denise R. Aberle, MD, Professor of Radiology and Bioengineering and Vice Chair for Research/Radiological Sciences, David Geffen School of Medicine, University of California, Los Angeles. Dr. Aberle led the National Cancer Institute–sponsored National Lung Screening Trial, in which low-dose computed tomography screening was shown to reduce lung cancer mortality by 20% over chest radiographic screening.
Nita Ahuja, MD, MBA, William H. Carmalt Professor of Surgery and Chair, Department of Surgery, Yale School of Medicine, New Haven, Connecticut. Dr. Ahuja changed our understanding of the cells of origin in multiple tumor types, as well as the role of epigenetic dysregulation in gastrointestinal cancers, leading to the development of biomarkers for early detection of colorectal and pancreatic cancers and epigenetic therapeutics.
C. David Allis, PhD, Joy and Jack Fishman Professor and Head, Laboratory of Chromatin Biology and Epigenetics, The Rockefeller University, New York. Dr. Allis pioneered the epigenetics field, discovering covalent modifications of histone proteins and their critical roles in the regulation of gene expression and chromatin organization.
Raymond N. DuBois, Jr, MD, PhD, Dean, College of Medicine and Professor of Biochemistry and Medicine, Medical University of South Carolina, Charleston. Dr. DuBois played a part in discovering the critical and mechanistic role of prostaglandins/cyclooxygenase in colon cancer and its malignant progression, elucidating the role of prostaglandins in the tumor microenvironment, and spearheading the now common use of drugs for human cancer prevention that target the prostaglandin pathway (eg, aspirin and other nonsteroidal anti-inflammatory drugs).
Betty R. Ferrell, PhD, FAAN, Director and Professor, Division of Nursing Research and Education, City of Hope, Duarte, California. Dr. Ferrell was a pioneer in the fields of palliative and end-of-life care, developing and leading the End-of-Life Nursing Education Consortium. This consortium has trainers in 99 countries and in every U.S. state and has impacted the lives of patients and their family caregivers.
Stephan A. Grupp, MD, PhD, Novotny Professor of Pediatrics, Perelman School of Medicine, University of Pennsylvania; Section Chief, Cellular Therapy and Transplant, Division of Oncology; and Director, Cancer Immunotherapy Program, Children's Hospital of Philadelphia. Dr. Grupp pioneered the development of an entirely novel therapy for acute lymphoblastic leukemia (ALL), leading the first global engineered cell-therapy trial that demonstrated effective sustained ALL remissions.
J. Silvio Gutkind, PhD, Distinguished Professor, Department of Pharmacology, and Associate Director of Basic Science, Moores Cancer Center, University of California, San Diego. Dr. Gutkind contributed to our understanding of cancer-signaling networks and pioneered the study of the PIK3CA-mTOR signaling circuitry in oral, head, and neck cancer progression, metastasis, and resistance to therapy.
Daphne Adele Haas-Kogan, MD, Professor of Radiation Oncology, Harvard Medical School, and Chair, Department of Radiation Oncology, Brigham and Women's Hospital, Dana-Farber Cancer Institute, Boston Children's Hospital. Dr. Haas-Kogan played a role in the research of genetic abnormalities of brain tumors and successfully translated laboratory discoveries to the treatment of cancer. She also led a multitude of successful clinical trials that have helped shape targeted therapies for adult and pediatric malignancies.
M. Elizabeth Halloran, MD, DSc, Professor of Biostatistics, University of Washington, and full member, Vaccine and Infectious Diseases Division, Fred Hutchinson Cancer Research Center, Seattle. Dr. Halloran pioneered the development of statistical methods and modeling for evaluating vaccines in populations and contributed to evaluating the direct and indirect effects of vaccines and improving design and analysis of vaccine studies.
Elizabeth M. Jaffee, MD, Dana and Albert "Cubby" Broccoli Professor of Oncology, Department of Oncology, and Deputy Director, Sidney Kimmel Cancer Center, Johns Hopkins University, Baltimore. Dr. Jaffee helped to elucidate the complex interactions between T-cell subsets and cancer, translating those findings into two generations of vaccine platforms to develop pancreatic cancer antigen and biomarker discovery approaches.
Ernst Robert Lengyel, MD, PhD, Arthur L. and Lee G. Herbst Professor of Obstetrics and Gynecology and Chair, Department of Obstetrics and Gynecology, University of Chicago. Dr. Lengyel is a leader in researching the biology of ovarian cancer, advancing our knowledge of signaling in the tumor microenvironment.
Scott W. Lowe, PhD, Chair, Cancer Biology and Genetics Program, Memorial Sloan Kettering Cancer Center, New York. Dr. Lowe pioneered the characterization of tumor-suppressor gene networks and their involvement in carcinogenesis, therapeutic resistance, and cellular senescence.
Elaine R. Mardis, PhD, FAACR, Steve and Cindy Rasmussen Nationwide Foundation Endowed Chair in Genomic Medicine and Co-Executive Director, Institute for Genomic Medicine, Nationwide Children's Hospital, and Professor of Pediatrics, College of Medicine, The Ohio State University, Columbus. Dr. Mardis helped to develop sequencing technology for the Human Genome Project and identified cancer mutations targeted by small-molecule inhibitors.
Anil K. Rustgi, MD, Irving Professor of Medicine and Director, Herbert Irving Comprehensive Cancer Center, and Associate Dean of Oncology, Department of Medicine, Vagelos College of Physicians and Surgeons, Columbia University, New York. Dr. Rustgi played a role in illuminating the importance of gastrointestinal cancer genomics and genetics and demonstrating that p120-catenin is a tumor-suppressor gene and the first to link p120-catenin to mesenchymal-epithelial transition in tumor metastasis.
Mehmet Toner, PhD, Helen Andrus Benedict Professor, Massachusetts General Hospital and Harvard Medical School. Dr. Toner helped to create microfluidic devices with "real-life" clinical applications in cancer diagnosis, prenatal diagnosis, regenerative medicine, and tissue engineering.
Catherine J. Wu, MD, Professor of Medicine, Harvard Medical School, and Chief, Division of Stem Cell Transplantation and Cellular Therapies, Department of Medical Oncology, Dana-Farber Cancer Institute, Boston. Dr. Wu pioneered the design and implementation of personalized genomics-guided cancer immunotherapy, focusing on vaccination strategies to address the challenges of cancer -heterogeneity and evolution.
Richard Allen Young, PhD, Professor, Whitehead Institute for Biomedical Research and Department of Biology, Massachusetts Institute of Technology. Dr. Young provided fundamental insights into gene control in human health and disease, the invention of widely used new technologies, and the development of novel therapeutics for cancer. ■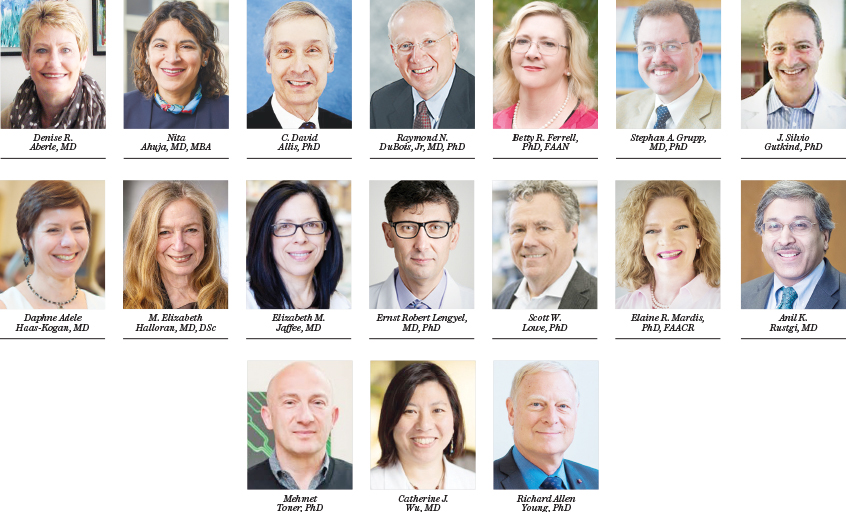 ---