Clinical Happenings and Highlights at the 2019 ASH Annual Meeting

The 61st American Society of Hematology (ASH) Annual Meeting & Exposition is being held December 7–10, 2019, at the Orange County Convention Center in Orlando. Be sure to visit The ASCO Post in the exhibit hall (booth 2429, Harborside) and watch interviews with experts being filmed there live. Further, log on to ASCOPost.com during the meeting for updates on clinical presentations, and follow us on Twitter @ASCOPost. Comprehensive coverage and a special meeting highlights issue will be coming soon.
While you're there, be sure to attend some of these key sessions and be sure to look at the full program available at hematology.org/AnnualMeeting/.
Saturday, December 7
2:00– 3:30 PM: Hodgkin Lymphoma: Celebrating 200 Years Since Thomas Hodgkin Entered Medicine, Orange County Convention Center, Tangerine 3 (WF3-4), Level 2
Sunday, December 8
2:00–4:00 PM: Plenary Scientific Session, Hall D, Level 2
Monday, December 9
9:00–10:00 AM: Donnall Thomas Lecture and Prize: The Long Road to Develop Adoptive Therapy With T Cells That Can Effectively Target AML and Other Malignancies, Hall D, Level 2
1:30–2:30 PM: Ernest Beutler Lecture and Prize: Blood Coagulation: From Molecular Mechanisms to Treatment of Thrombosis, Hall D, Level 2
Tuesday, December 10
7:30 –9:00 AM: Late-Breaking Abstracts Session, Hall D, Level 2
9:30–9:45 AM: Announcement of William Dameshek Prize and Henry M. Stratton Medal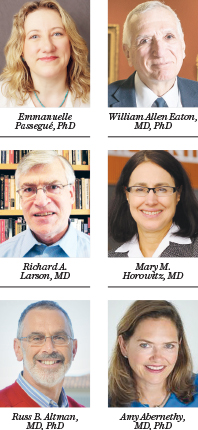 The William Dameshek Prize, named for the late William Dameshek, MD, a past president of ASH and the original editor of Blood, recognizes an early- or mid-career individual who has made a recent outstanding contribution to the field of hematology.
The 2019 William Dameshek Prize will be awarded to Emmanuelle Passegué, PhD, of Columbia University Irving Medical Center in New York.
The Henry M. Stratton Medal is named after the late Henry Maurice Stratton, co-founder of Grune and Stratton, the medical publishing house that first published ASH's journal Blood. The prize honors two senior investigators whose contributions to both basic and clinical/translational hematology research are well recognized and have taken place over a period of several years.
The 2019 Henry M. Stratton Medal for Basic Research will be awarded to William Allen Eaton, MD, PhD, of the National Institute of Diabetes and Digestive and Kidney Diseases of the National Institutes of Health in Bethesda, Maryland. 
The 2019 Henry M. Stratton Medal for Clinical/Translational Research will be awarded to
Richard A. Larson, MD, of the University of Chicago.
9:45–11:15 AM: Presidential Symposium on The Use of Big Data in Hematology Research and Delivery of Personalized Healthcare, Hall D, Level 2
Featuring a panel of three faculty, including Mary M. Horowitz, MD, of the Medical College of Wisconsin, who will address "The Use of Registries to Inform Therapeutic Decisions for the Treatment of Hematologic Diseases With Cellular and Immune Therapies," Russ B. Altman, MD, PhD, of Stanford University, on "The Role of Pharmacogenomics, Computational Biology, and Other 'Omics' Approaches in Precision Medicine and Regulatory Science," and Amy Abernethy, MD, PhD, of the U.S. Food and Drug Administration, on "Big Data Informatics' Role in Healthcare Delivery and in Speeding the Pipeline for New Therapeutics.
---