Challenging the Global Community to Deliver Equitable Cancer Care for All
A Conversation With Her Royal Highness Princess Dina Mired of Jordan

For Her Royal Highness Princess Dina Mired of Jordan, ensuring that every patient with cancer receives high-quality care is not an abstract goal—it is personal. Princess Dina saw firsthand the life-and-death differences that access to state-of-the-art oncology care makes in a patient's life when her young son, Prince Rakan bin Mired, was diagnosed with acute lymphoblastic leukemia in 1997, just before his second birthday. The family had to travel first to England for treatment and then to the United States, where her son received a bone marrow transplant at Dana-Farber Cancer Institute in Boston. That journey would have been impossible, she admits, if her family did not have the financial resources to seek treatment abroad.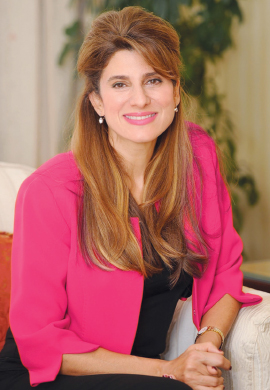 Her Royal Highness Princess Dina Mired of Jordan, President of the Union for International Cancer Control.
"In 1997, cancer was still such a taboo subject in Jordan, like in much of the world at that time. Our first cancer hospital had just opened its doors and was not yet operational, so there was no treatment available in Jordan as yet," said Princess Dina. "The journey of our son's treatment was difficult, despite the fact that we were at one of the best cancer centers in the world and had the full support of our whole family. I can only imagine what it would have been like if we were financially challenged and had been faced with a no-option treatment for a disease that has a cure. I always say, cancer plus poverty equals catastrophe."
Her family soon confronted cancer once again when King Hussein of Jordan was diagnosed with non-Hodgkin lymphoma in 1998 and traveled to the Mayo Clinic for treatment. He died the following year.
"His Majesty King Hussein was our first hero who went public with his cancer diagnosis. His Majesty made a television appearance without the traditional Jordanian headscarf, explicitly showing his hair loss from chemotherapy treatment, and spoke openly about cancer and the possibility of hope and cure, which helped lift the veil of secrecy—and stigma—surrounding cancer in Jordan," said Princess Dina.
The experience of nearly losing her son to cancer and the knowledge that many parents do not have access to life-saving care for their children catapulted Princess Dina into the role of fierce advocate for patients with cancer and survivors around the world.
Changing the Course of Cancer Care
Princess Dina was determined to improve oncology care in Jordan and in neighboring countries in the Middle East and North Africa, where cancer incidence is expected to nearly double from 555,000 cases in 2012 to 961,000 by 2030.1 In 2002, she was named Director General of the King Hussein Cancer Foundation. The nongovernmental, nonprofit organization is charged with leading advocacy and public awareness programs, developing national early detection and prevention programs, and supporting health-care coverage for patients. The Foundation also supports the operations of the King Hussein Cancer Center in Amman, Jordan, and raises funding for building infrastructure, medical equipment, and patient support services.
The King Hussein Cancer Center has become the leading comprehensive cancer center in the Middle East for adult and pediatric patients and is one of the few institutions in the region accredited by the Joint Commission International as a disease-specific cancer center. The cancer center has also received accreditation from the College of American Pathologists and has international partnerships with The University of Texas MD Anderson Cancer Center, St. Jude Children's Research Hospital, and the National Cancer Institute, among others.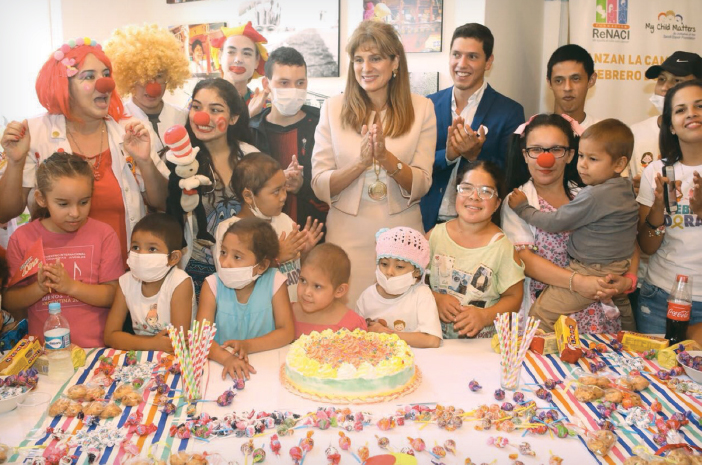 Princess Dina visits the pediatric oncology unit at the Hospital de Clínicas San Lorenzo in Asunción, Paraguay.
Over the next 15 years, through her efforts to run the King Hussein Cancer Foundation as a "business with a heart," Princess Dina helped raise over $360 million to support the center's many initiatives. These activities have included a multimillion-dollar expansion program to increase capacity for patient care and research; hospital-based patient support programs; and the King Hussein Cancer Foundation Goodwill Fund, which provides financial assistance to underprivileged patients from Jordan and other countries in the Middle East, as well as refugees from Syria, Iraq, and Palestine.
In 2018, Princess Dina became the first Arab Muslim and nonmedical professional to be elected President of the Union for International Cancer Control (UICC), a global organization with over 1,177 members from 177 countries and territories who are committed to reducing the cancer burden and inequitable access to care worldwide. She is the recipient of numerous awards for her cancer advocacy, including the 2015 Medal of Honor from the International Agency for Research on Cancer, Arab Woman of the Year 2018 from the London Arabia Organization, and, most recently, the Patient Advocate Award from the American Society for Clinical Pathology.
In a wide-ranging conversation with The ASCO Post, Princess Dina discussed her goals as she heads into her second year as President of the UICC, her commitment to making universal health care a fundamental human right, and the challenge of providing cancer care for displaced persons from conflict nations.
Making Noncommunicable Disease Prevention and Control a Global Priority
Among your priorities as President of the UICC are cancer prevention and early detection, especially for prevalent cancers in low- and middle-income countries. Please talk about the challenges of initiating these efforts and how they are helping reduce cancer deaths in these countries.
At UICC, we look at the whole spectrum of cancer, from prevention and early detection through treatment and survivorship. Worldwide, there are now about 18.1 million new cases of cancer each year and 9.6 million deaths,2 with 70% of those deaths happening in the developing world,3 most of which is because of late presentation. Why are so many people presenting at a late stage? There are many reasons, including stigma, shame, fear, lack of an enabling environment to avoid cancer risk, lack of knowledge by patients and providers about the early signs of cancer, lack of services for cancer screenings, and, of course, lack of money to afford those services.
The disparity of cancer care and survival between high- and low-income countries is totally unjust, tragic, and unacceptable. We have to stop the avalanche of new cancer cases, especially in low-income countries, where noncommunicable diseases, such as cancer, diabetes, and heart disease, are overtaking the number of deaths from communicable diseases.
The disparity of cancer care and survival between high- and low-income countries is totally unjust, tragic, and unacceptable.

— Princess Dina




Tweet this quote



In 2011, the United Nations (UN) General Assembly adopted the first-ever political declaration on noncommunicable diseases, which recognized, for the first time, that noncommunicable diseases, including cancer, constitute a major health challenge. I was honored to give the keynote speech on behalf of civil society. In 2015, the General Assembly also included noncommunicable diseases in its Agenda 2030 for Sustainable Development.4 UICC was instrumental in being a key member warning about the importance of making noncommunicable disease prevention and control a global priority.
To make that goal a reality, UICC has joined with 24 other organizations, including ASCO, the American Cancer Society, and the Centers for Disease Control and Prevention, to form the International Cancer Control Partnership (www.iccp-portal.org), which supports the development, implementation, and evaluation of national cancer control plans. UICC manages the portal where countries and organizations can apply to either develop a national cancer control plan or learn how to fine-tune the one they have.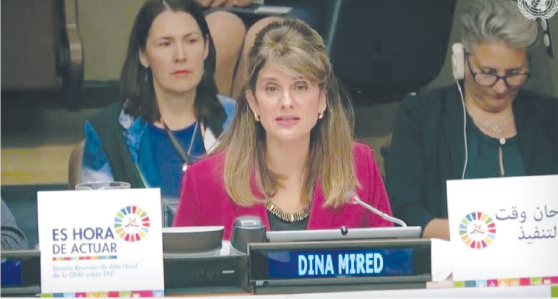 Princess Dina addressing the 2018 United Nations General Assembly High Level Meeting on the prevention and control of noncommunicable diseases.
UICC has also joined the Global Initiative for Cancer Registry Development (https://gicr.iarc.fr/about-the-gicr/partnership-model/#partners) to support countries in establishing qualitative registries that can accurately measure a country's cancer burden to aid informed policymaking. We have also partnered with the McCabe Centre for Law and Cancer (www.mccabecentre.org) to bridge the gap in understanding how to utilize the law to prevent noncommunicable diseases by reducing people's exposure to their risk factors and improving laws to advance equitable health care for everyone. It is through all of these partnerships that UICC is filling in the gaps in access to cancer care throughout the world, because we are fed up with saying that we don't have the resources to solve these problems.
In 2017, UICC launched the City Cancer Challenge (C/Can) initiative (www.uicc.org/who-we-work/networks/city-cancer-challenge-ccan), whose goal is to increase access to quality cancer care in low-income countries and reduce deaths from cancer by 25% by 2025. In 2019, UICC established, incubated, and launched the now stand-alone sister organization, the City Cancer Challenge Foundation.
What I love about C/Can is that it is a real-life logical business model that offers a paradigm shift on how we can support countries in implementing local cancer control. C/Can teams facilitate locally led city activities to prioritize specific needs, identify partners for capacity building, establish sustainable financing models, and monitor and share their results with other cities in the developing world, thus forming a sustainable managerial infrastructure that can continue to implement long-term action plans after the C/Can team leaves. Global health partners include ASCO and the American Society for Clinical Pathology, among others.
Currently, four key learning cities have gone through the C/Can process and have established a set of priorities that have been agreed on by their governments. Those cities are Cali, Colombia; Asunción, Paraguay; Kumasi, Ghana; and Yangon, Myanmar. Three more cities—Porto Alegre, Brazil; Tbilisi, Georgia; and Kigali, Rwanda—are establishing their own City Cancer Challenge.
Declaring Universal Health Care to Be a Human Right
Part of the mission of the UICC is to encourage the implementation of universal health coverage to ensure that people everywhere have access to basic cancer care and other health-related issues. Please talk about the health, economic, and politicalbenefits to moving toward a universal health-care system, the reforms needed to achieve that goal, and how UICC is approaching the problem.
To understand the value of universal health coverage is to imagine its absence. Imagine for one second what it looks and feels like to face a serious illness like cancer and not have the protection of universal health coverage. It's like looking at someone and saying, "The magic potion that will save your life is here, but not for you."
The UICC and the global health community reject the status quo that 70% of our mothers, fathers, husbands, wives, children, brothers, and sisters in developing countries perish needlessly from curable cancers just because they live in the wrong place and time, live in a conflict zone, or have a bank account that is not immunized against a catastrophic expense like cancer.
At the UN General Assembly this past September, world leaders adopted a high-level UN political declaration on universal health coverage, "Universal Health Coverage: Moving Together to Build a Healthier World,"5 the most comprehensive set of health commitments ever adopted at that level. The declaration urges countries to implement universal health coverage guaranteeing an essential package of quality health services, including prevention, treatment, rehabilitation, and palliative care, to all people, whoever they are, wherever they are, and whatever their income level.
Some countries do not want to tackle the complexity of care for noncommunicable diseases, especially cancer, because they think it is too costly and overwhelming. The health community has dispelled that myth by proving that if you follow the World Health Organization (WHO)-recommended "best buys" list of recommendations, its essential medicines list, and essential medical care guidance on the prevention and control of noncommunicable diseases in low- and middle-income countries,6 by 2030, not only will we have saved millions of lives, but we will see a return of $7 per person per year for every dollar spent, generating $350 billion in economic growth.7
Tedros Adhanom Ghebreyesus, PhD, MS, Director General of WHO, said, "Universal health coverage is the journey and impact is the destination." Universal health coverage is truly the only way forward to achieve a sustainable, equitable, affordable essential health package without leaving anyone behind. If implemented well, universal health coverage will send a strong message of hope to all patients with cancer that where patients live shouldn't determine if they live.
Improving Breast Cancer Survival
Among your achievements as a patient advocate is the initiation of the Jordan Breast Cancer Program, which promotes early detection and screening. How successful has this program been in the reduction in deaths from breast cancer in Jordan, and could it become a model for reducing breast cancer deaths in other low- and middle-income countries?
I was the honorary chairperson of that program from its inception in 2007 until 2016. What is wonderful about the Jordan Breast Cancer Program (www.jbcp.jo) is that we used a scientific-based approach to identify current needs, assess the effectiveness of interventions, and determine the program's strategies and budget, as well as a managerial approach to make the program successful.
The program's core success lies in the fact that it involved all stakeholders on its executive committee, including the Minister of Health, health-care professionals from public and private hospitals, and people from nongovernmental organizations. We also partnered with women's organizations, religious establishments, media, and others, so that we could amplify our reach.
Imagine for one second what it looks and feels like to face a serious illness like cancer and not have the protection of universal health coverage. It's like looking at someone and saying, 'The magic potion that will save your life is here, but not for you.'

— Princess Dina




Tweet this quote



When the program was launched in 2007, more than 70% of breast cancer cases presented at stages III and IV. Today, that number has been halved to 35%. For the first time, we have also seen the emergence of stage 0 breast cancer—a stage that did not exist before in Jordan.
Yes, our program can definitely become the model for reducing deaths from breast cancer in other countries. Two months ago, a team from Cameroon came to Jordan for a week to see firsthand how the Jordan Breast Cancer Program was designed and run, and they were very energized to go home and establish a similar prevention and early-detection program in their country.
Sharing the Global Responsibility to Support Refugees With Cancer
It is estimated that Jordan has about 1.3 million Syrian refugees and that about 900 Syrians are diagnosed with cancer annually.8 How do these patients receive care, and what has been the impact on the health-care system in Jordan?
First of all, I want to say how proud I am of my country and its leadership. Jordan has never turned away anyone who sought refuge on our shores. The latest wave of over 1 million Syrian refugees came in addition to the previous large numbers of refugees from Iraq following the last two Gulf wars. Needless to say, it has been quite challenging to deal with such large shocks to our health-care system.
When I was Director General of the King Hussein Cancer Foundation, we established the King Hussein Cancer Foundation Goodwill Fund, which provides coverage for cancer treatment for patients who do not have access to health care. We sought donations to support underprivileged Jordanian patients and those from neighboring countries who fell through the gap. But with the arrival of the Syrian refugees, the demands on our Goodwill Fund were overwhelming, and we could barely cover our own local needs. We stepped up and helped as many as we could, but we could not be responsible for such a massive number of potential patients with cancer.
Upon meeting members from WHO and the UN High Commissioner for Refugees (UNHCR) in our Jordan offices to discuss funding for refugees, I was shocked to learn that the UN system is only geared to treat refugees with emergency health-care needs and that it did not have the funds needed to treat expensive diseases such as cancer and other noncommunicable diseases.
To be fair, the UNHCR and WHO did their best to find some funds, and we did accept two small grants from both organizations, but they were barely enough to cover a handful of patients. [It is estimated that the cost of treatments for the nearly 900 Syrians diagnosed with cancer each year in Jordan is over $22 million.8]
Refugees are not some super-human breed that only suffer from communicable diseases and emergency ailments. Refugees are potentially afflicted with any disease in addition to or on top of their displacement and suffering. It seems to me that one has to remind humanity that refugees are in fact human beings: women, men, children, the young and old. Refugees are "us"—but "us" in an unfortunate and desperate situation. Anyone of us could potentially be a refugee at any point in time. It is truly a tragic situation.
In Jordan, we have done our share. We have opened up our public facilities for education and health care, but the cost for us is hard. Many countries pledge financial support, but many don't follow through. We need an overhaul of the system of relief for refugees to make sure that they are protected and cared for from all ailments, including cancer and other noncommunicable diseases.
I was glad to see the inclusion of refugees in the UN political declaration on universal health coverage document. Let us hope that this will soon translate on the ground in refugee camps to alleviate some of the suffering of the most vulnerable among us. ■
DISCLOSURE: Princess Dina is President of the Union for International Cancer Control.
REFERENCES
1. Lyons G, Sankaranarayanan R, Millar AB, et al: Scaling up cancer care in the WHO Eastern Mediterranean Region. East Mediterr Health J 24:104-110, 2018.
2. World Health Organization: Latest global cancer data: Cancer burden rises to 18.1 million new cases and 9.6 million cancer deaths in 2018. Available at www.who.int/cancer/PRGlobocanFinal.pdf. Accessed November 6, 2019.
3. World Health Organization: Cancer: Key facts. Available at www.who.int/news-room/fact-sheets/detail/cancer. Accessed November 7, 2019.
4. United Nations: Transforming our world: The 2030 agenda for sustainable development. Sustainable Development Goals Knowledge Platform. Available at sustainabledevelopment.un.org/post2015/transformingourworld. Accessed November 7, 2019.
5. United Nations: Political declaration of the high-level meeting on universal health coverage. Available at www.un.org/pga/73/wp-content/uploads/sites/53/2019/05/UHC-Political-Declaration-zero-draft.pdf. Accessed November 7, 2019.
6. World Health Organization: Essential medicines and basic health technologies for noncommunicable diseases: Towards a set of actions to improve equitable access in member states. Available at www.who.int/nmh/ncd-tools/targets/Final_medicines_and_technologies_02_07_2015.pdf. Accessed November 7, 2019.
7. World Health Organization: Saving lives, spending less: A strategic response to noncommunicable diseases. Available at apps.who.int/iris/bitstream/handle/10665/272534/WHO-NMH-NVI-18.8-eng.pdf. Accessed November 7, 2019.
8. Mansour A, Al-Omari A, Sultan I: Burden of cancer among Syrian refugees in Jordan. J Glob Oncol 4:1-6; 2018.
---