Boswellia

The ASCO Post's Integrative Oncology series is intended to facilitate the availability of evidence-based information on integrative and complementary therapies sometimes used by patients with cancer. In this installment, Gary Deng, MD, PhD, and Jyothirmai Gubili, MS, focus on the herbal extract boswellia, also known as Indian frankincense, which has shown anti-inflammatory activity and is of growing interest among many patients with cancer.
Scientific Names: Boswellia serrata
Common Names: Indian frankincense, Indian olibanum

Gary Deng, MD, PhD

Jyothirmai Gubili, MS
Overview
A tropical tree, Boswellia serrata is widespread in India, the Middle East, and North Africa. It is the source of "frankincense" or "olibanum," a fragrant resin obtained from the bark. Frankincense is used in religious ceremonies in cultures around the world and is also valued for its medicinal properties. It is widely prescribed in Ayurveda (India's traditional, holistic system of medicine) to treat diarrhea, dysentery, pulmonary disease, arthritis, coughs, sores, snakebite, ringworm, asthma, and for lowering cholesterol levels.
Boswellic acids, the major constituents of boswellia resin, have been reported to be responsible for many of the herb's therapeutic effects. The supplemental form of boswellia is promoted for osteoarthritis, to maintain joint health, and to reduce inflammation. It is available in health food stores and online in the form of tablets, capsules, extracts, and as an ingredient in topical creams and ointments.
The Science
Preclinical studies have shown that boswellic acid, the bioactive constituent, has anti-inflammatory, antiarthritic,1 cytotoxic,2 and radio-enhancing properties.3 It also prevented intestinal tumorigenesis in a murine model,4 and may improve cognitive impairment and insulin resistance.5 The essential oil derived from boswellia demonstrated antimicrobial effects.6
GUEST EDITOR
Integrative Oncology is guest edited by Jun J. Mao, MD, MSCE, Laurance S. Rockefeller Chair in Integrative Medicine and Chief of Integrative Medicine Service at Memorial Sloan Kettering Cancer Center, New York.

Preliminary findings from small uncontrolled studies suggest the utility of boswellia for bronchial asthma,7 ulcerative colitis,8 mild irritable bowel syndrome,9 and osteomuscular pain.10 However, available data on boswellia's effects against collagenous colitis are inconclusive,11-13 and it did not confer a significant benefit in maintaining remission from Crohn's disease.14

In a randomized trial involving patients (n = 75) with osteoarthritis, an enriched boswellic acid extract (100 mg or 250 mg taken daily for 90 days) affected significant reduction in pain and improved physical functioning when compared with placebo.15 An herbal formula comprising boswellia, Terminalia chebula, and turmeric (200 mg or 400 mg taken daily for 90 days) conferred similar benefits in 105 patients with osteoarthritis of the knee.16

Jun J. Mao, MD, MSCE
In addition, a combination of boswellic acid and curcumin (350 mg of curcuminoids, 150 mg of boswellic acid, taken three times daily for 12 weeks) was also reported to be more effective in alleviating osteoarthritic pain-related symptoms than curcuminoids alone or placebo in a three-arm parallel-group randomized study (n = 201).17 Larger well-designed studies are needed for clinical recommendation.18
Boswellia has been investigated for its potential anticancer effects as well. In a study of 44 patients with primary or secondary malignant cerebral tumors undergoing radiotherapy, those assigned to a boswellia preparation (4,200 mg/d) had greater reduction in cerebral edema than did patients on placebo (P = .023) after radiotherapy.19
In another trial, 144 patients with breast cancer undergoing adjuvant radiotherapy were randomly assigned to receive a topical boswellia cream (2%) or a placebo cream, applied twice daily. More patients in the placebo group had intense erythema (visual intensity) than did those who used boswellia cream (49% vs 22%; P = .009). Further, the treatment was also reported to be effective with concomitant chemotherapy (P = .018).20
Supplementation with an oral formula containing 30% boswellia extract, betaine, and myo-inositol (one capsule, twice daily for 6 months) was also shown to significantly reduce mammary density in premenopausal women (n = 76) with high breast density in comparison to placebo (P < .001).21
OF NOTE
Physicians should be aware of the growing interest in boswellia products for the treatment of inflammatory conditions and their potential for interactions with some prescription drugs.

Mechanistic studies revealed that boswellic acid exerts anti-inflammatory effects via inhibition of 5-lipoxygenase22 and cyclooxygenase-1.23 It also inhibits nuclear transcription factor KappaB signaling, decreasing the production of tumor necrosis factor–alpha significantly.24 The antiplatelet effects of boswellia gum resin extracts are attributed to inhibition of clotting factors Xa and Xia.25

Data also show that boswellic acid exerts apoptotic effects in various cancer cell lines by inducing p21 expression through a p53-independent pathway26-28 and by inducing endoplasmic reticulum stress.29 Additional apoptotic mechanisms include early generation of nitric oxide and reactive oxygen species, which upregulate time-dependent expression of p53/p21/PUMA,30 inhibition of ­microsomal prostaglandin E synthase-1, and decreased prostaglandin levels and its downstream targets.31

Look for products standardized to 60% boswellic acids. Be sure to check out a dosage recommendations chart for boswellia, which lists therapeutic dosages for specific ailments at a glance. Traditionally, boswellia is taken internally for 8 to 12 weeks, and the cream is used as long as needed.

In other studies, acetyl-11-keto-beta-boswellic acid (AKBA), an active component of boswellia, was found to inhibit human prostate tumor growth via inhibition of VEGFR2-induced angiogenesis32; a semisynthetic analog of boswellic acid, 3-alpha-butyryloxy-beta-boswellic acid, inhibited growth in Ehrlich ascites tumor, Ehrlich ascites carcinoma, and sarcoma 180 tumor models, via nuclear factor-KappaB downregulation and induction of poly (ADP-ribose) polymerase cleavage.33

Adverse Reactions
Use of a topical cream containing a Boswellia extract resulted in allergic contact dermatitis.34
Excessive intake of frankincense has been associated with a gastric bezoar (accumulation of vegetable fiber, hair, or other substances in the stomach or small intestine) in a 17

-

year

-

old girl with celiac disease. The symptoms, which included epigastric pain and vomiting, resolved after the bezoar was surgically removed.35
Mild stypsis was reported in patients with irritable bowel syndrome following supplementation with Casperome, a Boswellia extract.9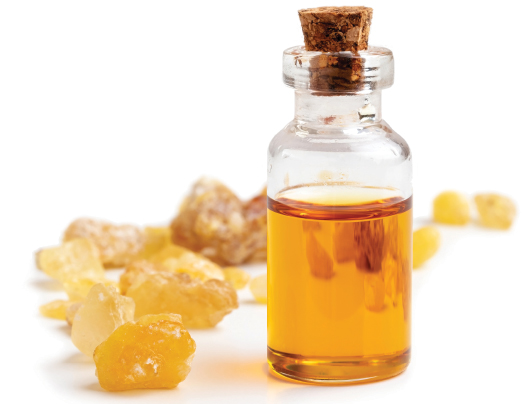 Herb-Drug Interactions
OATP1B3: In vitro, KBA and AKBA were shown to modulate the activity of OATP1B3, a transporter that is responsible for the hepatic uptake of drugs and endogenous compounds.36
MRP2: In vitro, KBA and AKBA were also shown to modulate the activity of the multidrug-resistant protein MRP2.36
P-glycoprotein: A Boswellia extract and keto-boswellic acids were reported to inhibit the activity of P-glycoprotein in vitro and can potentially affect the transport of drugs mediated by this mechanism.37
Anticoagulant and/or antiplatelet drugs: Boswellia extracts can inhibit platelet aggregation and may increase the risk of bleeding when used with these drugs.25
The clinical relevance of the previously mentioned interactions has yet to be determined.
Summary
Boswellic acid has shown anti-inflammatory activities in vitro. A few randomized controlled trials reported that formulations containing boswellia extract could reduce osteoarthritic pain, although the evidence is not definitive. A randomized controlled trial also showed that topical use of boswellia extract reduced radiation dermatitis. A few cases of mild adverse effects have been reported. Caution should be exercised when using boswellia in patients receiving anticoagulant or antiplatelet drugs. 
Dr. Deng is Medical Director, Attending Physician, and clinical member, Integrative Medicine Service, Memorial Sloan Kettering Cancer Center, New York. Ms. Gubili is Editor, Integrative Medicine Service, Memorial Sloan Kettering Cancer Center, New York.
DISCLOSURE: Dr. Deng and Ms. Gubili reported no conflicts of interest.
REFERENCES
1. Dahmen U, Gu YL, Dirsch O, et al: Boswellic acid, a potent antiinflammatory drug, inhibits rejection to the same extent as high dose steroids. Transplant Proc 33:539-541, 2001.
2. Frank MB, Yang Q, Osban J, et al: Frankincense oil derived from Boswellia carteri induces tumor cell specific cytotoxicity. BMC Complement Altern Med 9:6, 2009.
3. Conti S, Vexler A, Edry-Botzer L, et al: Combined acetyl-11-keto-beta-boswellic acid and radiation treatment inhibited glioblastoma tumor cells. PLoS One 13:e0198627, 2018.
4. Wang R, Wang Y, Gao Z, et al: The comparative study of acetyl-11-keto-beta-boswellic acid (AKBA) and aspirin in the prevention of intestinal adenomatous polyposis in APC(Min/+) mice. Drug Discov Ther 8:25-32, 2014.
5. Gomaa AA, Makboul RM, Al-Mokhtar MA, et al: Polyphenol-rich Boswellia serrata gum prevents cognitive impairment and insulin resistance of diabetic rats through inhibition of GSK3beta activity, oxidative stress and pro-inflammatory cytokines. Biomed Pharmacother 109:281-292, 2019.
6. Camarda L, Dayton T, Di Stefano V, et al: Chemical composition and antimicrobial activity of some oleogum resin essential oils from Boswellia spp. (Burseraceae). Ann Chim 97:837-844, 2007.
7. Gupta I, Gupta V, Parihar A, et al: Effects of Boswellia serrata gum resin in patients with bronchial asthma: Results of a double-blind, placebo-controlled, 6-week clinical study. Eur J Med Res 3:511-514, 1998.
8. Gupta I, Parihar A, Malhotra P, et al: Effects of Boswellia serrata gum resin in patients with ulcerative colitis. Eur J Med Res 2:37-43, 1997.
9. Belcaro G, Gizzi G, Pellegrini L, et al: Supplementation with a lecithin-based delivery form of Boswellia serrata extract (Casperome®) controls symptoms of mild irritable bowel syndrome. Eur Rev Med Pharmacol Sci 21:2249-2254, 2017.
10. Franceschi F, Togni S, Belcaro G, et al: A novel lecithin based delivery form of Boswellic acids (Casperome®) for the management of osteo-muscular pain: A registry study in young rugby players. Eur Rev Med Pharmacol Sci 20:4156-4161, 2016.
11. Kafil TS, Nguyen TM, Patton PH, et al: Interventions for treating collagenous colitis. Cochrane Database Syst Rev 11:CD003575, 2017.
12. Madisch A, Miehlke S, Eichele O, et al: Boswellia serrata extract for the treatment of collagenous colitis: A double-blind, randomized, placebo-controlled, multicenter trial. Int J Colorectal Dis Dec 22:1445-1451, 2007.
13. Chande N, MacDonald JK, McDonald JW: Interventions for treating microscopic colitis: A Cochrane Inflammatory Bowel Disease and Functional Bowel Disorders Review Group systematic review of randomized trials. Am J Gastroenterol 104:235-241, 2009.
14. Holtmeier W, Zeuzem S, Preiss, J, et al: Randomized, placebo-controlled, double-blind trial of Boswellia serrata in maintaining remission of Crohn's disease: Good safety profile but lack of efficacy. Inflamm Bowel Dis 17:573-582, 2011.
15. Sengupta K, Alluri KV, Satish AR, et al: A double blind, randomized, placebo controlled study of the efficacy and safety of 5-Loxin for treatment of osteoarthritis of the knee. Arthritis Res Ther 10:R85, 2008.
16. Karlapudi V, Prasad Mungara AVV, Sengupta K, et al: A placebo-controlled double-blind study demonstrates the clinical efficacy of a novel herbal formulation for relieving joint discomfort in human subjects with osteoarthritis of knee. J Med Food 21:511-520, 2018.
17. Haroyan A, Mukuchyan V, Mkrtchyan N, et al: Efficacy and safety of curcumin and its combination with boswellic acid in osteoarthritis: A comparative, randomized, double-blind, placebo-controlled study. BMC Complement Altern Med 18:7, 2018.
18. Bannuru RR, Osani MC, Al-Eid F, et al: Efficacy of curcumin and Boswellia for knee osteoarthritis: Systematic review and meta-analysis. Semin Arthritis Rheum 48:416-429, 2018.
19. Kirste S, Treier M, Wehrle SJ, et al: Boswellia serrata acts on cerebral edema in patients irradiated for brain tumors: A prospective, randomized, placebo-controlled, double-blind pilot trial. Cancer 117:3788-3795, 2011.
20. Togni S, Maramaldi G, Bonetta A, et al: Clinical evaluation of safety and efficacy of Boswellia-based cream for prevention of adjuvant radiotherapy skin damage in mammary carcinoma: A randomized placebo controlled trial. Eur Rev Med Pharmacol Sci 19:1338-1344, 2015.
21. Pasta V, Gullo G, Giuliani A, et al: An association of boswellia, betaine and myo-inositol (Eumastós) in the treatment of mammographic breast density: A randomized, double-blind study. Eur Rev Med Pharmacol Sci 19:4419-4426, 2015.
22. Safayhi H, Mack T, Sabieraj J, et al: Boswellic acids: Novel, specific, nonredox inhibitors of 5-lipoxygenase. J Pharmacol Exp Ther 261:1143-1146, 1992.
23. Siemoneit U, Hofmann B, Kather N, et al: Identification and functional analysis of cyclooxygenase-1 as a molecular target of boswellic acids. Biochem Pharmacol 75:503-513, 2008.
24. Wang H, Syrovets T, Kess D, et al: Targeting NF-kappa B with a natural triterpenoid alleviates skin inflammation in a mouse model of psoriasis. J Immunol 183:4755-4763, 2009.
25. Kokkiripati PK, Bhakshu LM, Marri S, et al: Gum resin of Boswellia serrata inhibited human monocytic (THP-1) cell activation and platelet aggregation. J Ethnopharmacol 137:893-901, 2011.
26. Glaser T, Winter S, Groscurth P, et al: Boswellic acids and malignant glioma: Induction of apoptosis but no modulation of drug sensitivity. Br J Cancer 80:756-765, 1999.
27. Winking M, Sarikaya S, Rahmanian A, et al: Boswellic acids inhibit glioma growth: A new treatment option? J Neurooncol 46:97-103, 2000.
28. Jing Y, Nakajo S, Xia L, et al: Boswellic acid acetate induces differentiation and apoptosis in leukemia cell lines. Leuk Res 23:43-50, 1999.
29. Kim HR, Kim MS, Kwon DY, et al: Boswellia serrata-induced apoptosis is related with ER stress and calcium release. Genes Nutr 2:371-374, 2008.
30. Bhushan S, Malik F, Kumar A, et al: Activation of p53/p21/PUMA alliance and disruption of PI-3/Akt in multimodal targeting of apoptotic signaling cascades in cervical cancer cells by a pentacyclic triterpenediol from Boswellia serrata. Mol Carcinog 48:1093-1108, 2009.
31. Ranjbarnejad T, Saidijam M, Moradkhani S, et al: Methanolic extract of Boswellia serrata exhibits anti-cancer activities by targeting microsomal prostaglandin E synthase-1 in human colon cancer cells. Prostaglandins Other Lipid Mediat 131:1-8, 2017.
32. Pang X, Yi Z, Zhang X, et al: Acetyl-11-keto-beta-boswellic acid inhibits prostate tumor growth by suppressing vascular endothelial growth factor receptor 2-mediated angiogenesis. Cancer Res 69:5893-5900, 2009.
33. Qurishi Y, Hamid A, Sharma PR, et al: NF-κB down-regulation and PARP cleavage by novel 3-α-butyryloxy-β-boswellic acid results in cancer cell specific apoptosis and in vivo tumor regression. Anticancer Agents Med Chem 13:777-790, 2013.
34. Acebo E, Ratón JA, Sautúa S, et al: Allergic contact dermatitis from Boswellia serrata extract in a naturopathic cream. Contact Dermatitis 51:91-92, 2004.
35. El Fortia M, Badi H, Elalem KH, et al: Olibanum bezoar: Complication of a traditional popular medicine. East Mediterr Health J 12:927-929, 2006.
36. Krüger P, Kanzer J, Hummel J, et al: Permeation of Boswellia extract in the Caco-2 model and possible interactions of its constituents KBA and AKBA with OATP1B3 and MRP2. Eur J Pharm Sci 36:275-284, 2009.
37. Weber CC, Reising K, Müller WE, et al: Modulation of Pgp function by boswellic acids. Planta Med 72:507-513, 2006.
---