A Diagnosis of Multiple Myeloma Taught Me to Live in the Moment

I was just 39 in 2015 when I was diagnosed with multiple myeloma. I have a wife and three young children whom I love, a challenging and fulfilling career, and I wasn't ready to die. When I was first diagnosed, I met with a medical oncologist who had little experience treating this type of cancer. She told me that although there is no cure for multiple myeloma, there is effective treatment that could manage the cancer, but that any remission I achieved would likely be intermittent.
I thought I was handling the news well until soon after my first treatment with lenalidomide. I was driving to the store, and the reality of having an incurable cancer began to sink in. I started crying uncontrollably. For the first time in my life, I felt completely alone. I was experiencing such emotional turmoil, I was tempted to drive into a brick wall and end my life.
I'm so lucky I didn't give in to that impulse.
After transferring my care to an oncologist specializing in multiple myeloma, I was reassured that although multiple myeloma is considered incurable, because I was young and in otherwise good health, the plan was to treat me aggressively with autologous stem cell transplantation, followed by a maintenance regimen of lenalidomide, bortezomib, and dexamethasone (RVD). He also said that myeloma was on the brink of becoming a curable disease, and that information gave me the first real hope since my diagnosis.
"By lifting the spirit of others, I was lifting my own spirit, and that was a big part of my healing."

— Richard Hite




Tweet this quote



Living in the Now
Undergoing the stem cell transplantation was extremely difficult, but it was successful in putting me in remission, and subsequent continuous treatment with RVD has kept me there. About a year and a half ago, the cumulative side effects of the therapy, especially dexamethasone, which caused severe depression, convinced my oncologist to discontinue the treatment, but I remain in remission.
In the early days of my treatment, I remember seeing other patients in the hospital waiting room and thinking how sad and defeated they looked. I vowed not to become one of them. To bring the room some joy, I solicited donations from local businesses to raffle off high-end prizes such as golf clubs and tablet computers; for the first time, I saw smiles on the patients' faces. I wanted to bring them hope and the chance to live in the moment. "Live now" had become my mantra, and as I got further along in my treatment, I began counseling other patients to give them encouragement and hope. That is how I survived.
I'd like to say that my efforts were completely altruistic, but the truth is, they weren't. By lifting the spirit of others, I was lifting my own spirit, and that was a big part of my healing.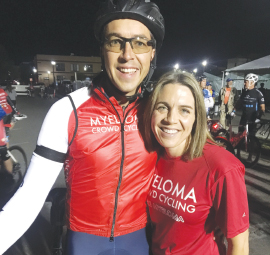 Richard Hite with his wife, Rozalynn.
Giving Back
After my diagnosis, I became an avid cycling enthusiast and cancer advocate. Six weeks after my transplant, I participated in the LoToJa ­Classic Bike Race, a course that runs more than 200 miles through Utah, Idaho, and Wyoming. I was able to ride 26 miles that year, 112 miles the following year, and I've completed the race the past 2 years. Through the Myeloma Crowd Research Initiative, a crowdfunding website that raises money for myeloma research, I launched the Myeloma Crowd Cycling Club (www.mccycling.org), a 600-mile, ride-for-a-cure event that has raised $20,000 for myeloma research since its inception in 2017.
Appreciating the 'Ordinariness' of Life
Today, I continue to follow the "live now" mantra I started practicing soon after my diagnosis, and it has kept me grounded. I appreciate the ordinariness of everyday life, such as reading bedtime stories to my children, spending quiet time with my wife, and making family memories to last a lifetime. Cancer is not something I would have wished for myself, but it has given me a life I never would have had and lessons I never will forget. 
Mr. Hite lives in Salt Lake City, Utah.
Editor's Note: Columns in The Patient's Corner are based solely on information The ASCO Post received from patients and should be considered anecdotal.
---