Leader in Geriatric Oncology, Arti Hurria, MD, FASCO, Dies at Age 48

ARTI HURRIA, MD, FASCO, died tragically on November 7, 2018, from injuries sustained in a traffic accident. Dr. Hurria was a national leader in geriatric oncology, embracing the age-associated nuances of the elderly, and leading initiatives and research that advanced this specialty field. "The time-honored medical tradition of compassion and active listening is the core of what we do in geriatric oncology," said Dr. Hurria in several interviews. Among her numerous titles, Dr. Hurria was Director of the Center for Cancer and Aging at City of Hope in Duarte, California.
Born to Be a Doctor
A FIRST-GENERATION American of immigrant parents from India, Dr. Hurria had a colorful upbringing, born in Canarsie, Brooklyn, where she reveled in the diverse hodge-podge of cultures. It was at a young age that her father pronounced his daughter was going to become a doctor. Even before this prescient announcement, Dr. Hurria had planned on a career in medicine, following in her parents' footsteps.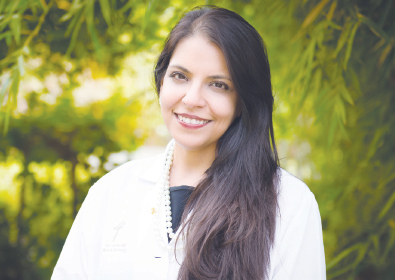 Arti Hurria, MD, FASCO
When Dr. Hurria was 8 years old, her parents relocated from Brooklyn to Southern California. After graduating from high school, she was accepted to a special undergraduate program at Northwestern University, and following 3 years of undergraduate work she advanced directly into medical school. Dr. Hurria noted that her experience at Northwestern helped to broaden her intellectual horizons. At first, she majored in psychology, which she said helped her gain insight into the emotional struggles of her patients with cancer.
Several Mentors
DR. HURRIA'S mother was a radiation oncologist, and her intimate relationship with her patients was a large factor in her decision to pursue a career in oncology. The other influence was her mentor at Northwestern, Steve Rosen, MD, who she credited for encouraging her to become an oncologist. Dr. Rosen would be one of several mentors that Dr. Hurria acknowledged as pivotal guides on her path in oncology.
In 1995, Dr. Hurria relocated to Boston for her internship at Beth Israel Medical Center, where she realized there was little data in the literature about treating the special needs of the elderly patient with cancer. Moreover, there was no geriatric oncology program offered in her residency.
OF NOTE
An endowed Young Investigator Award in Geriatric Oncology has been established in honor of Dr. Arti Hurria. Visit http://conquer.org/Hurria.

That changed when Dr. Hurria asked to do a joint residency, combining both specialties. Wanting to bolster her knowledge base on her chosen career, Dr. Hurria completed a geriatrics fellowship at Harvard before taking the next major step in her career, an oncology fellowship at Memorial Sloan Kettering Cancer Center (MSK) in New York. During her fellowship, Dr. Hurria had the rare opportunity for a new fellow, to write a P20 grant, which was designed to bring cancer care and aging together in a comprehensive cancer care setting.

City of Hope

GIVEN THE success of the program, and Dr. Hurria's enthusiasm for geriatric oncology, she decided to accept a position at City of Hope, where she planned to turn her work at MSK into a multi-institutional project. Her dream was realized when she was named Director of the newly formed Center for Cancer and Aging at City of Hope, which now includes 17 participating institutions across the nation.

Dr. Hurria called City of Hope a place of healing and humanity, a place where she could and did make a difference in the lives of older patients. At the time of her death, Dr. Hurria was leading an ongoing City of Hope study to determine whether geriatric assessment–guided interventions can decrease the risk of chemotherapy side effects for older patients with cancer.
"Love your patients as much as you can. Give them as much as you can, with all of your heart. They are in a vulnerable place, and kindness and compassion go such a long way." —Arti Hurria, MD, FASCO
Remembrances
WHEN DR. HURRIA'S death was announced, tributes poured in from friends and colleagues. Hyman Muss, MD, whom Dr. Hurria called a valued mentor in geriatric oncology, offered this remembrance: "We not only have lost a world leader in geriatric oncology but a wonderful friend. Arti personified graciousness, inclusiveness, a shining intellect, and a 'get-it-done' mentality—always with a smile. She was a colleague, mentor, and confidante to so many of us. We will miss her dearly."
Along with her colleagues, there were, of course, her patients—who lost not only a doctor but also a tireless advocate for the elderly with cancer. Dr. Hurria was someone who looked beyond the technology and dazzling science, knowing that sometimes the best doctoring is provided by sitting at a patient's side and listening to his or her story. "The experience that comes with holding a patient's hand during a cancer diagnosis is one that I don't think is paralleled anywhere else in medicine," she was remembered as saying.
The driving philosophy of Dr. Hurria's legacy and rich life is further portrayed by her own words. "Love your patients as much as you can. Give them as much as you can with all of your heart. They are in a vulnerable place, and kindness and compassion go such a long way." Dr. Hurria was asked in an interview about balancing a challenging career and a personal life. She replied: "I am married and have a 14-year-old daughter, and there has been no greater teacher for me than having a child. It has, in fact, made me a better doctor because it's taught me patience and enhanced my ability to listen. Once you're a parent, you are no longer the center of your universe; you have to sacrifice in time and emotion. This is truly my deepest expression of love and the most enriching experience."
Dr. Hurria is survived by her husband and her daughter. ■
---