Restorative Effects of Painting Offset the Demands of Oncology
A Conversation With Terry Mamounas, MD, MPH, FACS

Living a Full Life is a new department in The ASCO Post in which we share insightful narratives of oncology professionals highlighting personal aspects of their lives outside the world of oncology. We also hope to open a dialogue about the challenges faced by today's busy oncologists in maintaining a healthy work-life balance.
Oncologists are apt to give patients the worst news of their lives: You have cancer. Yet studies show that, by and large, despite the stressful aspects of treating people with a life-threatening disease, oncologists report one of the highest percentages of professional satisfaction among medical disciplines. Not surprising, this intellectually challenging field has within its ranks doctors who pursue with passion interesting avocations outside of the clinic and laboratory. For Terry Mamounas, MD, MPH, FACS, Medical Director, Comprehensive Breast Program at Orlando Health University of Florida (UF) Health Cancer Center, painting is his much-needed diversion—one that fortifies his holistic approach to life as a member of the global oncology community. 

Terry Mamounas, MD, MPH, FACS
A Teacher Lights a Fire for Art 
GUEST EDITOR for Living a Full Life, Jame Abraham, MD, FACP, asked Dr. Mamounas why art helps him keep a healthy balance in his life. "Well, Jame, as you know, our profession is very complicated, and I think it is important for us to have an outlet, a place if you will, to relax and appreciate the things life has to offer outside of work. Naturally, we all do this with family and friends, but for me, painting offers another way to find meaning in life outside of the cancer center. I've always loved art," said Dr. Mamounas. 

Jame Abraham, MD, FACP Dr. Abraham is the Director of the Breast Oncology Program at Taussig Cancer Institute, and Professor of Medicine, Lerner College of Medicine, Cleveland Clinic.
He continued: "I'm also blessed to have a wonderful wife who loves sharing different experiences with me, such as traveling. I think it's important to get away from your place of work. We go to Greece every year, which is sort of my decompression chamber. It also offers a great place to paint." 
Dr. Mamounas was born and reared in Athens, Greece. His passion for painting was ignited early on by his 5th-grade teacher, an accomplished artist himself who saw raw talent in his young student. "My teacher, Harry Baloglou, encouraged me to paint, and we actually formed a small group of students who would gather on Sundays to paint. From that point on, I was hooked on painting," said Dr. Mamounas. 
"I became so involved with art that during high school, I actually thought about pursuing a career as a painter or architect," admitted Dr. Mamounas. "But in Greece, you have to decide on a career path while still in high school, usually by the age of 15 or 16, and medicine won over. My father told me that as I doctor I could always paint and have the best of both worlds. So his advice helped shape my career path." 
A Tough Decision to Leave Home 
ASKED ABOUT his road to medical school, Dr. Mamounas responded: "Unlike in the United States, where students go from high school to college and then to medical school, in Greece, you begin medical school right after high school. It is a highly competitive process in which all students sit for a national exam to determine their entry into medical school. University education in Greece is free, for the most part, so you can imagine how fierce the competition is." 
Dr. Mamounas was accepted into the University of Athens Medical School, a public university in the suburbs of Athens, which has been in continuous operation since its establishment in 1837. "I received a wonderful education and my medical degree in 1983. However, as a medical student, I was fortunate to spend some time in the United States on a surgical rotation at Waterbury Hospital in Connecticut. I fell in love with the States and the way the medical system operated. I knew I'd eventually return and establish my profession here," said Dr. Mamounas. 
After attaining his medical degree, Dr. Mamounas made the difficult decision to leave his homeland and move to the United States, where he did his surgical residency, a clinical oncology research fellowship at the University of Pittsburgh and a surgical oncology fellowship at Roswell Park Cancer Institute in Buffalo, New York. 
"Once you find the thing that is unique to you, not only will it ease the stress associated with our profession, it will also make you a better doctor."

— Terry Mamounas, MD, MPH, FACS




Tweet this quote



Challenging Work Week 
ASKED ABOUT his current work at the Orlando Health University of Florida (UF) Health Cancer Center, Dr. Mamounas replied, "I direct the comprehensive breast program. I spend about 50% of my time doing clinical work, which includes time in the OR, and the other half of my schedule is devoted to research, administrative work, writing papers, and preparing for presentations at meetings. Orlando Health is a robust health-care system with nine hospitals in central Florida. I've been here about 5 years, and it's been a lot of fun. But I have a challenging 50-hour work week and sometimes it's hard to turn it off, which is why I love to sit in front of the easel and create art. To paint well requires absolute devotion to the process, so it transports me to a special, private place." 
Oil vs Watercolor 
NOTING THAT Dr. Mamounas paints in oil and watercolor, Dr. Abraham asked whether he prefers one medium to the other. "Both offer interesting ways to create art. Throughout medical school and into my early career, I primarily painted in oil colors, but then as I became busier and began traveling more, I shifted my focus to watercolors. Oil requires a longer time for each session and is a more involved process, whereas you can work on watercolors in shorter sessions, and they are easier to transport; for instance, if I'm traveling on vacation, I can take my watercolors with me and paint while away. Not so easy with oils." 
TERRY MAMOUNAS, MD, MPH, FACS
Affiliation: Orlando Health UF Health Cancer Center, Orlando, Florida
Favorite artist: "Salvador Dali—not only for his amazing technical skill but also for the deep complexity and meaning of what each painting conveys."
Best advice ever received: "It came from my father: In life there is no such thing as I cannot; it is only I don't want to."
Favorite vacation destination: "I'm sort of biased, but Greece is my favorite."
Dr. Mamounas admitted an early fear of watercolors, given the medium's reputation as unforgiving and difficult to master. "But actually, as you work with watercolors, you begin to learn tricks to make it a malleable medium by using methods such as 'wet on wet,' 'lifting,' and 'glazing' for more control," said Dr. Mamounas, mentioning he donates a lot of his art work to cancer research and advocacy charities. 
Dr. Abraham stressed that it does not take a trained eye to understand at once that Dr. Mamounas is an accomplished and ambitious artist who has dedicated years of study and practice to achieve his level of skill. His paintings possess a luminescence that makes the subject matter, whether a still life of tulips or a portrait of a young boy deep in thought, jump off the paper or canvas. Some of the artist's favorite works are watercolors of simple stones, lying in collective repose, which captures the essence of the world around us. He is in best form when he uses sunlight like a prism to dazzle simple things into life, like a clock on the wall of a country kitchen. 
An Accomplished Career 
DR. MAMOUNAS is currently Professor of Surgery at the University of Central Florida and Clinical Professor of Clinical Sciences at Florida State University. Since 1997, he has served as Chair of the National Surgical Adjuvant Breast and Bowel Project (NSABP) Breast Committee, which is now evolved into the NRG Oncology Breast Committee. He has authored and coauthored more than 350 abstracts, peer-reviewed manuscripts, and book chapters and is a frequent lecturer at national and international meetings. As part of the NSABP and NRG Oncology, his clinical research has been funded over the past 20 years by several National Cancer Institute grants and more recently by a Komen for the Cure grant. 
He has served on the editorial boards of several oncology journals and is a past Associate Editor of the Journal of Clinical Oncology. He has received several awards and distinctions and has been listed in The Best Doctors in America consistently since 2001. He holds memberships in several professional societies, including the American College of Surgeons, the Society of Surgical Oncology, American Society of Breast Surgeons, and ASCO. 
Advice to Peers 
DOES DR. MAMOUNAS have any advice for his oncology associates? "You should plan to have something other than work to look forward to doing, something that is yours and helps you have valued time away from the demands of oncology. Once you find the thing that is unique to you, not only will it ease the stress associated with our profession, it will also make you a better doctor. For me, the process of painting has a restorative effect, but for others, it might be something as simple as long-distance running, reading, or play. It is very personal, but finding your special way to get away from the stress of work is important, almost an imperative." ■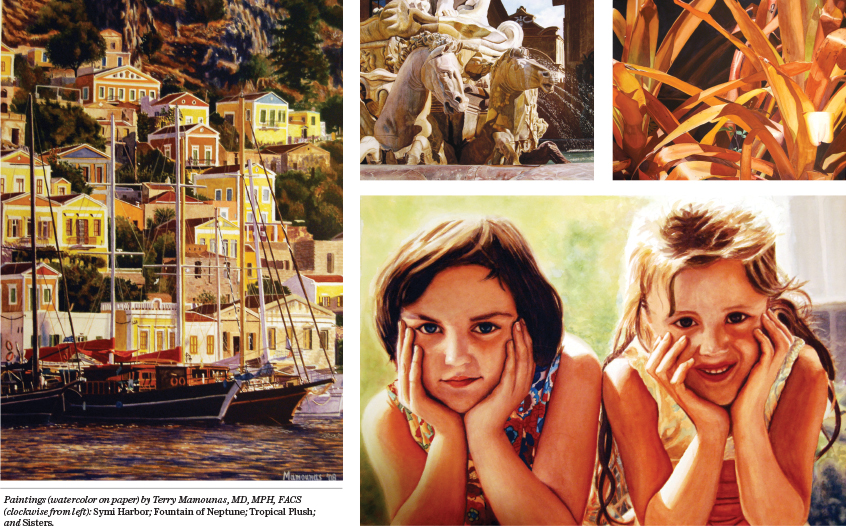 Paintings (watercolor on paper) by Terry Mamounas, MD, MPH, FACS (clockwise from left): Symi Harbor; Fountain of Neptune; Tropical Plush; and Sisters.
DISCLOSURE: Drs. Abraham and Mamounas reported no conflicts of interest. 
---