Plan Ahead for the Holidays With the Conquer Cancer Foundation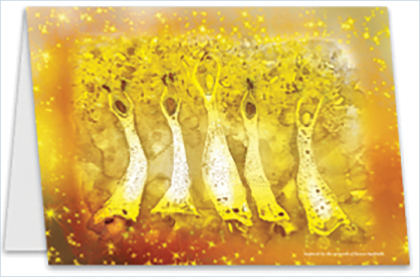 Share the message of hope, strength, and a world free from the fear of cancer with greeting cards and eCertificates from the Conquer Cancer Foundation (CCF). In appreciation of your gift, CCF will mail or ship greeting cards, or e-mail eCertificates. Cards and eCertificates feature artwork created by people affected by cancer and can be customized with your personal message. You can even add a company logo. Here's how it works!
You have three easy options for sending your customized cards:
We can send the cards to you along with blank envelopes for you to address and mail.
Upload a mailing list and we'll pre-address the envelopes for you. We'll ship them to you for you to stamp and drop in the mail.
Select the address and mail option and we'll print, address, and mail your cards to the mailing list you provide. If your hectic schedule has you putting off sending your holiday greeting, you can show your support of CCF and connect with your friends, family, clients, or patients with this inspiring artwork nearly effortlessly.
For more information, visit cards.conquercancerfoundation.org. ■
© 2016. American Society of Clinical Oncology. All rights reserved.
---