Dave, Dave, Dave
Thanks for reaffirming my career choice and for teaching me how to live, whatever comes my way.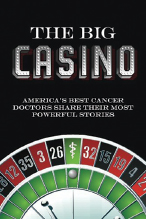 The following essay by Daniel G. Haller, MD, FASCO, FACP, FRCP, is adapted from The Big Casino: America's Best Cancer Doctors Share Their Most Powerful Stories, which was coedited by Stan Winokur, MD, and Vincent Coppola and published in May 2014. The book is available on Amazon.com and thebigcasino.org.
It was 1983, and I was in my third year as an attending physician at a major East Coast university medical center and just 5 years out of fellowship. As was common at the time, I saw and treated all malignancies except leukemia and gynecologic cancers. In the middle of a typically busy day at the clinic, I was called by the head of student health to see an undergraduate, Dave, who presented with a lymph node in his neck. Although she said that Dave was asymptomatic, she wanted to give him antibiotics and observe him. Dave was adamant that he wanted to been seen by someone else today! I grudgingly agreed to do the examination at 5:00 PM, so he wouldn't miss classes.
At 7:00 PM, I met with a sulky, angry young man, who was a sophomore in the competitive business school. Just to give you some of Dave's personal history, he grew up in Beverly Hills, California, and his parents were both lawyers.
Dave was symptomatic with some weight loss and fevers, and his lymph node, located in the left supraclavicular fossa, an area just above the collarbone, was firm and 2 cm in diameter. I told him he needed a biopsy because I thought he might have lymphoma. He immediately called his parents, who wanted him to go instead to Stanford University Medical Center for the biopsy. I spoke to them and said we could at least handle the biopsy at our medical center.
Getting on With Life
The diagnosis was stage IIIB Hodgkin lymphoma, and the treatment recommendation was a combination of total-nodal irradiation and mechlorethamine, vincristine, procarbazine (Matulane), and prednisone (MOPP) and doxorubicin, bleomycin, and vinblastine (ABV) chemotherapy. Add to the mix, an insecure young oncologist and a powerful, angry, and scared patient and family, and you have the makings of a difficult situation.
Although airplane tickets to California went back and forth, when I asked Dave what he wanted to do for his treatment, he told me he just wanted to be a student, going to school and getting on with his life. And that's what he did, but not without a fair amount of Sturm und Drang. Luckily, he had amazing support from his girlfriend and classmates, who helped me be the doctor I needed to be.
After battles over treatment schedules and treatment side effects, I usually shook my head and said, "Dave, Dave, Dave." And, after a while, sensing my frustration, he'd parrot me and say, "Doc, Doc, Doc."
Fortunately, Dave had a complete response to his therapy and graduated summa cum laude. In thanks for his good outcome, Dave's family donated large sums of money—to Stanford University Medical Center. Dave continued his education in business administration, earning a master's degree in business administration, got a big job on Wall Street in New York City, married his college sweetheart, and had two children. Every Christmas, I got a card form Dave with a picture of his family and a brief note telling me how he was doing.
Celebrating a Cancer Cure
Some years ago, I received a phone message from Dave. "Hey, Doc," he said when I returned his call. "It's our 25th anniversary." I was stunned. I think of anniversaries as the celebration of joyful events, not the diagnosis and treatment of cancer. He told me how grateful he was for my help and how glad he was that we'd worked together.
I wondered whether I would have been as upbeat and magnanimous if I had been the one diagnosed with cancer at such a young age.

— Daniel G. Haller, MD, FASCO, FACP, FRCP




Tweet this quote



I wondered whether I would have been as upbeat and magnanimous if I had been the one diagnosed with cancer at such a young age. We compared notes on our lives, and I mentioned that I had developed a peculiar peripheral neuropathy of an immune nature and that I thought it was a punishment for treating so many people with oxaliplatin. He hesitantly replied that he had some numbness in his feet, which he thought was due to the chemotherapy he received for his Hodgkin lymphoma. Without being defensive, I told him that I didn't think his chemotherapy treatment was the cause of the problem and suggested he seek a neurologic consultation.
A year later, I called Dave to see how he was doing and was told that despite having three medical consultations about the numbness in his feet, he still did not have a diagnosis. Since his gait was now affected, I urged him to seek a fourth opinion. Having had numerous electromyograms and nerve-conduction studies myself, I understood why he was hesitant to repeat them. He was once again in a good place in life and simply wanted to be normal.
Dave went to the Mayo Clinic for tests and was diagnosed with transverse myelitis, an inflammation of the spinal cord, likely due to the radiation he received for his cancer. I asked how he felt about having this late treatment side effect, and his response was that without treatment, he wouldn't be here to complain, which reminded me of Vincent DeVita's comment that "dead men don't have toxicities."
"Dave, what are you going to do?" I asked.
"Doc, we got through worse before," he replied. "Let's stay in touch. Maybe we can meet for lunch some time and compare disabilities."
"Dave, I'm not sure I'm ready for a maudlin medical scene from On Golden Pond 2."
"Doc, you've always made me laugh," he said.
This was true. One of my great mentors, Dr. Jack Macdonald, taught me in fellowship training, "If you can't laugh at cancer, what can you laugh at?" Laughing with patients has gotten us through some very hard times.
Learning Lessons From Patients
Every month, I download my calendar for my wife, so she knows my upcoming schedule and where I'll be. One day, she saw a date marked "30th Anniversary." She was miffed, because we'd just celebrated our 35th wedding anniversary. She asked me whether I was a bigamist, and I told her that the date signified the only other love of my life: oncology.
Dave, Dave, Dave. Thanks for reaffirming my career choice and for teaching me how to live, whatever comes my way. ■
Dr. Haller is Emeritus Professor of Medicine at the Perelman School of Medicine, University of Pennsylvania, Philadelphia.
---