Cancer on the Global Stage: Incidence and Cancer-Related Mortality in Albania

The ASCO Post is pleased to present this special focus on the worldwide cancer burden. The aim of this special feature is to highlight the global cancer burden for various countries of the world. 
For the convenience of the reader, each issue will focus on one country from one of the six regions of the world as defined by the World Health Organization (ie, Africa, the Americas, South-East Asia, Europe, Eastern Mediterranean, and Western Pacific). Each section will focus on the general aspects of the country followed the current and predicted rates of incidence and cancer-related mortality. 
It is hoped that through these issues, we can increase awareness and shift public policy and funds toward proactively addressing this lethal disease on the global stage.

Chandrakanth Are, MBBS, MBA, FRCS, FACS

Amanda McIntyre, BS
ABOUT THE AUTHORS
Dr. Are is Jerald L & Carolynn J. Varner Professor of Surgical Oncology & Global Health; Vice Chair of Education; Program Director, General Surgery Residency, University of Nebraska Medical Center, Omaha. Ms. McIntyre is a medical student at the University of Nebraska Medical Center. 



Albania, located in Southeast Europe, is a county of 3.04 million inhabitants with a median age of 32.5 years (lowest in Europe) and an average life expectancy of 78.3 years (61st in the world). Cancer is the second leading cause of death in Albania, responsible for 17% of all deaths, but cancer mortality is in the lower-third of all European countries (per the EUCAN database). Albania spends 5.9% of its gross domestic product on health, which is lower than the United States and other European countries in the higher economic strata. 
Lung, breast, stomach, and bladder are the most frequently diagnosed cancers in Albania. The most fatal cancers are those of the lung, stomach, breast, and brain/nervous system. The age-standardized rate is one of the lowest in Europe with 112.4 cases/100,000 population. However, the incidence and mortality of cancer are expected to steadily rise in Albania, with the country's increasing population age and size.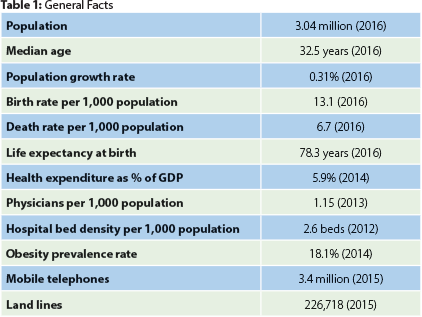 GLOBOCAN 2012 reports no data on the incidence of cancer in Albania, but it can be estimated from national mortality and cancer registries from neighboring countries. Mortality data are considered to be of low quality. The cancer registry in Albania is based on records from the University Hospital Center in Tirana. The computerization of data began relatively recently (2008), and now the data from 36 district hospitals and pathology services are centralized at the University Hospital Center in Tirana. 
Lung cancer is the most common and most fatal of all cancers in Albania; an estimated 26.2% of the population smoke tobacco. The Association for a Tobacco-Free Albania is active in raising public awareness about the harms of tobacco and in identifying legislative priorities for tobacco control. An estimated 18.1% of the population is obese, but there are no policies or plans in place for obesity prevention and physical activity promotion (per WHO). 
In Albania, there is currently an 18.4% risk of dying from cancer before age 75. Although several efforts to control cancer are underway, cancer in Albania is often detected in the later stages. Cost limitations, inadequate technology, and insufficient training of medical personnel for widespread screening measures have severely limited cancer screening in Albania. Breast palpation is the only cancer screening available to the general public at the primary health-care level.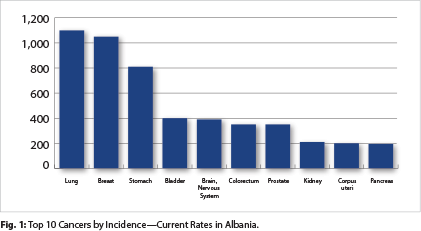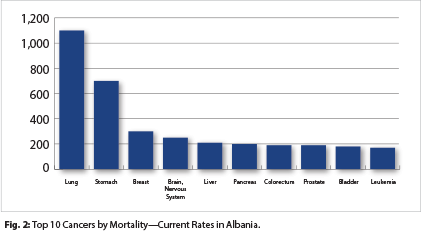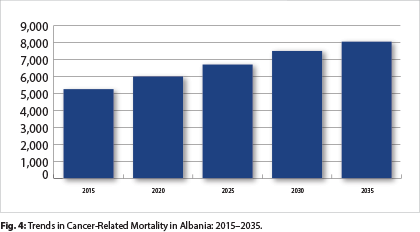 As far as treatment is concerned, radiation therapy, chemotherapy, and oral morphine for palliation are generally available in Albania. The National Oncology Service, part of the University Hospital Center in Tirana, is the only specialized public institution in the country with a multidisciplinary team dealing with cancer diagnosis and treatment. The service has a total of 111 beds and 31 physicians. With 1.15 physicians and 2.6 hospital beds per 1,000 population in Albania, the total number dedicated to comprehensive cancer care is small. 
Efforts are underway in Albania to tackle the cancer burden. The National Cancer Control Program (NCCP) was developed in Albania in 2005 in collaboration with the WHO. According to the NCCP, the program is "to be integrated into all levels of the Albanian health-care system, to be a community property, and to include society through collective and social action." There is currently a 10-year action plan in place (2011–2020) based on national priorities in prevention and screening, diagnosis and treatment, and palliative care and family support. ■
Additional Readings
1. http://eco.iarc.fr/eucan/Cancer.aspx?Cancer=0
2. http://globocan.iarc.fr/Pages/fact_sheets_population.aspx
3. https://www.cia.gov/library/publications/the-world-factbook/geos/al.html
4. http://www.who.int/cancer/country-profiles/alb_en.pdf?ua=1
5. http://www.iccp-portal.org/sites/default/files/plans/NCCP%20Albania%20English.pdf




Note to Readers: If you are interested in participating in this continuing series on the global cancer burden and have an interesting perspective to share about a particular region of the world, contact Dr. Are at care@unmc.edu.
Disclaimer: This commentary represents the views of the author and may not necessarily reflect the views of ASCO.
---