Neratinib Improves Disease-Free Survival in Early-Stage HER2-Positive Breast Cancer


Arlene Chan, MD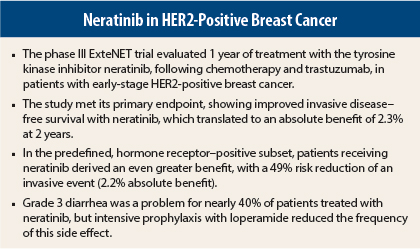 Neratinib in HER2-Positive Breast Cancer
At the time of the study design, there was no protocol-mandated antidiarrheal prophylaxis put in place, but currently three studies have shown that an intensive loperamide prophylactic regimen can successfully reduce the rates of grade 3 diarrhea to 0% to 17%.

—Arlene Chan, MD
Patients with early-stage HER2-positive breast cancer who received neratinib as extended adjuvant therapy demonstrated improved invasive disease–free survival, with an absolute benefit of 2.3% at 2 years.1 However, these results of the ExteNET trial, previously presented at the 2015 ASCO Annual Meeting, are only part of the story. According to secondary data introduced at the 2015 Breast Cancer Symposium, certain subsets derived even greater benefits,2 including those with hormone receptor–positive disease and those pretreated with trastuzumab (Herceptin) sequentially.
"ExteNET is the first study to show a statistically significant improvement in invasive disease–free survival in the intent-to-treat population," said Arlene Chan, MD, of the Breast Cancer Research Centre, Western Australia, and Curtin University in Perth. "Furthermore, in the centrally confirmed HER2-positive cohort, we are now seeing absolute benefits on the order of 4.1% to 8.6%, depending on the subset."
The positive results, however, were not met with total enthusiasm by a number of listeners, who considered the toxicity of the drug to far outweigh the benefit.
Neratinib is an oral tyrosine kinase inhibitor of HER1, 2, and 4. In xenografts, neratinib produced dose-dependent and sustained tumor growth regression,3 and in a phase II trial, responses were observed in 24% of patients previously treated with trastuzumab and 56% of trastuzumab-naive patients; 16-week progression-free survival rates were 59% and 78%, respectively.4
ExteNET Trial Details
The ExteNet trial is an international, multicenter study that enrolled 2,840 patients with locally defined, HER2-positive disease who had been pretreated with adjuvant trastuzumab and chemotherapy. In addition, the estrogen-receptor status of the primary tumor was required for inclusion in the study.
Patients were randomly assigned on a 1:1 basis to receive either neratinib at 240 mg/d for 12 months or placebo. ExteNet's primary analysis was the invasive disease–free survival for all patients treated who had completed 2 years of follow-up.
The primary endpoint, reported at the 2015 ASCO Annual Meeting, was met in the intent-to-treat population, showing improved invasive disease–free survival for patients receiving neratinib (93.9%) vs placebo (91.6%).1
Additional Data
At the 2015 Breast Cancer Symposium, Dr. Chan presented further data, showing that disease-free survival in the ductal carcinoma in situ subset was also significantly improved, with a hazard ratio of 0.63 and a 2.9% absolute benefit. Also, in the predefined hormone receptor–positive subset, patients receiving 1 year of neratinib derived a 49% risk reduction of an invasive event, translating into a 4.2% absolute benefit.
Distant recurrences were reduced in all patients receiving neratinib, with a 1.4% difference between patients receiving neratinib and placebo.
"In the centrally confirmed HER2-positive cohort, to date, approximately 60% of patients have been evaluated," said Dr. Chan. "Approximately 86% of patients were centrally confirmed as having HER2-positive disease." For patients with centrally confirmed HER2-positive disease, a sustained, statistically significant benefit (hazard ratio = 0.51) was observed in those receiving neratinib.
"In terms of invasive disease, I want to draw your attention to the magnitude of benefit in the distant metastatic disease," said Dr. Chan. "In the centrally confirmed HER2-positive population, there was a 4.1% absolute difference in the number of patients developing metastatic disease."
Patients who were both centrally confirmed HER2-positive and hormone receptor–positive derived a significant absolute benefit of 8.6% at 2 years (hazard ratio = 0.25) for invasive disease–free survival, remarked Dr. Chan, although only 765 patients have been evaluated to date.
Further analysis showed superiority in the neratinib arm as well for patients who had received prior trastuzumab sequentially and for patients with both premenopausal and postmenopausal status.
Adverse Events
Despite these significant benefits, Dr. Chan acknowledged neratinib's safety concerns. The predominant side effect was diarrhea, with up to 40% of patients experiencing a grade 3 event.
"We're very cognizant that this is a side effect that we need to address," admitted Dr. Chan. "It's noteworthy that at the time of the study design, there was no protocol-mandated antidiarrheal prophylaxis put in place. Only 1.4% of patients were actually hospitalized for this side effect," she added, "and there was no difference in other adverse events between neratinib and placebo groups."
Dr. Chan suggested that loperamide might provide a solution to this side effect. "Currently, three studies have shown that an intensive loperamide prophylactic regimen can successfully reduce the rates of grade 3 diarrhea to 0% to 17%," she indicated. "With a mandatory, intensive loperamide program in the first 30 days of neratinib, we're confident that we can reduce this side effect very significantly," Dr. Chan concluded. ■
Disclosure: Dr. Chan has consulted for Pfizer; has been on the speakers bureau for Pierre Fabre, Amgen, and Novartis; and has received travel funds from Pierre Fabre.
References
1. Chan A, Delaloge S, Holmes FA, et al: Neratinib after adjuvant chemotherapy and trastuzumab in HER2-positive early breast cancer: Primary analysis at 2 years of a phase 3, randomized, placebo-controlled trial (ExteNET). 2015 ASCO Annual Meeting. Abstract 508. Presented June 1, 2015.
2. Chan A, Martin M, Von Minckwitz G, et al: Invasive disease-free survival benefit following neratinib as extended adjuvant therapy in centrally confirmed HER2-positive early-stage breast cancer: The ExteNet phase III randomized placebo-controlled trial. 2015 Breast Cancer Symposium. Abstract 117. Presented September 25, 2015.
3. Rabindran SK, Discafani CM, Rosfjord EC, et al: Antitumor activity of HKI-272, an orally active, irreversible inhibitor of the HER-2 tyrosine kinase. Cancer Res 64:3958-3965, 2004.
4. Burstein HJ, Sun Y, Dirix LY, et al: Neratinib, an irreversible ErbB receptor tyrosine kinase inhibitor, in patients with advanced ErbB2-positive breast cancer. J Clin Oncol 28:1301-1307, 2010.
---
Related Articles
Discussant Clifford Hudis, MD, Chief of Breast Medicine Service at Memorial Sloan Kettering Cancer Center, New York, highlighted neratinib's benefits while also advocating caution in interpreting the results due to incomplete data, the serious side effect of diarrhea, and the potentially...