Evidence Mounts for Less-Intense Chemoradiation Therapy for Low-Risk Oropharyngeal Cancer


Catherine Park, MD

Bhishamjit Chera, MD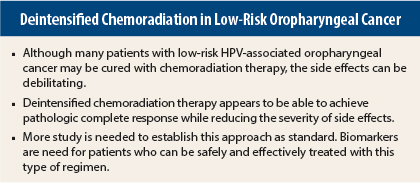 Deintensified Chemoradiation in Low-Risk Oropharyngeal Cancer
It is likely that we are overtreating low-risk patients [with oropharyngeal carcinoma]. Thus, deintensification is an attractive option.

—Bhishamjit Chera, MD
A new study shows that deintensification of chemoradiation therapy translates to excellent pathologic complete response rates in low-risk human papillomavirus (HPV)-associated oropharyngeal cancer.1 Patient-reported outcomes showed that side effects declined after 8 weeks. The hope is that these excellent response rates will translate to long-term disease control and reduced side effects.
"About 50% of patients with HPV-associated oropharyngeal cancer would qualify for deintensification of therapy," said Bhishamjit Chera, MD, lead author of the phase II study presented at the 2015 ASTRO Annual Meeting. "There are other ongoing and recently completed phase II clinical trials suggesting that reduced-intensity treatment may be efficacious. Our study is unique in that we reduced both radiation and chemotherapy and patients received neither induction chemotherapy nor definitive surgery."
Dr. Chera continued, "Patients are savvy, and it is not likely that we can randomize them to two very different treatments, so we may be left with very good phase II studies. Deintensification of chemoradiotherapy is not yet ready for prime time," he noted.
Low-Risk Disease
The incidence of HPV-associated oropharyngeal squamous cell carcinoma is on the rise. Concurrent chemoradiation is standard of care, followed by surgery if a 12-week post-treatment PET/CT scan is positive. Although many low-risk patients are cured with chemoradiotherapy, the side effects are particularly bothersome and have a negative impact on quality of life, including difficulty swallowing and sticky saliva.
"It is likely that we are overtreating low-risk patients. Thus, deintensification is an attractive option," Dr. Chera told listeners at a press conference.
"We stand to make a lot of headway by reducing the intensity of chemoradiation for low-risk HPV-associated oropharyngeal cancer," said Catherine Park, MD, of the University of California, San Francisco, who moderated the press conference where these data were discussed. "Here is an example of where understanding the biology of HPV-related oral cancers can lead to innovations in treatment, decreased side effects, and better outcomes."
"These data are highly encouraging and await prospective longer-term validation," she added. ■
Study Details and Results
Patients with HPV-positive and/or p16-positive oropharyngeal squamous cell carcinoma were enrolled in the trial (n = 43); 82% were never-smokers. They were treated with 16% less radiotherapy and 40% less cisplatin chemotherapy compared with standard therapy. Study patients receive intensity-modulated radiation therapy at 60 Gy at 2 Gy/d for 6 weeks and cisplatin 30 mg/m2 in six weekly doses. All patients had a biopsy of their primary tumor site and supra-selective removal of pretreatment positive nodes approximately 9 weeks after deintensified chemoradiotherapy.
Dr. Chera explained that when designing this phase II study he wanted to choose a more robust primary endpoint other than clinical response.  Also, he was concerned with the possible lack of efficacy with this deintensified regimen. Thus, pathologic complete response was chosen as the primary ­endpoint.
Forty-three patients were evaluable for the primary endpoint, and 37 patients (86%) achieved a pathologic complete response. Pathologic complete response was achieved in the primary tumor in 40 of 41 patients (98%) and in 33 of 39 patients (84%) with nodal metastases. At a median follow-up of 21 months, all patients were alive, with no evidence of cancer recurrence. At least 1 year of follow-up is available for nearly 85% of ­patients.
Tolerability
Regarding tolerability, by all measures, adverse events peaked at 6 to 8 weeks and declined thereafter. Forty percent of patients required a feeding tube for a median duration of 15 weeks; no patient required a permanent feeding tube.
Dr. Chera pointed out that historically with standard chemoradiation, feeding tubes are required in up to 80% of patients, with around 10% requiring permanent feeding tubes.
Patients rated the following acute toxicities as severe/very severe: mucositis (45%), pain (48%), nausea (52%), vomiting (34%), dysphagia (55%), and xerostomia (75%).
On the EORTC QLQ-H&N35 (European Organisation for Research and Treatment of Cancer Quality of Life module for head and neck cancer), dry mouth, sticky saliva, and difficulty swallowing were the most common adverse events. On a scale from 0–100, dry mouth and sticky saliva declined from peak by 20 points each at 12 months, and swallowing declined by 10 points (signaling "mild to moderate" difficulty, said Dr. Chera). A similar pattern was revealed in patient-reported outcomes.
"We still need more patients, and we need a minimum follow-up of 2 years. We are conducting another phase II trial with 60 patients that asks more nuanced questions. Other groups, including NRG Oncology, are mounting other phase II trials with our regimen. These data will add up," concluded Dr. Chera. ■
Disclosure: Dr. Chera reported no potential conflicts of interest. Dr. Park has a financial interest in OncoSynergy, a startup biotech company.
Reference
1. Chera BS, Amdur RJ, Tepper JE, et al: A prospective phase II trial of deintensified chemoradiation therapy for low risk HPV associated oropharyngeal squamous cell carcinoma. 2015 ASTRO Annual Meeting. Abstract 3. Presented October 18, 2015.
---
Related Articles
HPV-associated oropharyngeal cancer is becoming more and more prevalent. This is a 'different beast'—distinct from the squamous cell carcinomas of the tonsil and tongue that arise from standard risk factors of tobacco and alcohol. Patients without a smoking history have an 85% to 90% cure rate,...