Actionable Targets Identified in Brain Metastases


Priscilla Brastianos, MD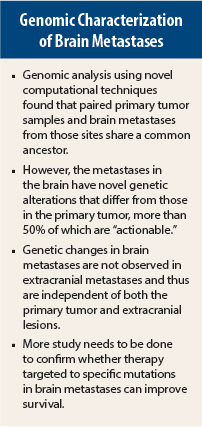 Genomic Characterization of Brain Metastases
Genomic analysis of primary tumors and other extracranial metastatic sites may miss a substantial number of opportunities for targeted therapies in brain metastases.

—Priscilla Brastianos, MD
New research shows that paired primary tumor and brain metastases share a common ancestor, but as the metastases develop in the brain, they exhibit novel genetic alterations that can activate a number of signaling pathways. More than half of the mutations represent potential therapeutic targets. Despite these exciting findings, much remains to be done before they can be incorporated into clinical practice, according to experts not involved in the research.
"Brain metastases represent an unmet need in current cancer care. More than half of the patients diagnosed with brain metastases will die within a few months," said lead researcher Priscilla Brastianos, MD, a neuro-oncologist and Director of the Brain Metastasis Program at Massachusetts General Hospital, Boston, who presented these study results at the 2015 European Cancer Congress.1 The study report was published simultaneously in Cancer Discovery.2
"Brain metastases are not routinely biopsied. When brain metastasis tissue is available as part of clinical care, we suggest sequencing and analyzing that sample. It may offer more therapeutic opportunities for the patient," she added. "Genomic analysis of primary tumors and other extracranial metastatic sites may miss a substantial number of opportunities for targeted therapies in brain ­metastases."
Study Details and Results
The study was based on genomic analysis of primary tumors and brain metastases collected from 104 patients. Of those patients, 86 were of adequate quality for analysis. Novel computational techniques allowed the investigators to estimate the clonal architecture of matched primary tumors and metastases and to reconstruct the phylogenetic tree, relating subclones from each patient. Biopsy samples were obtained from the primary tumor, brain metastases, and normal tissues for each study participant. In addition, extracranial metastases were analyzed. This is the largest comprehensive sequencing study of matched brain metastases and primary tumors to date.
"Across all our samples and phylogenetic trees, we found the data were consistent with branched evolution, meaning we detected a common ancestor shared by the brain metastasis and the primary tumor, but there was continued divergent evolution between the primary tumor and the brain metastasis," Dr. Brastianos pointed out.
For example, a sample of a primary renal cell carcinoma showed the mutations VHL pL188P, PBRM1 p.T43fs, and mTOR p.K1452N, all of which were shared by the brain metastasis and the primary tumor in that patient. However, additional mutations—PIK3CA p.E542K and CDKN2A/B del—were found in the brain metastasis sample and not detected in the primary tumor sample, despite adequate power.
Further analysis showed that 53% of cases of brain metastasis had "clinically actionable" genetic mutations that were not present in the primary tumor tissue sample. Fifty-two percent of cases had mutations associated with sensitivity to cyclin-dependent kinase inhibitors, and in 43% of cases, the alterations were sensitive to inhibitors of the PI3K/AKT/mTOR cell cycle regulation pathway.
Extracranial metastases had mutations that were dissimilar to those in the brain. "By contrast, regionally and anatomically separated brain metastasis sites were genetically homogeneous and shared nearly all alterations detected," she said.
The clinical implication of this is that exclusive sampling of the primary tumor and/or regional lymph nodes would fail to identify potentially actionable mutations in the brain metastases, Dr. Brastianos explained.
Clinical Relevance
During the question-and-answer session following her presentation, Dr. Brastianos acknowledged that it is not clear whether targeting the mutations identified in brain metastases would improve overall survival. She was surprised by the "tremendous" genetic divergence when comparing brain metastases to primary tumors.
"The clinical relevance of our findings needs to be studied in prospective clinical trials. We still need to determine whether targeting the genetic mutations in the brain will lead to improved clinical outcomes," she told the audience. ■
Disclosure: Dr. Brastianos has served as a consultant for Merck.
References
1. Brastianos P, Carter S, Santagata S, et al: Genomic characterization of brain metastases and paired primary tumors reveals branched evolution and potential therapeutic targets. 2015 European Cancer Congress. Abstract 2905. Presented September 27, 2015.
2. Brastianos P, Carter S, Santagata S, et al: Genomic characterization of brain metastases and paired primary tumors reveals branched evolution and potential therapeutic targets. Cancer Discov 5:1164-1177, 2015.
---
Related Articles
Peter Naredi, MD, European CanCer Organization (ECCO) Scientific Co-Chair of the Congress, stated in a press release: "In my view, Dr. Brastianos and colleagues very elegantly show what we mean with precision medicine, how genetic profiling can support our understanding of the metastatic process,...