Novel Agents for Breast Cancer and Prostate Cancer Impressive in Early Trials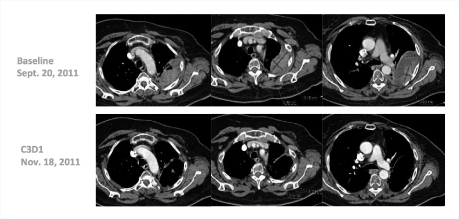 Fig. 1: FGFR1 gene amplification by fluorescence in situ hybridization and array-comparative genomic hybridization in patient receiving E-3810 (20 mg/d). First restaging shows almost complete response in target lung/pleural disease. Patient had FGFR1-amplified, hormone receptor–positive, HER2-negative disease with bone, lung, and pleural metastases. She had received 14 prior lines of treatment, including five phase I trials. Courtesy of Rodrigo Dienstmann, MD.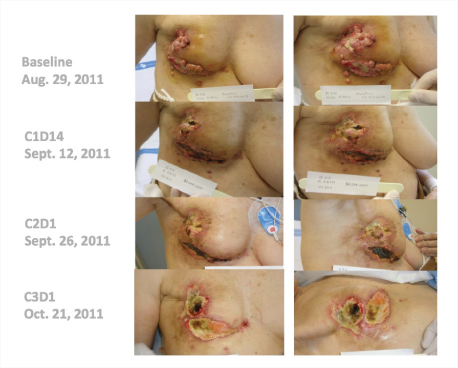 Fig. 2: Tumor regression with E-3810 (20 mg/d) in Patient 18028. Patient had FGFR1-amplified, locally advanced triple-negative breast cancer with lymph node metastasis. She had received 10 prior lines of treatment. Photos courtesy of Rodrigo Dienstmann, MD.
Several sessions at the 2012 European Society for Medical Oncology (ESMO) Congress in Vienna focused on novel targeted therapies in various stages of development. Summarized here are data on two promising drugs for breast cancer and two for prostate cancer.
E-3810 in Breast Cancer
Two experimental agents look very promising in early-phase studies. A global trial evaluated E-3810, a novel small-molecule equipotent inhibitor of the fibroblast growth factor receptor (FGFR) and vascular endothelial growth factor receptor (VEGFR), in patients with FGFR1-amplified breast cancer.1
Aberrant fibroblast growth factor signaling can promote tumor development by directly driving cancer cell proliferation and survival and by supporting tumor angiogenesis, explained Rodrigo Dienstmann, MD, of Vall d'Hebron University Hospital in Barcelona. FGFR1 (8p 11-12) amplification is observed in 10% of breast tumors, predominantly those of the luminal subtype, and is often associated with resistance to endocrine treatment and poor prognosis. Additionally, fibroblast growth factor 3 (11q 12-14) amplification is seen in 15% to 30% of breast tumors and is associated with aggressiveness.
The study evaluated E-3810 (15 and 20 mg) in 15 patients with breast cancer who had received a median of four prior lines of therapy. Among them, 12 patients had fibroblast growth factor–positive tumors with FGFR1 or 11q amplifications while the other three had previous treatment with antiangiogenics.
Among 10 fibroblast growth factor–positive patients, 7 partial responses were observed and 1 patient had stable disease, for an 80% clinical benefit rate. Among 2 patients deemed to have antiangiogenic-sensitive tumors, 1 achieved stable disease, Dr. Dienstmann reported.
"Many of these responses have been long-lasting, with patients remaining on treatment for 20-plus weeks," he said. Several patients have received the drug for 1 year, including a complete responder who had received 14 prior lines of treatment (Fig. 1). One patient with triple-negative breast cancer responded dramatically after 10 prior lines of treatment (Fig. 2).
Toxicities of E-3810 were mostly related to antiangiogenic effects, and these were manageable and reversible upon dose reductions.
"E-3810 showed significant activity in heavily pretreated breast cancer with FGF aberrations, producing durable responses. This suggests we may have a new subcategory of breast cancer with a targetable aberration," he concluded.
BKM120 Plus Trastuzumab in HER2-positive Disease
In another global phase Ib/II study, patients with HER2-positive advanced breast cancer resistant to trastuzumab (Herceptin) received the pan-PI3 kinase inhibitor BKM120 in combination with trastuzumab.2 PI3K/mTOR pathway signaling is important for the oncogenic function of HER2. Activating alterations of this pathway are frequently observed in HER2-positive breast cancer and generally herald a poor response and resistance to trastuzumab, explained Barbara Pistilli, MD, of the Macerata Hospital in Macerata, Italy, who presented the findings.
Among the 50 patients, who had received a median of 2.5 prior lines of HER2-directed therapy, the experimental combination yielded an overall response rate of 10%, including 1 complete response (2%) and 4 partial responses (8%); stable disease was observed in 21 patients (42%), for a disease control rate of 52%, she reported. Preliminary evidence of clinical activity in the brain was also observed, as all three patients with target brain lesions at baseline achieved stable disease. "One such patient is still on the drug at 30-plus weeks," Dr. Pistilli noted.
Adverse events were generally manageable and reversible. Mood alterations have been observed, but it is unclear whether these are drug-related, she said.
Investigators are currently exploring the relationship between PI3 kinase pathway activation status and clinical response.
ODM-201 in Castrate-resistant Prostate Cancer
ODM-201 is a novel androgen receptor antagonist currently in phase I/II development. Preclinical data suggested that the drug does not penetrate the blood-brain barrier and does not exert partial agonist activity, as does bicalutamide. At the ESMO meeting, a proof-of-concept, first-in-man, dose-escalation study showed promising results with the new agent. ODM-201 reduced the levels of prostate-specific antigen (PSA) in men with progressive metastatic castration-resistant prostate cancer.3
Among 15 evaluable patients, 13 (87%) had a decrease of 50% or more in PSA level at 12 weeks; all 6 patients pretreated with docetaxel achieved a PSA decline at 12 weeks. At 12 weeks, partial response or stable disease was seen in all patients, and stable disease in bone was observed in 90% of patients.
In 21 treated patients, ODM-201 has been well tolerated, with no major treatment-emergent adverse events. No dose-limiting toxicities were identified. The most common adverse events were grades 1 and 2 gastrointestinal problems, such as diarrhea and nausea.
Although these preliminary results are promising, confirmation will be needed in larger trials, stated lead author Christophe Massard, MD, Senior Consultant, Institut Gustave Roussy, SITEP, Villejuif, France.
ODM-201 compares favorably with enzalutamide (Xtandi) and MDV3100, two other new drugs for castration-resistant prostate cancer. ODM-201 achieved stronger PSA responses with less diarrhea and asthenia than enzalutamide, and the novel agent had an improved toxicity profile compared with MDV3100, said formal discussant of this trial, Joan Carles, MD, PhD, Vall d'Hebron University Hospital, Barcelona, Spain.
"The numbers of patients are few, and it is not clear what the recommended dose should be for phase II and III trials," Dr. Carles commented.
OGX-427 Data Encouraging
OGX-427 is an investigational heat shock protein (HSP) inhibitor currently in phase I/II trials. A phase I/II study reported at ESMO validated HSP27 as a therapeutic target for prostate cancer. OGX-427 demonstrated antitumor activity in patients with metastatic castration-resistant prostate cancer, achieving objective responses, PSA declines, and delay in disease progression. Treatment with OGX-427 was well tolerated.4
"These finding support continued clinical evaluation," said lead author Kim N. Chi, MD, BC Cancer Agency and Vancouver Prostate Centre, British Columbia, Canada.
Patients with metastatic castration-resistant prostate cancer were randomly assigned to OGX-427 plus prednisone (n = 32) or prednisone alone (n = 33). Crossover was allowed at disease progression; 45% of the prednisone arm crossed over to active treatment during the study. OGX-427 had antitumor activity, with a complete and partial response rate of 25%, compared with 12% for prednisone alone. Forty-seven percent of patients treated with OGX-427 had PSA declines of 50% or greater vs 21% with prednisone alone. Any PSA decline was observed in 75% of OGX-427–treated patients vs 52% of those given prednisone alone.
Adverse events were mainly grade 1/2 infusion-related reactions. Grade 1/2 diarrhea, fatigue, and nausea were also reported. Most adverse events occurred during the first or second administration of the drug, Dr. Chi noted.
Ongoing development includes two randomized phase II studies of OGX-427 in combination with abiraterone acetate (Zytiga) for patients with metastatic castration-resistant prostate cancer and in combination with gemcitabine/cisplatin in patients with bladder cancer.
Speaking about ODM-201 and OGX-427, Dr. Carles said that both drugs represent potential new agents for the treatment of castration-resistant prostate cancer. If these drugs are approved, the challenge will be how to integrate them with other newly approved drugs in this setting to identify the best combinations and optimal sequencing. ■
Disclosure: Dr. Turner has consulted for and received honoraria from Novartis and EOS. Dr. Chi has received research funding from OncoGeneX. Drs. Dienstmann, Pistilli, and Carles reported no potential conflicts of interest.
References
1. Dienstmann R, Andre F, Soria J-C, et al: Significant antitumor activity of E-3810, a novel FGFR and VEGFR inhibitor, in patients with FGFR1 amplified breast cancer. 2012 ESMO Congress. Abstract 3190. Presented October 1, 2012.
2. Pistilli B, Urruticoechea A, Chan S, et al: Ph IB/II study of BKM120 plus trastuzumab in patients with trastuzumab-resistant HER2+ advanced breast cancer. 2012 ESMO Congress. Abstract 3180. Presented October 1, 2012.
3. Massard C, James N, Culine S, et al: ARADES trial: A first-in-man, open-label, phase I and II safety, pharmacokinetic, and proof-of-concept study of ODM-201 in patients with progressive metastatic castration-resistant prostate cancer (CRPC). 2012 ESMO Congress. Abstract LBA25. Presented September 30, 2012.
4. Chi K, Yu EY, Ellard S, et al: A randomized phase II study of OGX-427 plus prednisone (P) vs. P alone in patients with metastatic castration resistant prostate cancer (CRPC). 2012 ESMO Congress. Abstract 900. Presented September 30, 2012.
---
Related Articles
Commenting on the studies evaluating novel agents in breast cancer, Nicholas Turner, MD, PhD, of the Royal Marsden Hospital in London, observed that for BKM120 plus trastuzumab (Herceptin), the "benefit appears to be in only a relatively small proportion of patients, but in those patients there is...