Nobel Laureate E. Donnall Thomas, MD, Dies at 92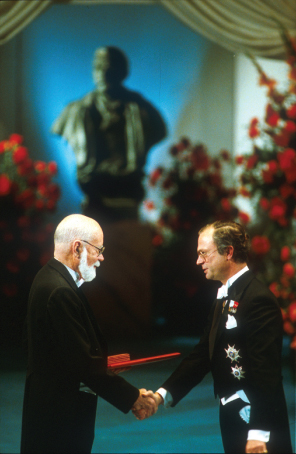 Dr. E. Donnall Thomas. Photo courtesy of Nobel Foundation.
In the course of one generation Dr. Thomas and his father journeyed from horse-and-buggy house calls to lifesaving bone marrow transplants—a scientific contribution that ranks among the most significant medical advances of the 20th century.


In his 1990 Nobel Prize Lecture, Eduard Donnall Thomas, MD, with characteristic humility, acknowledged that the success he celebrated "was made possible by the work of many others in this and related fields." Dr. Thomas, whose groundbreaking work in bone marrow transplantation marked a new era in the treatment of leukemia and other blood malignancies, died at the age of 92 on October 20, 2012.
Dr. Thomas was born in 1920 in the dusty farm town of Mart, Texas. His father, a family practitioner, spent long hours driving rural roads to see patients during the smallpox epidemic. "My father took me on house calls, and I decided to go into medicine when I was about 5," Dr. Thomas told The ASCO Post during an interview earlier this year.
Mart was a dot on the vast rural map, and Dr. Thomas attended grade school in a one-room structure with about 20 classmates, most of whom were children of nearby farms and ranches. He relished the unvarnished but sturdy education he received on his way through high school, leading him in 1937 to The University of Texas at Austin, where he majored in chemistry.
Staring Down Challenges
Tragedy struck during Dr. Thomas's second year at The University of Texas—his father was killed in a car crash while retuning from nighttime house calls. Overnight, Dr. Thomas was dealt a double blow, losing both his beloved father and any viable financial support for his education. Adding to the dilemma, the nation was in the grip of the Great Depression and even the lowest of jobs were scarce. This, however, would be one of many challenges that Dr. Thomas stared down with the resolve and good humor of his pioneer forebears.
He scraped up a job on campus waiting tables and washing dishes at the cafeteria in the girl's dormitory. During a serendipitous Austin snowstorm, a prepossessing journalism major named Dorothy Martin playfully pelted him with a snowball. She married Dr. Thomas 2 years later and shortly thereafter revised her career goals, working next to her husband in the research lab throughout his career.
Dr. Thomas received a BA in chemistry in 1941 and an MA in chemical engineering in 1943. Medical school was next in line, but the steep tuition daunted the young couple. World War II was still raging and to fill a dire need for doctors, the U.S. military launched the Army Specialized Training Program. Dr. Thomas already had an army reserve commission, so he decided to remain in the service and go to medical school.
"Dottie and I decided that as long as Uncle Sam was paying for my education, why not try for a famous school. I applied to Johns Hopkins and Harvard and lo and behold I received an acceptance telegram from Harvard 2 weeks later," Dr. Thomas said. There was one catch—the first class started in 10 days. The Thomases sold their few possessions and hopped a train to Boston; the two underdressed Texans arrived in a blinding snowstorm wearing sneakers.
Busy Career Path
After graduating from Harvard Medical School in 1946, Dr. Thomas did a hematology internship with Clement Finch, MD, at the Brigham Hospital. He credited Dr. Finch as a first-class mentor who accelerated his interest in all aspects of clinical medicine. But working on the ward with several patients with acute leukemia ultimately fixed his research interests on the mechanisms that stimulate bone marrow. "As for pivotal things that steered my career path, well, I really just followed my nose; there's a certain amount of luck that goes with success," Dr. Thomas commented.
A dizzyingly busy period ensued. A year completing his army medical requirements in post-war Germany, a year of postdoctoral work at the Massachusetts Institute of Technology, and 2 years of medical residency (the last as Chief Resident at Peter Bent Hospital in Boston). In 1955, he was Physician-in-Chief at the Columbia University branch in Cooperstown, New York, where his marrow transplant studies began to blossom into full-time clinical research.
"We first did marrow transplants on dogs, and later in human patients. We quickly learned that except for the occasional identical twin, allogeneic transplant in humans was going to be very difficult," Dr. Thomas said.
In 1963, the famous endocrinologist Robert Williams, MD, invited Dr. Thomas to join the faculty of the University of Washington School of Medicine. Realizing an opportunity to fast-forward his research, the Thomases packed up and moved to the Pacific Northwest, where in short time he established his own research program in an affiliate institution, the Seattle Public Health Hospital.
Cutting-edge Research
After the Seattle program was fully equipped, Dr. Thomas recruited a host of brilliant young researchers eager to be at the cutting edge of scientific discovery. Dr. Thomas's subsequent work demonstrated that some patients with advanced leukemia, aplastic anemia, or genetic diseases could be cured with bone marrow transplant.
"The story seems a bit short in retrospect. That said, my work and philosophy over the years was heavily influenced by a wonderful group of dedicated colleagues," Dr. Thomas said, repeatedly.
Dr. Thomas's father moved to frontier Texas with his family in a covered wagon in 1874. In the course of one generation Dr. Thomas and his father journeyed from horse-and-buggy house calls to lifesaving bone marrow transplants—a scientific contribution that ranks among the most significant medical advances of the 20th century. ■
---