Tamoxifen vs Surgery Study Shows Older Patients with Breast Cancer Can Achieve a 'Personal Cure'

A truly final review—when all the patients in the trial have died and the cause of death is known for each—of a randomized trial comparing tamoxifen to surgery in patients over the age of 70 with operable breast cancer found no differences in the survival rates or deaths attributable to breast cancer. Patients in both groups continued to die from breast cancer over the 28 years of follow-up, but "almost two-thirds of the patients in this trial did not die of breast cancer" and thus achieved a personal cure, according to the final report published in the European Journal of Surgical Oncology.1
All trial participants had invasive ductal carcinoma and estrogen receptor (ER)-positive tumors proven at the time or retrospectively with the advent of immunologic assays. Patients were randomized to two groups of 100 each to receive either tamoxifen, or surgery with wide local excision or partial or total mastectomy. The authors, Jean-Claude Gazet, MSc, FRCS, and Rosemary Sutcliffe of the Combined Breast Clinic, St. George's Hospital in London, noted that the patients were "treated in an orthodox and ethical way in 1982," when the trial began, "but now which could be considered outdated."
'Not an Alien Concept'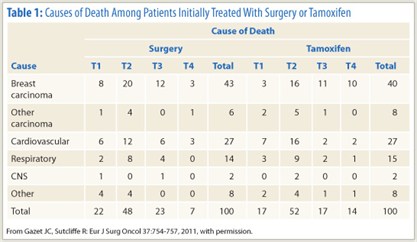 Deaths from breast cancer totaled 40 among the patients initially treated with tamoxifen and 43 among those receiving surgery (Table 1). "Absolute cure of any disease can be defined as when a patient dies from an unrelated condition. Thus it can be stated that 58.5% of this selected group of 200 patients achieved a personal cure from breast cancer," the authors stated.
"Personal cure is the endpoint for a clinician," Dr. Gazet explained to The ASCO Post. "However, the general population is well aware that cancer is a fatal condition and frequently recurs with no set time span. So the concept that a cure of cancer is indeed when they succumb to something else is not an alien concept and well understood."
Crossover and Survival
Among the 79 patients (44 in the tamoxifen arm, 35 in the surgical arm) with local progression or local recurrence as a first event without evidence of distant metastases, 38 in the tamoxifen arm agreed to crossover to surgery and 34 in the surgical arm agreed to crossover to tamoxifen. The authors reported "no difference in survival between those who progressed on tamoxifen and then had surgery or those who recurred after surgery and then were treated with tamoxifen." The average survival times among the crossover patients were 80 and 83 months, respectively.
"Likewise, there is no difference in survival between those who died of breast cancer having been treated with surgery or tamoxifen compared with those who died of other causes," the authors noted. "However, when one compares all deaths whatever the cause in both arms of the trial, those who had surgery survived on average up to two years longer than those primarily treated with tamoxifen."
Implications for Older Patients
"Thirty years ago at the inception of this trial there was no consensus regarding the management of breast cancer in patients aged 70 and over. Clinical practice ranged from inactivity, palliation or active management with endocrine therapy, surgery, radiotherapy or a combination of all these therapies," the authors noted, adding that "little has changed in the treatment offered to this group of patients," and citing more current analyses of breast cancer

treatment in the United Kingdom.2,3 "The problem over the past few decades is that there has been a reluctance in the United States and United Kingdom to actively treat patients over 70 actively or in the same way as other groups, in spite of the overwhelming evidence that we have an aging population," Dr. Gazet stated.
"Present clinical practice confirms that there is no reason why age should be a consideration in the management of breast cancer. If one accepts that the core treatment of breast cancer is a trinity of surgery, chemoendocrine therapy, and radiotherapy, then all patients should be treated only on this basis," according to the final report.
"Breast cancer in the elderly is a specific model. The tumours tend to be slow growing and ER positive. The elderly have a short life expectancy, which allows accurate measurement of the value of any specific treatment," the authors noted. "It would seem reasonable therefore to concentrate on active and aggressive treatment in the elderly in an attempt to reach a 100% personal cure," they concluded. ■
Disclosure: Drs. Gazet and Sutcliffe reported no potential conflicts of interest.
References
1. Gazet JC, Sutcliffe R: A randomised trial comparing tamoxifen vs. surgery in patients over the age of 70 with operable breast cancer—final results after 28 years of follow-up. Eur J Surg Oncol 37:754-757, 2011.
2. Cheung S, Greenway N, Lagord C, et al: All Breast Cancer Report: A UK analysis of all symptomatic and screen detected breast cancers diagnosed in 2006. NHS Cancer Screening Programmes, 2009. Available at http://www.cancerscreening.nhs.uk/breastscreen/all-breast-cancer-report.pdf. Accessed October 27, 2011.
3. UK Statistics Authority: Cancer statistics registrations: Registrations of cancer diagnosed in 2004, England (series MB1, no. 35). London, UK Statistics Authority, 2007.
---