Impact of Basic Science Advances on Cancer Management Highlighted at AACR Conference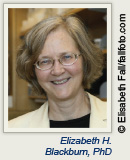 New research in basic science labs coupled with advanced information technology is leading to a more sophisticated understanding of the causes of cancer, how it progresses, and potential methods of treatment, said Elizabeth H. Blackburn, PhD, Nobel Laureate and Chairperson of the Second Annual American Association for Cancer Research (AACR) International Conference on Frontiers in Basic Cancer Research, held recently in San Francisco. Such basic research insights as well as novel methods of diagnosis and early research on potential treatments were showcased at the AACR conference.
"We've known for years that cancer is a complex set of diseases," said Dr. Blackburn, Morris Herztein Professor of Biology and Physiology in the Department of Biochemistry and Biophysics at the University of California, San Francisco, and recipient of the 2009 Nobel Prize in Physiology or Medicine. "Along with the sophistication of the science, conceptual research is advancing rapidly, moving ahead in ways that it hasn't done before. It's time for a new generation of cancer scientists to step out of their immediate research interest and look at what else is happening."
As well as showcasing new research in the basic sciences, the AACR Frontiers in Basic Cancer Research conference exposed participants to new ideas about diagnosis and treatment. "Participants were clearly interested in thinking about things in ways they hadn't previously considered. I've seen all sorts of interesting collaborations develop in real time," Dr. Blackburn said.
Technology-driven Progress
Dr. Blackburn noted that conference presentations dealt not only with tumor genetics and the molecular pathways that drive the oncogenic process, but also new imaging technologies in early development, which may be useful for early detection of tumors deep within the body. Technology-driven advances have enabled researchers to grapple with the disease in ways they could not have imagined as recently as 5 or 10 years ago, Dr. Blackburn said.
Molecularly targeted drugs are one example. "We're clearly seeing how cancer alters blood vessel systems in ways that significantly affect the actions and efficacy of these drugs," Dr. Blackburn said. The AACR conference was meant to provide information about some of the new insights into the cancer process that might result in exciting treatments in the near future, according to Dr. Blackburn. "It's time for us to take advantage of our sophisticated knowledge about cancer in order to benefit the next generation of cancer treatment and research," she said. ■
Disclosure: Dr. Blackburn reported no potential conflicts of interest.
---
Related Articles

Researchers at the University of Pittsburgh Cancer Institute have documented the molecular activity through which the Merkel cell polyomavirus contributes to 80% of cases of Merkel cell carcinoma—a finding that holds promise for future therapies. The researchers are now working on testing more than ...