Preoperative Chemoradiotherapy May Extend Survival for Patients with Esophagogastric Junction Adenocarcinoma

Several American and European clinical trials have yielded mixed results on the survival advantage of preoperative chemoradiotherapy for patients with locally advanced esophagogastric junction adenonocarcinoma. However, a distinguished panel at the 2011 ASTRO Annual Meeting did agree that surgery alone is not adequate and that trimodality therapy improves locoregional control and perhaps survival.1-3 Among the members of the panel were Stephen G. Swisher, MD, The University of Texas MD Anderson Cancer Center, Houston; Joel E. Tepper, MD, FASTRO, University of North Carolina at Chapel Hill School of Medicine; and David H. Ilson, MD, PhD, Memorial Sloan-Kettering Cancer Center, New York.
Surgery Alone Is Not Enough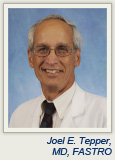 An assortment of clinical trials in gastric and esophageal cancers has shown that results with surgery alone are disappointing, with poor 3-year survival, admitted Dr. Swisher. "All of us would agree that something more than surgery alone should be done for T2-3 node-positive gastroesophageal junction cancer," agreed Dr. Ilson.
Dr. Tepper reviewed the gastric data, focusing on the MAGIC trial.4 In this study of more than 500 patients with resectable gastroesophageal cancer (25% with gastroesophageal junction tumors), a statistically significant difference in favor of preoperative chemotherapy over surgery alone was noted in both progression-free and overall survival. However, local failure was still a problem.
In a recent meta-analysis,5 strong evidence of a survival benefit was shown for neoadjuvant chemotherapy or chemoradiotherapy over surgery alone in resectable esophageal carcinoma. "The data were very consistent in favor of trimodality therapy in esophageal cancer, both squamous and adenocarcinoma," concurred Dr. Tepper.
However, most of the clinical trials have focused on either gastric or esophageal cancer, Dr. Tepper warned, "and so their applicability to GE junction cancer is not always clear." Furthermore, "the data can be interpreted in different ways in terms of the value of adding surgery to chemoradiation alone," Dr. Tepper added. "Local recurrence after chemoradiation alone is clearly a problem, justifying the use of trimodality therapy rather than a nonsurgical approach."
Preoperative Chemotherapy vs Chemoradiotherapy

The panel discussed pertinent data comparing preoperative chemotherapy and preoperative chemoradiotherapy for locally advanced esophagogastric cancers. "There has been a shift in the way we approach these diseases," suggested Dr. Swisher. "In the United States, we tend to move toward a platform of preoperative chemoradiotherapy; in Europe, many still favor preoperative chemotherapy," he noted.
"This is a systemic disease, and the role of chemotherapy is important," stressed Dr. Ilson. According to Dr. Swisher, "adding the radiation [to chemotherapy] helps to improve local-regional control, perhaps by helping to eradicate the microscopic disease within the lymphatics."
Mixed Results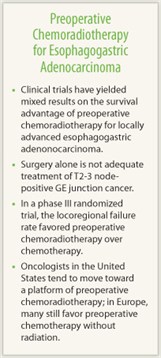 Mixed results have been reported with preoperative chemotherapy alone, with three European studies showing a survival advantage and one U.S. study showing no survival advantage. Both Drs. Tepper and Ilson called attention to a head-to-head comparison of preoperative chemotherapy and chemoradiotherapy in patients with locally advanced adenocarcinoma of the GE junction. In this phase III randomized European study,6 results suggested a survival advantage for preoperative chemoradiotherapy, although statistical significance was not achieved. The 3-year survival rates were 40% with the trimodality strategy vs 28% with preoperative chemotherapy. The locoregional failure rate also favored preoperative chemoradiotherapy over chemotherapy (23% vs 41%), added Dr. Swisher.
A similar approach under investigation has been evaluated in the phase II Radiation Therapy Oncology Group (RTOG) 0246 trial. In this study,7 nearly 40 patients with nonmetastatic resectable esophageal cancer received induction chemotherapy followed by concurrent chemoradiation. Many patients with residual disease subsequently underwent selective surgery.
Preliminary results reported by Dr. Swisher, the lead investigator of RTOG 0246, showed a 1-year survival rate of 71% at 22 months' follow-up. Although these are early findings, said Dr. Swisher, they are "as good as any survival seen with trimodality in randomized studies." ■
Disclosure: Drs. Tepper, Ilson, and Swisher reported no potential conflicts of interest.
SIDEBAR: Expert Point of View: Preoperative Chemoradiotherapy May Extend Survival for Patients with Esophagogastric Junction Adenocarcinoma
References
1. Swisher SG: Surgical management of esophageal cancer. ASTRO 53rd Annual Meeting. Presidential Symposium Session I. Presented October 2, 2011.
2. Tepper JE: Radiation therapy in gastro-esophageal cancers. ASTRO 53rd Annual Meeting. Presidential Symposium Session I. Presented October 2, 2011.
3. Ilson DH: Esophageal and GE junction adenocarcinoma: The role of chemotherapy. ASTRO 53rd Annual Meeting. Presidential Symposium Session I. Presented October 2, 2011.
4. Cunningham D, Allum WH, Stenning SP, et al: Perioperative chemotherapy versus surgery alone for resectable gastroesophageal cancer. N Engl J Med 355:11-20, 2006.
5. Sjoquist KM, Burmeister BH, Smithers BM, et al: Survival after neoadjuvant chemotherapy or chemoradiotherapy for resectable oesophageal carcinoma. Lancet Oncol 12:681-692, 2011.
6. Stahl M, Walz MK, Stuschke M, et al: Phase III comparison of preoperative chemotherapy compared with chemoradiotherapy in patients with locally advanced adenocarcinoma of the esophagogastric junction. J Clin Oncol 27:851-856, 2009.
7. Swisher SG, Winter KA, Komaki RU, et al:  A phase II study of a paclitaxel-based chemoradiation regimen with selective surgical salvage for resectable locoregionally advanced esophageal cancer: Initial reporting of RTOG 0246. Int J Radiat Oncol Biol Phys. April 18, 2011 (early release online).
---
Related Articles