Improved Survival with Concurrent Chemotherapy plus Radiotherapy for Patients with Stage III Non–Small Cell Lung Cancer

Five-year survival was statistically significantly higher for patients with stage III non–small cell lung cancer (NSCLC) who received concurrent rather than sequential cisplatin-based chemotherapy combined with thoracic radiotherapy, according to the phase III Radiation Therapy Oncology Group (RTOG) 9410 trial. While acute toxicity, particularly esophagitis, was statistically significantly worse with concurrent therapy, "long-term toxicity and treatment mortality are equivalent," the investigators reported in the Journal of the National Cancer Institute.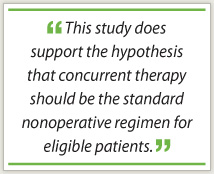 Patients with inoperable stage II or III NSCLC were randomly assigned to two concurrent regimens and one sequential chemotherapy-plus–thoracic radiotherapy regimen. Patients in arm 1 (the sequential arm) received cisplatin at 100 mg/m2 on days 1 and 29 and vinblastine at 5 mg/m2 per week for 5 weeks, with 60 Gy thoracic radiotherapy beginning on day 50. Patients in arm 2 followed the same chemotherapy regimen but with 60 Gy thoracic radiotherapy once daily beginning on day 1. Patients in arm 3 received cisplatin at 50 mg/m2 on days 1, 8, 29, and 36, with oral etoposide at 50 mg twice daily for 10 weeks on days 1, 2, 5, and 6, and with 69.6 Gy delivered as 1.2-Gy twice-daily fractions beginning on day 1.
Median survival times among the 577 patients eligible for analysis (95% of total enrollment) were 14.6 months for the sequential arm, 17 months for arm 2, and 15.6 months for arm 3. Five-year survival rates were 10% (20 patients) in the sequential arm, 16% (31 patients) in concurrent arm 2, and 13% (22 patients) in concurrent arm 3.
Toxicity and Study Limitations
"There were statistically significantly higher rates of acute esophagitis in both concurrent arms than in the sequential arm, with grade 3 or worse rates of 4%, 22%, and 45% for arms 1, 2, and 3 respectively," the investigators reported. "Of interest was the lack of difference in late esophagitis rates among these arms, with rates of 1% to 4% among the three arms.
The authors pointed out that most patients with stage III NSCLC have functional status and comorbid conditions that would disqualify them from participating in the study and less able to tolerate the severe esophagitis observed with concurrent therapy.
"This study does support the hypothesis that concurrent therapy should be the standard nonoperative regimen for eligible patients," the authors also noted. "Promising phase II reports of newer chemotherapeutic regimens, including taxane-based regimens, delivered concurrently with [thoracic radiotherapy] continue to be published and will require additional testing to define the optimal regimen." ■
Reference
1. Curran WJ Jr, Paulus R, Langer CJ, et al: Sequential vs concurrent chemoradiation for stage III non-small cell lung cancer: Randomized phase III trial RTOG 9410. J Natl Cancer Inst 103:1452-1460, 2011.
---