Fighting to Get Back Control
Although my treatment is finished, all I think about is cancer.


I've had raging hormones since I was 18, when I was diagnosed with a benign pituitary adenoma. The tumor caused unpredictable menstrual cycles that remained constant throughout my life, even after it had been successfully treated. So 2 years ago, when I turned 40 and started having sudden bouts of heavy and frequent bleeding, I chalked it up to the beginning of perimenopause.
A year later, when the bleeding became even heavier and more frequent, I decided to see my gynecologist for a checkup. An examination revealed a vaginal polyp, and an ultrasound showed a thickening of the lining of my uterus. When a subsequent endometrial biopsy and tissue samples taken during a dilation and curettage (D&C) found that I had grade III endometrial cancer, I underwent a radical hysterectomy. The pathology report was grim: I had stage IIIC endometrial cancer and a uterine sarcoma.
No Time for Fear
Once the diagnosis was made, everything moved so quickly, I didn't have time to be afraid. My oncologist recommended 5 weeks of daily pelvic external-beam radiotherapy and weekly doses of cisplatin for 5 weeks, followed by three brachytherapy treatments and six cycles of a regimen of carboplatin and paclitaxel. The effects of the treatment on my body were severe. In addition to hair loss, I had such uncontrollable nausea, three different antiemtic medications failed to bring me relief. But worst of all was the intense pain I experienced from the radiation. Despite my medical team's best efforts at management, that pain was so unyielding, I had to be hospitalized for several days.
Ever since I finished my chemotherapy treatment in May, the physical effects of having cancer have started to recede. Now, I'm battling the emotional turmoil I had so successfully repressed while undergoing treatment. Although I try to resist the impulse, I think about cancer 24/7. I'm trying to regain control of my life, but it's hard. While the good news is that my last blood test results and CT scans were normal and my oncologist assures me that "everything looks good," he still hasn't explained exactly what my prognosis is. But from what I've read on the Internet and learned from other endometrial cancer survivors in online chat rooms, there's a very high likelihood that my cancer will recur.
Living for Today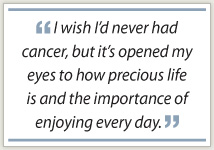 My life will never be normal again and that's a good thing. Before my diagnosis I was rushing through life. A workaholic, I didn't have time for family or friends or even a fun vacation or occasional outing. I've always wanted to go kayaking, a simple enough activity, but I kept putting it off. Now I make sure to get together with family and friends, and if there's something I want to do, I do it.
After I got sick, I decided to join a support group so I could connect with other people going through a similar experience, but I found there weren't any in my hometown that dealt with gynecologic cancers, so I'm in the process of starting one. No one should have to deal with a life-threatening disease alone.
I wish I'd never had cancer, but it's opened my eyes to how precious life is and the importance of enjoying every day. I know I can't say I'm cancer-free and that I'll never have to deal with this disease again. But I also know that no one is guaranteed the promise of tomorrow. We only have today. ■
---