Despite Challenges, Combined-modality Therapy Warranted for Locally Recurrent Colorectal Cancer

Encouraging outcomes have been achieved with a combined-modality treatment approach for patients with locally recurrent colorectal cancer in both curative and palliative settings, although room for improvement remains. During a session presented at the American Society for Radiation Oncology (ASTRO) 53rd Annual Meeting, held October 2–6 in Miami Beach, the benefits of intraoperative radiation therapy were explored by Heidi Nelson, MD, of the Mayo Clinic, Rochester, Minnesota,1 and the roles of neoadjuvant and adjuvant chemoradiotherapies were discussed by Michael J. O'Connell, MD, of the National Surgical Adjuvant Breast and Bowel Project (NSABP) Foundation, Pittsburgh.2
The Surgical Perspective

The surgical treatment of locally recurrent, unresectable colorectal cancer is challenging, often requiring a multidisciplinary team of urologists, orthopedic surgeons, plastic surgeons, and pathologists. "Good results are based on tremendous motivation by patients and the fact that they come in healthy and can withstand a complex treatment," Dr. Nelson added.
She briefly discussed preoperative assessment, common surgical problems, and outcomes. Preoperative assessment includes the determination of metastatic disease, the extent of local disease, and the use of previous treatments. In addition, patients who have extrapelvic disease or circumferential or extensive pelvic sidewall involvement are not candidates for surgery.
Among the problems encountered during surgery are pelvic/sidewall bleeding, determining the extent of pelvic healing vs tumor, and infections. "Bleeding is what keeps most surgeons out of these cases," commented Dr. Nelson. There can be extensive blood loss, as a result of bifurcated and trifurcated vessels that branch deep into the pelvis.
Distinguishing between fibrosis and tumor can be difficult. "Even our pathologist colleagues have trouble differentiating treatment effects, viable tumors, and fibrosis with viable cancer cells," she revealed. Finally, infections used to be the critical long-term and short-term complication of greatest concern to surgeons. However, with more surgeons performing reconstruction during surgery, the rates of infection have dropped.
Radiotherapy Considerations
The use of intraoperative radiation therapy offers several advantages. In addition to localized tumor-directed therapy, intraoperative radiotherapy limits the exposure of normal tissue to radiation and improves local control for patients with high-risk rectal cancer. "The strategy of external-beam radiation therapy followed by surgery with intraoperative radiotherapy and chemotherapy has salvaged a lot of these patients," stated Dr. Nelson. However, not all patients can tolerate a full regimen of intraoperative radiotherapy. "There is curative intent going in," she mentioned, "but often patients can't get a full cure of R1 or R0. We try to keep the radiation dose at 1,250 cGy or below, as toxicities are substantially higher at ≥ 1,500 cGy."
For patients with colorectal cancer who received combined-modality treatment, the overall survival rate was 90% at 1 year, 70% at 2 years, and 30% at 5 years, according to the series quoted by Dr. Nelson. "It is a little discouraging that it continues to flatten out over time," she acknowledged. "Best results will come if we can get a clear margin."
Systemic Therapeutic Options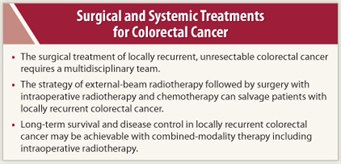 The first goal of systemic therapy in combination with radiation therapy and surgery is cure. According to the findings of a recent study of more than 600 patients,3 long-term survival and disease control were achievable with combined-modality therapy including intraoperative radiotherapy for patients with locally recurrent colorectal cancer. The 3-year cumulative incidence of local and distant relapse was 23% and 49%, respectively. Although Dr. O'Connell concedes these are not randomized data, he calls these results "very impressive."

The evolution of chemotherapy for colorectal cancer into current regimens such as FOLFOX (leucovorin, fluorouracil [5-FU], and oxaliplatin) has helped patients with metastatic disease live longer. "The median survival of patients with distant metastases has improved from approximately 6 months to approximately 2 years," stated Dr. O'Connell. Long-term follow-up data have confirmed "a persistent, significant benefit for the addition of oxaliplatin to 5-FU and leucovorin, and therefore the FOLFOX regimen has been considered the standard of care as postoperative adjuvant therapy for high-risk colon cancer."
The major limitation of FOLFOX for rectal cancer is that many patients cannot tolerate it after radiation therapy and surgery, said Dr. O'Connell. Therefore, several randomized trials have studied the use of preoperative chemotherapy. Among the advantages of neoadjuvant chemotherapy for rectal cancer are that it spares the rectal sphincter, avoiding colostomy; causes fewer acute long-term toxicities; and increases the chance of an R0 resection with a full dose of chemotherapy.
Local Control
The second goal of systemic therapy in combination with radiation therapy and surgery is improvement in local tumor control. "There have been a series of incremental improvements in the use of chemotherapy in the rectal adjuvant setting as part of a combined-modality approach," Dr. O'Connell reported.
In NSABP R-04,4 which included more than 1,600 patients undergoing preoperative radiation therapy, there appeared to be no significant difference between capecitabine (Xeloda) and continuous intravenous infusion of 5-FU in terms of pathologic complete response, sphincter-saving surgery, and surgical downstaging. The addition of oxaliplatin to either regimen offered no benefit, while significantly increasing toxicity. Although the data analysis on local tumor control, disease-free survival, and overall survival will not be available until the fall of 2013, "capecitabine plus radiation therapy appears to be a very reasonable treatment option," concluded Dr. O'Connell. ■
Disclosure: Drs. Nelson and O'Connell reported no potential conflicts of interest.
References
1. Nelson H: Locally recurrent colorectal cancer: A surgeon's perspective. ASTRO 53rd Annual Meeting, Presidential Symposium Session IV. Presented October 2, 2011.
2. O'Connell MJ: Systemic therapy of unresectable rectal cancer. ASTRO 53rd Annual Meeting, Presidential Symposium Session IV. Presented October 2, 2011.
3. Haddock MG, Miller RC, Nelson H, et al: Combined modality therapy including intraoperative electron irradiation for locally recurrent colorectal cancer. Int J Radiat Oncol Biol Phys 79:143-150, 2011.
4. Roh MS, Yothers GA, O'Connell MJ, et al: The impact of capecitabine and oxaliplatin in the preoperative multimodality treatment in patients with carcinoma of the rectum: NSABP R-04. 2011 ASCO Annual Meeting. Abstract 3503. Presented June 4, 2011.
---