Challenging Perceptions about Treatment Options for Younger Women with Early-stage Breast Cancer

In the News focuses on media reports that your patients may have questions about at their next visit. This continuing column will provide summaries of articles in the popular press that may prompt such questions, as well as comments from colleagues in the field.
"There is a perception out there that just because a woman is younger, she might not have as good an outcome with breast-conservation therapy as with mastectomy," according to Usama Mahmood, MD, a radiation oncology fellow at The University of Texas MD Anderson Cancer Center in Houston. That perception, however, is being challenged by recent studies—including one led by Dr. Mahmood when he was at the University of Maryland—that found no differences in disease-free and overall survival among women with early-stage breast cancer treated with breast-conservation therapy vs mastectomy.
Reassuring Option

"Ours was the largest analysis to date, and we again didn't show any differences. So that is reassuring that breast-conservation therapy should be an option," Dr. Mahmood said in an interview with The ASCO Post.
Information from 14,764 women enrolled in the Surveillance, Epidemiology, and End Results (SEER) database was analyzed to compare overall survival and cause-specific survival among patients undergoing mastectomy (55%) or breast-conservation therapy (lumpectomy and radiation treatment, 45%). The women were 20 to 39 years old with early-stage breast cancer (T1-2, N0-1, M0). The reported median follow-up was 5.7 years, but Dr. Mahmood pointed out that roughly 3,000 women had 10 years of follow-up and 1,000 women had 15 years of follow-up.
No Differences in Survival
After accounting for patient and tumor characteristics, multivariable analysis found that breast-conservation therapy resulted in an overall survival similar to that found with mastectomy, according to an abstract of the study presented by Dr. Mahmood at the 2011 Breast Cancer Symposium.1 Matched-pair analysis, including 4,644 breast-conservation therapy and mastectomy patients, confirmed no difference in overall or cause-specific survival. The overall survival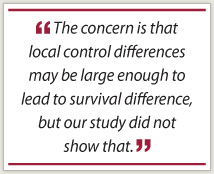 rates at 5, 10, and 15 years were 92.5%, 83.5%, and 77.0% for breast-conservation therapy and 91.9%, 83.6%, and 79.1% for mastectomy. The cause-specific survival rates at 5, 10, and 15 years were 93.3%, 85.5%, and 79.9% for breast-conservation therapy and 92.5%, 85.5%, and 81.9% for mastectomy.
"Based on our large database," Dr. Mahmood told The ASCO Post, "we were able to show that at least in these unselected patients, there was no difference in terms of survival, regardless of type of local treatment that the women chose. That's important, because a lot of retrospective studies suggest that there might be some difference in local control. So the concern is that local control differences may be large enough to lead to survival differences, but our study did not show that."
Radiation Boost
For patients opting for breast conservation therapy, "probably the optimal treatment at this time would be whole-breast radiation with a boost," Dr. Mahmood said. "The original study looking at breast-conservation therapy, National Surgical Adjuvant Breast and Bowel Project (NSABP) B-06, used whole-breast irradiation alone. Since then, a European Organisation for Research and Treatment of Cancer (EORTC) trial has compared whole-breast radiation to whole-breast radiation plus a focal radiation boost to the area where the tumor was excised and the surrounding tissue. They found that you could reduce local recurrence rates when you use the boost, and the women who benefit most are the youngest cohort," Dr. Mahmood explained.
The SEER data used in the study Dr. Mahmood recently reported did not include information on whether the women receiving radiation also had a boost. "They may or may not have," he said. ■
Disclosure: Dr. Mahmood reported no potential conflicts of interest.
SIDEBAR: Expect Questions from Your Patients
Reference
1. Mahmood U, Morris CG, Neuner GA, et al: Equivalent survival with breast conservation therapy or mastectomy in the management of young women with early stage breast cancer. 2011 Breast Cancer Symposium. Abstract 85. Presented September 8, 2011.
---
Related Articles
Young women with early-stage breast cancer "should be counseled appropriately regarding their treatment options, and should not choose a mastectomy based on the assumption of improved survival," maintained investigators presenting a retrospective study at the 2011 Breast Cancer Symposium. Their...